Looking to head somewhere for brunch this weekend? Well, you could take our advice and head to one of the 12 best brunches in Philly. Or you could take some advice from people who actually know what they're talking about, which is why we asked 10 of Philly's top chefs where they eat brunch when they're not making stuff for you to eat. Feast your eyes...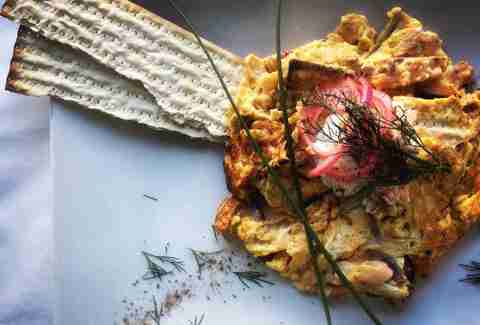 Her pick: Noord (address and info)
East Passyunk
When she's not overseeing the kitchen of Percy Street BBQ, pit mistress Erin O'Shea enjoys the brunch at Noord for the relaxing atmosphere and unique food, which she says is as "imaginative as it is flavorful." Coming from Philly's queen of BBQ, that's pretty high praise.
His pick: The Olde Bar (address and info)
Old City
On most sundays you can find Chef Beyer roaming the cobblestone streets of Old City. When it comes time for brunch, he'll head to the Olde Bar for its famous snapper soup and golden buck (Welsh rarebit, sunny-side egg & oxtail marmalade). And while most of us would strongly consider a nap after a meal like that, Chef Beyer heads to the football field for a pickup game with the Olde Bar's Chef Dave Conn and fellow staff from the Garces Group restaurants.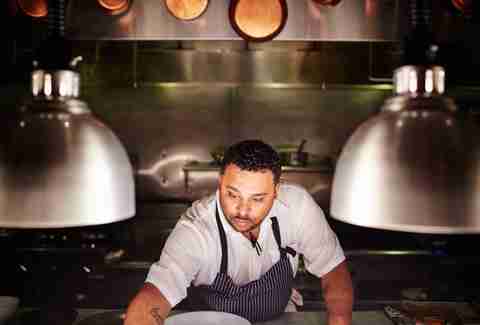 His pick: Amis (address and info)
Washington Square West
Running the kitchens of two separate restaurants is a tough job, so when Top Chef winner Kevin Sbraga can steal away some time for brunch, he does it right. He does it at Amis, where he enjoys standout items like the mortadella mousse, and bucatini with jalapeño & almond pesto. And when he wants savory instead of sweet, there's always the Belgian waffles with salted butter semifreddo, hazelnut & almond pesto.
Brad Spence of Amis
His pick: Ocean Harbor (address and info)
Chinatown
If he's not cooking Kevin Sbraga brunch, Chef Brad Spence of Amis will take the family for Sunday dim sum at Chinatown's Ocean Harbor. As the pasta master explains, "I don't like to eat traditional brunch, plus I like the kids to experience different foods. Chicken feet rule!" Now take that into consideration the next time you complain about some of the stuff you had to eat growing up.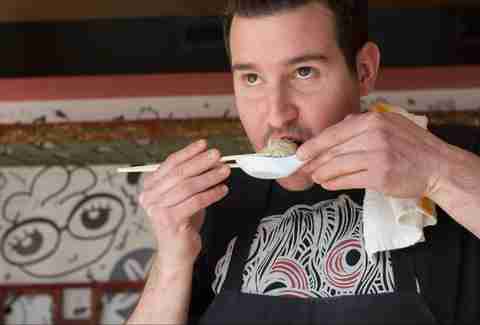 His Pick: High Street on Market (address and info)
Old City
Ben Puchowitz, one of the partners along with Shawn Darragh at Cheu Noodle Bar and the newly opened Bing Bing Dim Sum, likes to get his brunch on at High Street on Market. The smoked whitefish bialy is his favorite, although you can't go wrong with anything on the menu at Eli Kulp's Old City restaurant-bakery combo.
His pick: Schlesinger's (address and info)
East Rittenhouse
When you head the kitchen of one of Philly's hottest new restaurants, it's pretty clear that you have some serious cooking chops. And while you can get some high-end Jewish diaspora-inspired food at Abe Fisher, on the weekends Chef Yehuda enjoys the more traditional deli-style brunch at Schlesinger's, especially "Tom's salami and eggs" which he gets "omelet style with a bagel." After all, brunch isn't complete without bagels.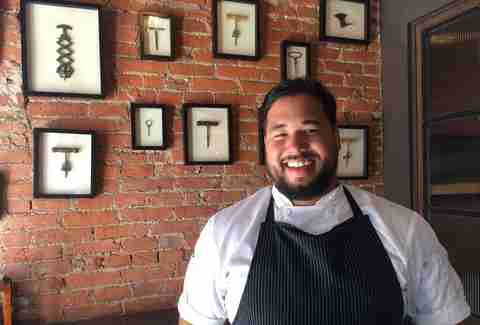 His pick: Sabrina's (address and info)
Italian Market
For a traditional brunch without all of the bells and whistles, chef de cuisine Jose Olmeda's favorite is Italian Market staple Sabrina's. Everything on the menu is delicious and it "serves brunch all week, which is important for people who work weekends." On the expansive menu, Chef Olmeda's favorite is the huevos rancheros, which are served along with blue corn tortillas.
Matthew Cummins of Luna Cafe
His pick: Lucky's Last Chance (address and info)
Manayunk
With Old City newcomer Luna Cafe only being open for breakfast and lunch, it's a little bit tough for Chef Matthew Cummins to get away for brunch. But when he has the chance, he'll head to Lucky's Last Chance in Manayunk for a brunch that features dishes made with fresh local ingredients that can kick any hangover. For some hair of the dog, it also has great drink options and isn't "afraid to serve big portions." Plus, as Chef Cummins explains, "Maple bourbon pancakes just happen to be my three favorite words."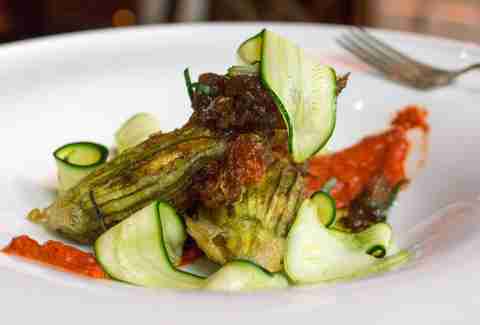 Benjamin Dayag of Morimoto
His pick: Talula's Garden (address and info)
Old City
Come Sunday morning, Chef Benjamin Dayag of Morimoto will take his family down the block to Talula's Garden for the perfect combo of great food and garden atmosphere. At the moment, his favorite dishes are the baked summer squash frittata and the "sweet little ricotta donuts."
His pick: Parc (address and info)
Rittenhouse
After grilling steak all week at one of the city's top steakhouses, Chef Twersky will head to fellow Starr group restaurant Parc for weekend brunch. His personal favorites on the menu include the breakfast pastries, and the stuff at the "raw bar," which when combined with the lively atmosphere and Rittenhouse Square location make it one of the more picturesque spots for brunch with his son.
Sign up here for our daily Philly email and be the first to get all the food/drink/fun in town.