Chances are you've spent more than one weekend chasing the best brunches in Philly, but what about the rest of the week? What about the best lunches in Philly? Seriously, the weekday grind shouldn't keep you from feasting like it's Sunday -- whether you need a quick bite on the go or want to sit down and stay awhile -- and it won't, as long as you've got our list of the best midday eats in 14 Philadelphia 'hoods.

East Passyunk
Plenty (address and info)
What you're getting: Texas brisket sandwich

One of few restaurants on the Ave that stays open for lunch (you can also score the gourmet fast-casual eats in the Rittenhouse and Queen Village locations too), Plenty slings sandwich options inspired by countries around the world, but takes pride in only using organic and locally sourced ingredients -- right down to the Rival Bros. coffee served there.
Fairmount
Sabrina's Cafe (address and info)
What you're getting: Spencer's Slammin' Grilled Pork Sammie

Turns out Sabrina's doesn't just peak at that mile-long brunch line you see every weekend. Besides its signature challah-stuffed French toast, Sabrina's offers up a balanced variety of sandwiches, burgers, salads, and even a fairly generous vegetarian lunch menu.
Fishtown
Cedar Point Bar & Kitchen (address and info)
What you're getting: Catfish po-boy

Cedar Point offers Fishtowners tons of American fare (with a twist!) to satisfy whatever craving you've got come noontime. Comfort foods in the form of classic burgers and sandwiches, or vegan and vegetarian salad and side options, make it a suitable fit for any diet.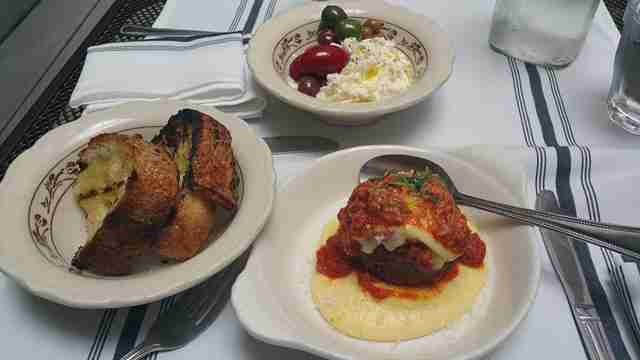 Gayborhood
Little Nonna's (address and info)
What you're getting: Pan-seared potato gnocchi

Just because you're in the middle of your workday doesn't mean you can't treat yourself: head to Little Nonna's instead of opting for a quick sandwich and you'll be greeted with so many sweet lunch-size Italian options it'll be hard to choose. That's when you opt for the $20 three-course tasting menu.
Graduate Hospital
The Quick Fixx (address and info)
What you're getting: Steak & cheese flatbread

Quick Fixx is perfect for when you find yourself insatiably famished but don't have the time or money for a long, lazy lunch. Try a pasta or flatbread here and you'll feel re-energized, especially if you opt for the elevated cheesesteak that is the steak and cheese flatbread.
Logan Circle
Chima (address and info)
What you're getting: Filet mignon & salad bar

This Brazilian steakhouse can be pricey when you go for dinner, but try it out for lunch and you can get the same food for a fraction of the cost: choose the "express lunch" option and get your pick at the salad bar plus a prepared meat of your choice, typically for under $20.
Manayunk
Couch Tomato (address and info)
What you're getting: Godfather pizza

You can opt for a quick bite on the go at CT's first-floor cafe, or head upstairs to the bistro where there's a solid buffet, cheese boards, artisan pizzas, and fresh pasta awaiting you.

Northern Liberties
Tiffin (address and info)
What you're getting: Chicken vindaloo

When confronted with the possibilities of an Indian buffet it can be hard to turn away without a seriously full stomach, but at Tiffin (which has several locations around the Philly area, all offering up authentic Indian food) it's somehow easy to find the balance between being satisfied and painfully overstuffed.
Old City
Cafe Square One (address and info)
What you're getting: Spicy sushi combo with miso soup

Somehow Cafe Square One created a place where you can get either a seriously sweet sandwich, or opt for authentic sushi and Japanese food, and any place that offers both a Buffalo ranch panini and a dragon roll is essentially a modern marvel.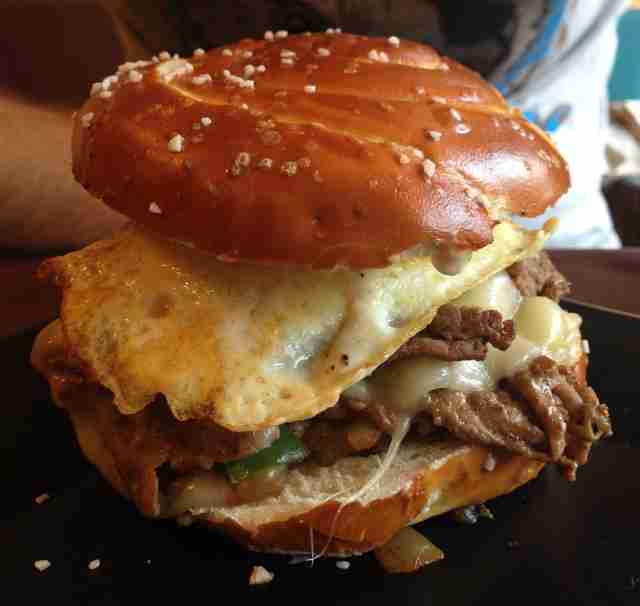 Point Breeze
Breezy's Cafe (address and info)
What you're getting: Pork roll and cheese

Breezy's gets bonus points for offering breakfast items until 2pm every weekday, which means you can live like it's still weekend brunch time even when you haven't made it to hump day. Breezy's can also accommodate most diets, whether you're vegan, vegetarian, or even just looking to eat a cheesesteak but without all the carbs.
Rittenhouse
El Rey (address and info)
What you're getting: Comida Corrida lunch special

Stephen Starr's Mexican spot serves one of the best lunch deals in the city, offering chips with salsa, an appetizer, and an entree for just $10 a person. You can also splurge a bit and opt for the guacamole sampler or day-long breakfast burrito.

Society Hill
Nora's Taqueria and Grill (address and info)
What you're getting: Carne asada burrito

Nora's offers authentic burritos, tacos, and other Mexican eats so good they'll please any Cali transplant, all at a price so good (burritos clock in around $7), they'll please... well, anyone.
Washington Square West
Garces Trading Company (address and info)
What you're getting: Croque-madame with French onion soup

Opt for the Santa Maria Express lunch special at Jose Garces' namesake eatery and you'll score your choice of sandwich or pizza with a salad or soup for under $15, just like the typical soup-and-salad combos you've had a million times, except this one's prepared at one of the best restaurants in Philly.
University City
The Fat Ham (address and info)
What you're getting: Shrimp & grits with baked mac & cheese

Lunch at Kevin Sbraga's Fat Ham is a welcome reprise from the day-to-day grind, offering all the best that southern comfort food has to offer with generous helpings of staples like fried chicken and shrimp & grits. For an extra kick choose something from the midday libations menu like the Memphis mule or the on-tap, rum-heavy low country punch.

Sign up here for our daily Philly email and be the first to get all the food/drink/fun in town.

Marielle Mondon (follow her @MarielleMondon on Twitter) is a Philly-based freelance writer who thinks that lunch is the most important meal of the day… when everyone knows it's actually bacon.