Between uncovering Philly's secret menu items and drinking up all the great beers out for spring, you may have fallen behind on the new places to eat that opened over the winter. Lucky for you, we've been keeping close tabs on these spots, and we're pleased to report that 2016's first batch of new restaurants do not disappoint. Get yourself to these places this spring:
Recommended Video
Buffalo Chicken Beer Cheese Fondue Fries Are Like an Edible Sports Bar
More From
Openings Cheat Sheet
Fairmount
Townsend Wentz, chef/owner of Townsend, Passyunk's premiere French restaurant, set up an Italian cash-only BYO in Fairmount that we didn't realize the neighborhood even needed. A Mano keeps the menu simple, squeezing all of the options for three courses onto less than one side of a sheet of paper. Turns out, that's all you need: thanks to chef Michael Millon, who mans the kitchen, you'll be dreaming of squid ink pasta and cauliflower mezzaluna all night.

Glenside
If you're looking for a dining respite outside the city, head to Bernie's in Glenside. The crafty cocktail list and menu of well-done affordable classics and comfort foods taste especially great on the wide outdoor deck; or stick to the inside, where a modern fireplace wall centerpiece divides the sweeping open floor plan.

Midtown Village
Head over to Double Knot for your morning coffee and a decadent pastry during the day. Come back after work, when the lights are dim and a trendy crowd is sipping on coffee-based or shochu cocktails. If you sneak to the not-so-secret downstairs dining area, you'll be rewarded with a lengthy menu of Japanese fare, including more than 30 robatayaki options. It's not easy deciding, which is why the 10-course (plus dessert) tasting menu is your best option. At $55 a person, it's quite a deal, considering some courses are usually a third of that on their own.
Logan Circle
Inside the Logan Hotel, Urban Farmer is adding a slice of rustica to the parkway. The menu is big on locally sourced produce, with all the right local farmer connections to craft elegant meat-centric dishes. The charcuterie is made in-house, and the staff is an experienced bunch. Hit up the weekend brunch for a menu of farm fresh eggs, grits, and breakfast drinks to feel like you're somewhere far less urban than you actually are.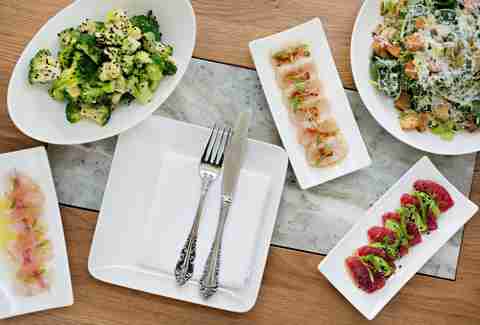 Midtown Village
The folks behind Zavino, who brought you some of the city's best pizza, have welcomed a new restaurant to the family, and it's just across the street. Slowly taking over the 13th St corridor, this wine bar (the cocktail menu is hefty, too) is getting a reputation for its small plates within the vein of its sister restaurant, though it focuses on proteins instead of pizza. Order the Mediterranean tasting board and fried goat cheese for a meaningful experience.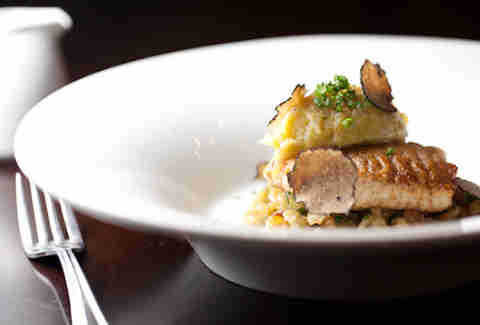 Old City
The seafood-centric BYOB is holding its ground in the established food haven of Old City, bolstered by the return of erstwhile local seafood connoisseur Mike Stollenwerk. Fresh concepts on seafood dishes, like lobster herb gnocchi with uni butter and salmon belly crudo with lemon oil, will get you in the door, but an accessible lunch menu (repping the truffle mushroom grilled cheese) will keep you coming back.
Old City
Eat your brunch, lunch, or dinner in a converted bank showered with light. The Little Lion occupies a huge space (6,500sqft), building out four separate areas, including an outdoor balcony and upstairs level, where you can post up at the bar and try some Champagne cocktails or draughts. As for the food, this is the place to come when you'd kill for some down-home Southern comfort food, like fried green tomatoes, sweet potato fries, ribs, and blackened fish.

Queen Village
Another spot for late-night eaters, Southwark's narrow digs serve new American cuisine until 1am. Alongside potent cocktails organized by era ("Pre-Prohibition," "Dark Ages," "Modern Era"), you can grab meatier bites, like crispy pig's head sliders and beef tartare, or clean classics, like mussel spaghetti, or a fish of the day.

Francisville
This highly-anticipated joint is finally open, and we're celebrating this much-welcomed Danish gem to the neighborhood. (It's pronounced "huu-guh.") For anyone who never feels fully satisfied after a cheese or charcuterie board, this is the place for you: build your own board and stack it with as many cheeses and meats that you fancy (er, up to five).
Northern Liberties
The Armenian-heavy Mediterranean restaurant is a fresh addition to the neighborhood, with traditional comfort food additions accompanying expected typical dishes (kebabs, hummus, falafel). For something new, opt for the deep-fried meatballs (kibbeh kufteh) or chef's tasting menu for curated dishes from each of the menu's six courses.
Keep an eye out for these much-anticipated restaurants slated to open this spring and summer:
24
Fitler Square
We'll be getting a new Jose Garces restaurant very soon. This latest concept promises wood-fired fare (pizza, perhaps?). It's slated to open on a stretch of city block around 24th and Walnut St without, for the moment, much else to divulge about the menu.
P.J. Clarke's
Washington Square
The legendary Manhattan mainstay where so many important Mad Men scenes were shot is getting its very own Philly location in the Curtis Center. Definitely try the spot's signature Cadillac burger and the Don Draper-worthy cocktails in the outdoor area.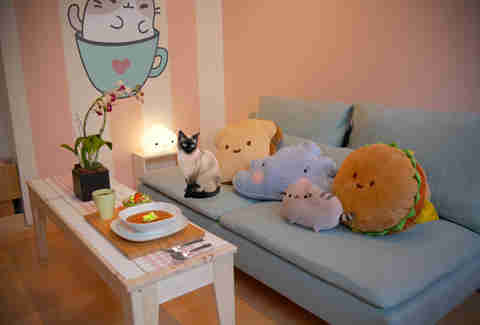 Kawaii Kitty Cafe
Fairmount
This could either be your worst nightmare or your dream come true, but let's assume it's the latter for now. Inspired by the cat cafes in Tokyo, Kawaii is a place where you can play with roaming kitties while drinking tea.
Scarpetta
Rittenhouse
Another New York original is making its way to Philly, this time setting up shop in the Rittenhouse Hotel. The upscale Italian restaurant will have new dishes unique to the Philly location, as well as favorites from the original menu.
Brewery ARS
West Passyunk
A new brewpub in South Philly from the Arsenault brothers, Sean and Andy will focus on giving Philly a newfound appreciation for saisons. The brothers have been brewing together for nearly a decade and have hosted their own home brewing workshops, so the artisanal brewing standards for ARS are high.
Sign up here for our daily Philly email and be the first to get all the food/drink/fun in town.
Marielle Mondon is a writer from Philadelphia whose hobbies include wearing elastic pants to dinner. Follow her @MarielleMondon on Twitter and Instagram.