Recommended Video
Make This Sushi Burrito at Home, Become a Snack Legend
Nick's Bacon Burger
Nick's Roast Beef Bar & Grille, Old City
So you like bacon on your burger? Well, order this sucker w/ thick-sliced, deep-fried pickles & tangy dipping sauce, and you'll get bacon in your burger. And some more on top, naturally.
Bourbon Blue Burger
Bourbon Blue, Manayunk
Get your lazy butt off the couch and take a bike ride on the Towpath to the Yunk and then obliterate all that exercise with the happy hour version of this 8oz Angus beef beast w/ sautéed mushrooms, blue cheese & bacon on a brioche roll for $5.75!
Big Fat Greek Burger
Lucky's Last Chance, Manayunk
In addition to a strict "be nice or go home" policy (seriously!), these guys also have an equally strict making-crazy-burgers policy, as evidenced by their My Boy Bleu; El Guapo; Joocey Lucy; one topped w/ peanut butter & bacon; the Bacon, egg and cheeseburger; the ghost chili-topped Inferno; and the Big Fat Greek Burger (above), which comes w/ feta cheese, gyro meat, and a sauce that's name, tzatziki, is almost as incomprehensible as someone wanting to watch the movie this burger's named after.
The Chronic
El Camino Real, Northern Liberties
Not just a place for slammin' BBQ/pulled pork like The Chronic (above) and wicked margaritas, but also some pretty damn tasty slabs o' beef, like the Big Ass Burger, which has 10oz of meat, lettuce, tomato & onion on a cacia roll.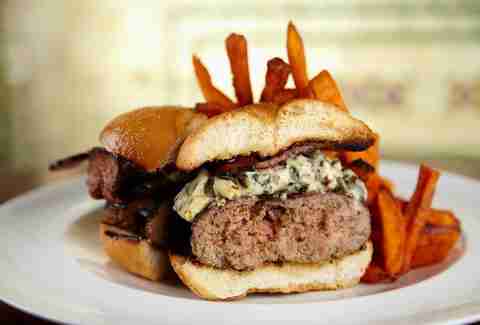 The Al Capone
Sassafras, Old City
This unpretentious boozer is serving up a whole slew of... sorry'boutthis!... criminally good burgers, including The Al Capone (blue cheese & bacon bison burger, above), The Spicy Marie (chili & cheddar) or The Dillinger (Gruyere & caramelized onions) that come with your pick of meats ranging from ostrich to bison, lamb, or sirloin.
Bison Burger
Trolley Car Diner & Deli, Germantown/Mt. Airy
Posted up in (surprise!) an old trolley car, this beer float- and banana split-specialist also makes a mean protein patty. Here's how it works: you pick one of seven different meats (bison, salmon, beef, etc.), and then top it with whatever you want, including suggested combinations like the Western, Hawaiian, and Black-N-Bleu.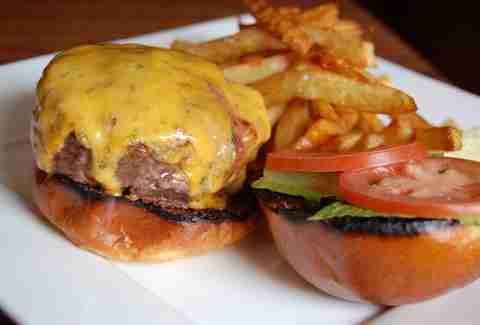 Signature Burger
Moonshine, Pennsport
This friendly South Philly eatery wants to get friendly with your stomach too, so it's slinging an 8oz hunk of meat stuffed w/ kosher dills, shallots, etc. & topped w/ a shton of cheddar, plus optional deliciousness like a fried egg, bacon, avocado, or pico de gallo.
Goat Hollow Burger
Goat Hollow, Mt. Airy
Sure, they've got, like, a 20ft-long beer list, and an almost equally long list of other good stuff, but you're here for one reason: their glorious pork belly & provolone-topped burger, which may or may not be the greatest of all time (G.O.A.T!), but is definitely the greatest burger you'll eat... um, on the day you go up to Mt. Airy for one.