From Pho 75 to bowls of bacon: these are Philly's 8 best hangover cures
Admit it: Memorial Day was just two days ago, so you're probably still hungover. And if not, you will be after all the time you're gonna spend on Philly's best rooftop bars this Summer. Don't worry though, your Bro-ptimus Primes here at Thrillist have helpfully assembled a list of The Quaker City's eight best hangover cures, from towering Mexican breakfasts to delicious bowls of bacon.
Bacon Bowl at MilkBoy
Market East
It's literally what it sounds like, comes fully equipped with buttermilk sauce, is glazed with spiced honey, and is best enjoyed alongside MilkBoy's Southern hash.

Jones Restaurant
Philly Cheesesteak Omelet at Jones Restaurant
Market East
This sucker combines all the goodness of Philly's most signature sandwich with breakfast, adds an extra dosage of cheese sauce, and sides the whole thing with a generous portion of tater tots.
Honey Ginger Fried Chicken at Federal Donuts
Multiple Locations
Obviously this next-level fried poultry is best enjoyed with a Sticky Bun Donut, whether you're nursing a hangover or not.
Barking Chihuahua at Sabrina's Cafe
Multiple Locations
Scrambled eggs, black beans, red peppers, pepper Jack cheese, marinara sauce, and sour cream -- all with a warm, soft tortilla -- get the job done in those instances when your voice actually sounds like a barking chihuahua.
Ribs and Mac & Cheese at Bourbon & Branch
NoLibs
By the time you roll out of bed, it'll totally be late enough to hit B&B (shout out to Stringer Bell!) for some of their amusingly creative pub fare, namely their ribs with some bacon-and-beer mac & cheese.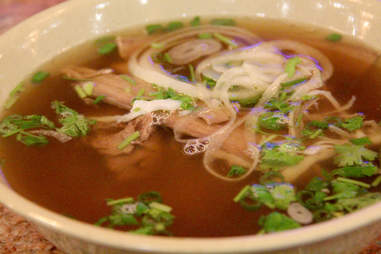 Bowl of Pho at Pho 75
Bella Vista
One of the most underrated hangover cures, this warm noodle soup is perfect for people with a delicate stomach, and Pho 75 has some of Philly's finest, made with a miraculously healing broth that works no matter what ingredients you choose.
Pretzels & Beer Cheese at Lemon Hill
Fairmount
You can't go wrong with any of Lemon Hill's savory brunch and dinner items, but the pretzels and beer cheese offer the right combo of alcohol-tinged hair-of-the-dog and carbs to not only cure your hangover, but also get you ready for round two.
German Benedict at Silk City Diner
Spring Garden
This is just one of many English muffin concoctions, this time involving bockwurst, braised cabbage, poached eggs, mustard, and breakfast potatoes, which you should immediately follow with one of their "Painkiller" cocktails if you want to get a start on tomorrow's hangover.