In a city with as many great restaurants as Philly, it's easy to... get fat. Just kidding! It's easy to overlook hidden gems that don't get the recognition they deserve, that's why we've rounded up some sweet spots that're turning out eats just as good -- or even better -- than some of their often overhyped counterparts. These are the 11 most criminally underrated restaurants in Philadelphia...
University City
What you're getting: Doro vot
Straddling the line of University City, Abyssinia is sometimes seen as just a destination for college students, and as a result, the unassuming place where portions are big and the prices are small, is the ideal spot for a quiet, gratuitously sized meal. Pro tip, though: don't go if you're in a rush. Much like eating Ethiopian food in itself, dining at Abyssinia is an engaged process that may be a bit time consuming.
Bella Vista
What you're getting: Al pastor tacos
This Tex-Mex spot in the heart of Bella Vista has all the staples you look for in your traditional Tex-Mex spot without any overly trendy distractions taking away from the food. An ardent observer of Margarita Monday, Taco Tuesday, and Fajita Wednesday (hey, it can be a thing), the restaurant offers plenty of deals that make the authentic fare go down all the more easily. The spot was formerly BYOB but now boasts a tequila-slinging bar, which may have been the restaurant's missing piece, keeping it from getting the recognition it deserves.
Manayunk
What you're getting: Bacon, egg & cheese burger
Lucky's is one of dozens of bars lining Main Street in the 'Yunk, meaning it falls prey to the neighborhood's influx of bar-hopping Villanova and St. Joe's students, but it's way more than a watering hole for coeds trying to "get lucky." The menu is full of creative burger, hot dog, and French fry options that pair perfectly with one of the more extensive beer and drink menus that Manayunk has to offer. Oh, and extra points for a friendly service staff that is always helpful and upbeat despite said frequent influx of college students.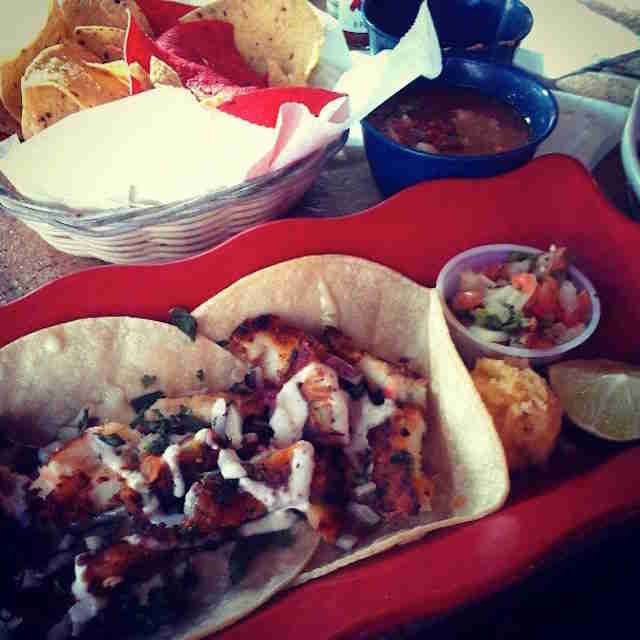 Rittenhouse
What you're getting: Garlic-herb mussels
The name of this Fitler Square restaurant is actually pretty accurate, so it's good news that it offers daily deals that'll help you get through some of the sweetest seafood options. Eventually. This means all-you-can-eat mussel Mondays, impromptu lobster dinners at a discount, and seasonal specialties that include things like soft-shell crab alongside $3 Yuenglings. Bonus: if you're looking for a fresh brunch spot, this place does not disappoint, whether you opt for crabmeat Benedict or shrimp & grits with a side of endless bellinis.
 
Washington Square West
What you're getting: Spinach, prosciutto, and mozzarella-stuffed chicken breast
With so many Italian restaurants in Philly, this unassuming BYOB can be easily overlooked -- but it shouldn't be. The savory pastas (like the braised beef gnocchi), and some sweet pizza options are some of the most perfect comfort foods you'll find on this side of the park, and the place gets extra points for somehow making a gluten-free Italian menu that is actually not-terrible, meaning Giorgio leaves no diner behind when it comes to pasta.
Old City
What you're getting: Zucchini crab cake
Somehow in all the good food Old City has to offer, the killer menu (and roof deck!) at Positano is sometimes left out. The Mediterranean-inspired menu includes specialties like Italian sashimi, tuna tartare, and verde risotto, as well as plenty of staple meat and seafood dishes alongside more innovative plates. The food menu is matched with a wine list chock-full of hand-selected picks from smaller niche vineyards with an emphasis on Italian wines. The second-floor deck is... um, decked out to feel like wherever you went on your Mediterranean vacation, making your meal a sweet escape.
Graduate Hospital
What you're getting: Miles burger
This unexpectedly refreshing eatery is just a stone's throw from Bob & Barbara's and some other favorite South St haunts, but the menu is a far cry from $2 PBRs and Jim Beam. The casual spot has something for everyone, whether you're hungry for a good breakfast sandwich, or opt for one of the burger/not-breakfast sandwich options. Miles Table also has a surprisingly great taco selection, and yes, they taste just as great when discounted on Tuesdays.
Spruce Hill
What you're getting: Thai catfish
It turns out that some of the best Thai food in the city is hiding out in West Philly. The family-run business turns out authentic Thai cuisine from a business that started directly out of the chef's house some 13 years ago, gaining a local following just from word of mouth. The BYOB resto works to make the traditional cuisine adaptable for people with diet restrictions, like vegan or gluten-free eaters, and is perfectly suited for a big group dinner or just a quick bite.
 
Fishtown
What you're getting: Bistecca Rossini
Despite Modo Mio's proximity to the Girard MFL stop, its location is a bit off the beaten path from the main drag of Fishtown, plus the BYO's cash-only policy can be an annoyance for diners, but it's worth the trip to the ATM. Even if you find yourself annoyed by overcrowding or too much noise heard from the next table, take a deep breath and find peace in the authentic Italian fare, whether you opt for the tagliatelle pasta (chicken liver, mushrooms, black truffle) or seared filet mignon.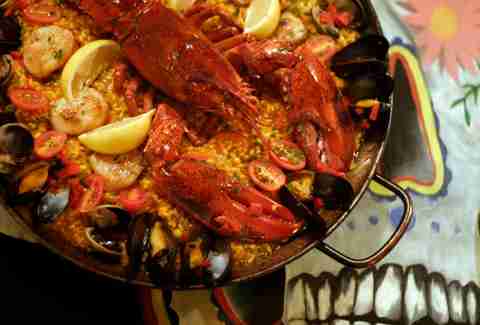 Bryn Mawr
What you're getting: Strawberry habanero guacamole
Considering all the great Spanish tapas the city has to offer, it may seem strange to venture out to the 'burbs in search of more, but Verdad will make your mouth water during the entire train ride. In addition to booze flights that help you sample the Main Line spot's extensive tequila menu, margaritas served el fuego, and authentic paella that could easily feed your entire table, Verdad is the perfect pick for post-work happy hour or a first date. Happy hour also comes around twice at Verdad -- in addition to serving discounted drinks from 5-7pm during the week, you can usually score deals from 10pm-12am some weeknights as well.
Callowhill
What you're getting: Buffalo blue chicken mac 'n' cheese
Despite a truly wonderful beer menu and a small but satisfying selection of comfort foods (think mac 'n' cheese and burgers), there always seem to be far more empty chairs than occupied ones in Llama's expansive outdoor area. Just across the street from Union Transfer, it's the perfect spot for pre-concert dinner/drinks, or the place to be if you just want the ambiance of dining beside a Philadelphia mural under the twinkle of golden string lights. The friendly waitstaff is exceedingly patient when it comes to helping you decide which beer to try, and the servers' extensive knowledge of each brew comes in handy as you maneuver through the menu.
Sign up here for our daily Philly email and be the first to get all the food/drink/fun in town.
Marielle Mondon is a Philly-born editor and writer. Follow @MarielleMondon on Twitter and Instagram.