Philly Maker Series No. 2: 1732 Meats Is Curing Insane Flavors Into Its Bacon
Courtesy of 1732 Meats
Garlic Insanity bacon? Sounds pretty awesome, even if you haven't tasted it, right? From Philly's 1732 Meats, the company's flagship bacon -- along with the Jalapeño and Black Peppercorn flavors -- has become extremely popular around town. You can find it on the menus of local restaurants like Palladino's, Blue Duck Tavern, and P'unk Burger, and it's even garnered some national press -- New York Magazine listed Garlic Insanity as one of 2015's top 50 pantry essentials. Not bad for a company that's been in existence for all of three years.
The second installment of our Makers Series, we sat down with owners Ari and Elise Miller in their newly opened Lansdowne factory to learn how you grow a business from a weekend hobby to a mini-meat empire that has more than 20 different products being used in home kitchens and by the city's best chefs. It was the perfect excuse to try some of their killer charcuterie on a Saturday morning. Note to readers: make sure you invite the Millers as guests to your next party.
Dan McKay/Thrillist
Easy question first: how did you start making bacon?
Ari Miller: I started with the Ruhlman's Charcuterie book, where I believe that everyone should start. [But when I first started], I couldn't find some of the ingredients. And I went to every butcher in Philadelphia, even Rite Aides to see if you could buy saltpeter at the pharmacy.
Finally I looked online -- this was back before everyone just went on Amazon -- and was able to get some pink salt. And I started making it at home and I never do anything small, so I always had enough for us and a few other families. So I had these bacon recipes for Black Peppercorn, a garlic one -- which we decided to call Garlic Insanity -- and then we made a Jalapeno bacon. We had these three first bacon products going in…
Elise Miller: And then you had chefs, like Keith [Garabedian, former owner of South Street's Hot Diggity].
Ari: And Pete Woolsey [chef, owner of La Peg] that helped with the recipes and gave me advice that chefs would give. That I should roast the garlic, jalapenos. I wanted the jalapeno to be hotter -- add cayenne pepper which will help to bring out the [spicy] qualities of the jalapeno. They taught me how to think like a chef and how to develop a recipe based on how I wanted something to taste.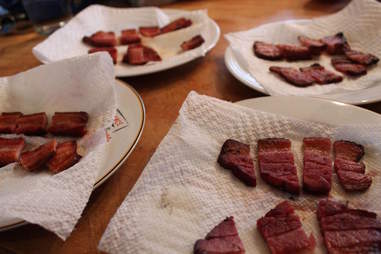 Courtesy of 1732 Meats
You're making bacon at home, how did you decide that you wanted to turn this into an actual business?
Ari: [Around 2009] I was working in property management for the banks, and decided I wanted to go to law school. During my last semester of law school I realized there was no way in hell I wanted to be a lawyer. Since I don't do well with free time, I needed to find something to do. And I said to my wife, there's a farmer's market across the street. Why don't I sell the bacon I've been making for the past 12 years? And my wife said that's fine, let's keep it small and I said absolutely.
Elise: And now we're sitting in a 10,000sqft space.
Ari: [laughing] What happened was the first week [at the Lansdowne Farmer's Market] we sold out, 20 pounds.
Elise: We were doing everything at home -- sealing packages at the kitchen table and Ari was slicing the bacon, by hand, with a knife. But the process has evolved. First, we we're doing it in our kitchen. Then we were using a restaurant space, [Noble] in Lansdowne over the summer. When they ended up shutting down, we we found the Center for Culinary Enterprise in West Philly, which had a commercial kitchen you could rent for the hour. We stayed there for a year and a half.
Ari: This past year, bacon production went to Smucker's Meats in Mount Joy while we were building the new plant. I still go up there once a week when we are doing production -- plus, they're friends now.
Courtesy of 1732 Meats
With the opening of the new plant, how has the business changed?
Ari: Now I have two people that work in the plant for me. Matt Davis, who used to work at a few places around town, including DiBruno Brothers, is my charcuterie guy. The other is Keith [Garabedian].
When you hire people, you don't hire them to to tell them what to do, you hire them to tell you what to do. And immediately, they came in and reorganized the plant -- and made it better -- and now they deal with everything with the business. Food costing, inventory control, streamlining the process, dealing with the USDA.
 
How long does it take to cure a piece of meat?
Ari: It takes anywhere from five weeks to 11 months. Pancetta is the shortest at five weeks and the lamb prosciutto will take the longest.
 
How does someone in Philly get their hands on some 1732 products?
Ari: Every product is available now in retail (in limited quantities) at local places like DiBruno Brothers -- both in-store and online -- Rastelli Market, Green Aisle Grocery, which was our first retail location. Fair Food Farmstand. Greensgrow. The easiest way is to contact us and we can direct you where to get it.
To distribute in Philly, we deal with a company called DiGiacomo Brothers, which is a local, family-owned company in Conshohocken. It's actually a funny story how we got introduced; Stephanie Reitano of Capofitto put us in touch. And I asked Joe Cicala [of Le Virtu and Brigantessa] if he knew him. Joe's response: "Well, he was in my wedding." So that's all I needed to know. And that's the type of town we live in.
 
Outside of Philly?
Ari: We're in Maryland, Washington DC, Virginia, New Jersey, Delaware, New York, Connecticut, and we've partnered with a new distributor that's getting us into the Ohio Valley, Pittsburgh, so all of PA. Right now we're working with a retailer in New York that has 16 locations to roll out our bacon.
Courtesy of 1732 Meats
And the restaurants -- there are a ton -- do you know how many you are in?
Ari: It's really hard to say. We've asked our distributor [Chef's Warehouse] before and they've said it's at Harrah's Casino, the Kennedy Center... what do you mean it's at the Kennedy Center? At some point, it's like sending your kids off to college. It's a little bit like that.
We're gonna be doing a dinner at Delaware and Hudson in Williamsburg this year. The chef just got her first Michelin star, so it's gonna be a 1732 Meats dinner at a Michelin-starred restaurant.
 
What about starting in Philly has helped 1732 grow and succeed?
Ari: What made us particularly attractive to our distributor -- the reason we met them -- was because of the second Chef's Conference at Drexel, which is what brought everyone together. We built our business selling to Philadelphia chefs, and knowing how the kitchens are so small at most Philly restaurants, we designed our products so they can be sold by the piece. Not 30 pounds, and can be delivered daily.
Elise: And we know all the restaurants around here because we try them and we love them. One of the things that really made a difference was once we had this product and we decided [to make this a business] and sell to chefs, the first thing that Ari did was go to the bars and get to know people in the industry. Being able to have access to chefs --  it's such a welcoming community.
 
Last question: owning your own charcuterie business, you must be eating it all day, right?
Ari: Not a lot actually -- I think I eat more of the cured stuff, but not as much bacon. Once a month we might do a big Sunday breakfast. And when we get invited to a party, we'll bring some over.
Sign up here for our daily Philly email and be the first to get all the food/drink/fun in town.
Dan McKay briefly considered buying a bacon bowl while writing this article and wouldn't be opposed to getting one sent to him -- if you want to send one, you can contact him through Instagram or Twitter @dannypageviews