In yet another fat-heavy attempt to justify their well-deserved reputation for attempting to kill the good people of Philly with crazy Franken-burgers like this legendary Twinkie-fied monster, PYT is back at it with the Beerger, which most prominently features fried PBR, and has presumably worn the same pair of Vans for the last four years straight.
And you have to be 21+ to eat it. Check it out.
First off, this is what frozen PBR looks like, in case you were wondering.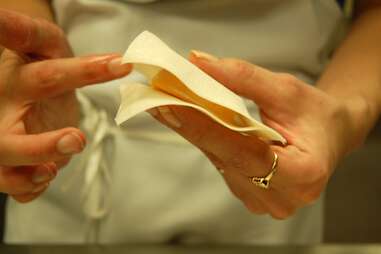 Said frozen beer and a slice of cheddar are then gently nestled between two sheets of wonton and sealed with wet fingers, so that troublemaking Pabst can't escape.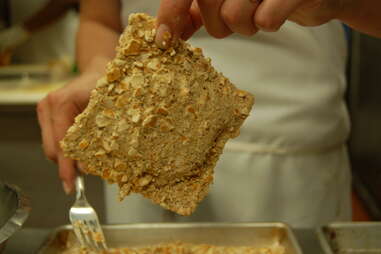 Next, the wonton is dipped in seasoned eggs, flour, and rolled in garlic, onion, and sesame pretzel crisps. This is getting serious.
That's stuck in the freezer until it's fry time. Guess what? It's fry time.
Now the all-beef patty goes on the grill alongside its bun counterpart, which is buttered post-toasting, obviously.
Finally, the golden-fried wonton goes on top. It's a lot to handle.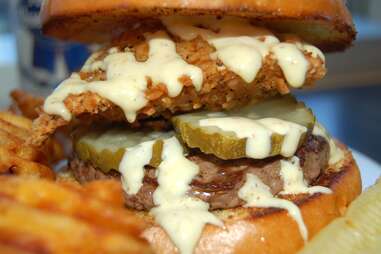 A drizzle (ok, maybe a downpour) of house mustard-dill aioli later, and it's ready to go.
When you bite in, the PBR escapes a bit, but the bread sops it up so well, you don't need any more condiments. That said, you should put on more condiments.