Reuben on Rye: Hot dog-stuffed Reubens and brisket fries roll out to Drexel
UCity's latest cafeteria alternative on wheels, Reuben on Rye is equal parts mobile Jewish deli and understatement, now griddling its namesake sammy nine ways, including this four meat double-decker GBMF, which sandwiches layers of freshly carved hot corned beef, pastrami, roast turkey, and hot dogs (!) between three wedges of Russian dressing-smeared, sauerkraut-slathered, Swiss-melted rye. The only thing not kosher about this truck? What GBMF presumably stands for.
Walk up to a window not on the roof and score a classic Reuben with one of eight different meat fillers like roast beef, hot brisket, grilled chicken...
... or their house-made tuna salad, which is a step above the rest.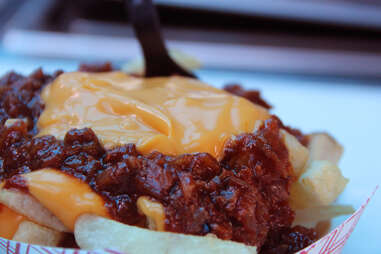 Craving brisket but cutting back on bread? Get your fill poured over these Russian dressing- and whiz-soaked fries.
Not just your name for the guy who scored that last order of brisket fries, this Schmuck is a griddled hot dog stuffed inside a mashed potato- & fried onion-loaded knish that'll ensure you end up being a GBMF.