9 reasons to hit Jose Garces' extravagant new eatery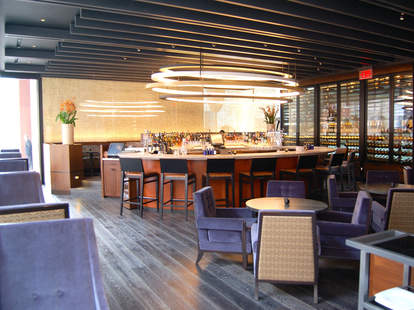 You've been out of town. What's the first thing you do when you return to Philly? Get a cheesesteak? Get a drink at one of your old haunts? Well, if you're world-dominating Iron Chef Jose Garces, you open Volvér (Guess what that means in Spanish!), an appropriately theatrical sort of eating establishment in the Kimmel Center for Performing Arts, and then literally start selling tickets to watch you cook. Here're nine reasons it's totally worth checking out...
1. You heard us say Iron Chef Jose Garces, right?
This guy's behind some of Philly's best/most creative restaurants, one of its best whiskey bars, and this dinner-destination-turned-dinner-theater might be his most inventive yet.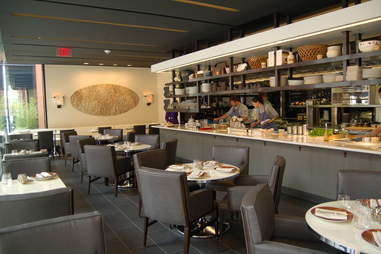 2. He'll actually be cooking here
There's a bar up front, but the reservation-... err, "ticket"-only dining room in back is what Volvér's all about, and where Chef Garces plans to cook, and entertain people with stories about traveling/owning people in Kitchen Stadium.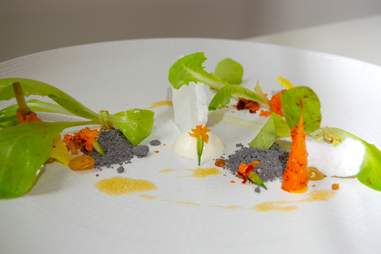 3. He picks your food for you!
The restaurant only serves extravagant, constantly changing, multi-course meals that include dishes called "From the Garden", which, unlike most salads, looks too good to eat, thanks to some goat cheese "dirt" & produce from Garces' own farm.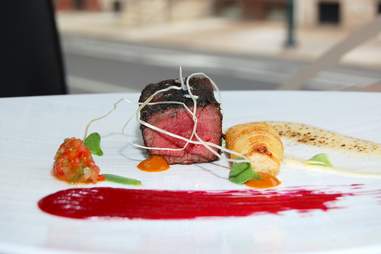 4. It's not ALL vegetables
You also get things like Wagyu beef w/ beet root crema, chimichurri, charred pepper puree & potatoes. 
5. They're only doing two "shows" a night
Want to try 12-or-so courses of the beautiful eats above? Preferably from this luxe, leather pew below some local art made from old books? You've got to buy a ticket for one of their two nightly sittings (called Pre-Theater, and Performance) in advance.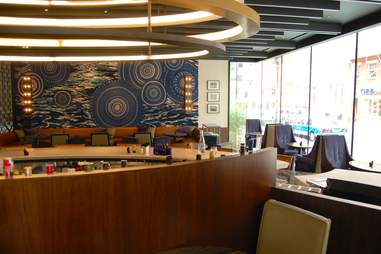 6. You don't need tickets to hit the bar!
The bar up front serves a small selection of fancied-up bites (oysters, caviar, Waygu tartare, etc.), and a seriously sweet range of cocktails.
7. This just looks like water
Said 'tails include the Bancock Gibson w/ gin, lemongrass, vermouth & a speared onion, or the bourbon/truffle/lavender Truffle Rush, which is also what the Goonies called it whenever Chunk tried to run anywhere.
8. The walls are made of wine
Or, one of them is, anyway. Plus they've got a solid beer selection featuring Left Hand Milk Stout, and some Japanese suds aged in sake barrels.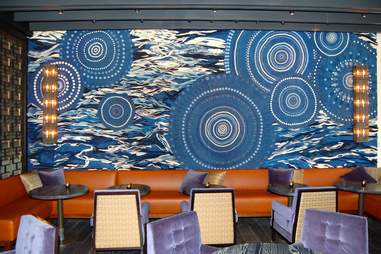 9. You can make yourself at home
Seriously, they've got TVs showing nothing but cooking shows, and don't let the inky blue mural inspired by the Volvér logo distract you: that leather banquet is the perfect place to stare out their floor-to-ceiling windows at the one place you won't want to return to when Chef Garces' show ends: the street.