If you're searching for a park-side drinking hole where you can imbibe more than two dozen original booze 'tails, slurp six coastlines of icy-smoky oysters, score champagne and sardine toasts, and man up to five-meat boards laden with house-cured everything, just seek out the old Kiehl's boutique on 18th and Walnut, where the crew behind next-door a.kitchen's spilled over Philly's most renowned wine list and small plates menu onto a pewter-bronze bar that's ready to accommodate every taste. So just what kind of bar is a.bar? All of them.
a.cocktailbar: 25 seasonal shakes and stirs blend top-shelf booze infusions with obscure tinctures like cherry tomato shrub, cold-brewed coffee, and wormwood bitters, which'll make you crazy for this Jamaican lime and white rum Green Swizzle. Like your drinks less complex? All you need to know about the rye, vermouth, and amaro Nothing Else Matters is that it works.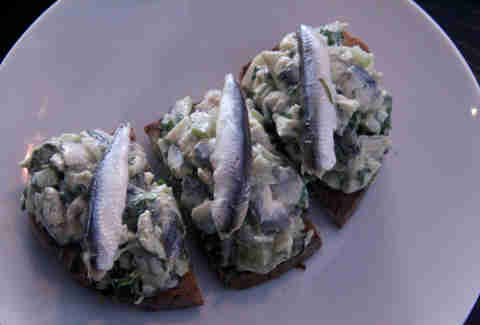 a.rawbar: There's no hot kitchen here, so the only thing more chill than you after two cocktails is the seafood like yuzu-sweetened scallop sashimi, a dozen jumbo shrimp cocktails, and these chopped Spanish anchovy toasts served on Metropolitan Bakery country rye.
a.happyhourbar: Be first to arrive for these plump Cape Cod Mayflowers, because every day from 3-6p, you can score a half-dozen East & West Coast oyster varietals for a buck-fifty each.
a.winebar: The guy behind a.kitchen's Best of Philly wine list's responsible for all 15 by-the-glassers, here available in 3oz and 5oz pours. They also uncork a Magnum of the Day which, unlike the Magnums on the Hallmark Channel, never repeats.
a.snackbar: Just want a nibble with your tipple before dinner at next-door a.kitchen? Bar bites include spiced Castelvetrano olives, braised mushrooms, and this tumbler of togarashi-spiced squid ink rice crackers.
a.charcuteriebar: Making a meal of things? Opt for this every-charcuterie board loaded with house-cured chorizo, salami, and lamb prosciutto, plus fatty hams like Benton's and Lomo Iberico imported from as far away as Spain and... Tennessee, along with cherry, blueberry, and Dijon mustards.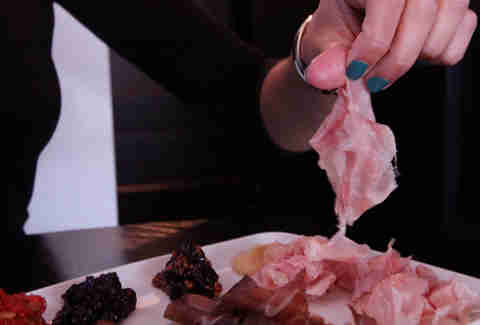 a.pickupbar: Because you can only look for so long before you make your move.