Breakfast may be the most important meal of the day, but brunch is the most socially important, so good luck maintaining manners through the Rittenhouse Hotel's Sunday morning sit-down, an all-you-can-eat buffet cramming the kitchen and dining room with 45+ hot and liquid-nitrogen-cold dishes, from sausage beignets and hand-carved Niman Ranch brisket, to poblano pepper gazpacho shooters and these cocoa-dusted, pistachio-crusted goose fat profiteroles, all waiting to be washed down with bourbon Bellinis. And don't worry, there are unlimited napkins, too.
Recommended Video
Austin's Breakfast Go-To Isn't Breakfast Tacos
Want to start with a real drink? Order up your choice of ice cold vodka, then play bartender by stirring in pours of these house-made tomato mixers, spiced up with a massive selection of hot sauces and garnishes.
Want to start with a fake drink? These shooters are as pho as those quail eggs are real.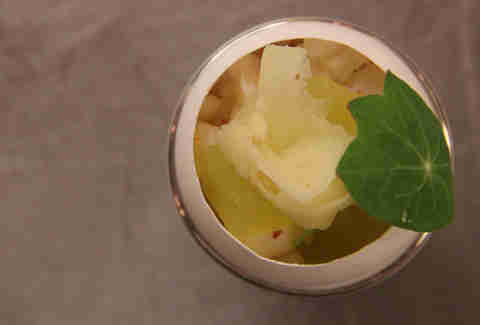 Prefer your eggs stuffed with lobster? Riesling-spiked crustacean custard's poured into these capped shells. And then your mouth.
Then go fish... ier... at the raw bar, because there's ALL-YOU-CAN-EAT CAVIAR including salmon roe, wasabi, whitefish, and the expensive kind.
The first rule of the raw bar is if you hold up the line too long you will turn to stone. So know what you're getting into -- namely, four kinds of sushi rolls like BBQ eel & spicy tuna, smoked trout & salmon, East & West coast bivalves, and jumbo shrimp so good they'll taunt you for eternity.
(But while you are in line, pop some of these salmon tartare- and beet root-piled potato crisps.)
Clean your first plate? You deserve a breakfast cookie that's totally not Stella D'oro, like these savory tarragon macarons sealed with strawberry cream.
Now sandwich some peanut butter pancakes together with something else creamy...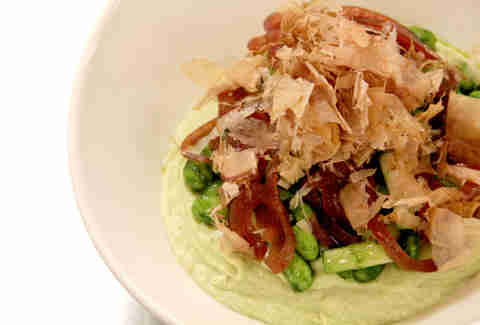 ... like this edamame hummus piled with pickled red onion and charred scallions...
Before you move on to the meaty stuff, break some bread with your table-mates. Either metaphorically or by raiding this every-kind-of-croissant basket.
There are always a dozen hot entrees in the kitchen, not counting five hand-carved meats like Elysian Fields lamb and diver scallop sausage. So you'll have to use your own fork and knife to cut into this pan of crispy duck confit...
... and probably this hay-smoked Duck Magret too. They'll carve it, but they're not actually going to feed you.
Don't worry, they'll give you clean silverware for dessert.
Previous Venue
Next Venue
Venue Description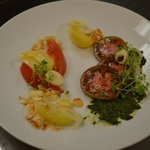 1. Lacroix at The Rittenhouse
210 W Rittenhouse Sq, Philadelphia, PA 19103
Your milkshake brings some adventurous people to the yard when you're Rittenhouse Square French-staurant Lacroix, (located at the Rittenhouse Hotel), especially because said milkshake involves both foie gras and blood orange. If you thought that was interesting, it's also serving up the likes of suckling pig, Spanish octopus (it's got an accent), and sweetbreads, in addition to a build-your-own Bloody Mary station. Celebrated head chef Jon Cichon traveled to places like Portugal, Thailand, Japan, and even America to get inspiration for the flavors he's dishing out.