Uncovering Philly's Best Secret Menu Items
Courtesy of Revolution Taco
Courtesy of Revolution Taco
Philadelphia Like a cross between your phone's key code and trying to grab a drink at a speakeasy bar, Secret Menu Items (herein known as SMIs) are all the rage. For the uninitiated, an SMI is something not listed on the traditional menu but the kitchen will crank out upon request. Sites like Hack the Menu catalogue SMIs at national chains like Chipotle, and Shake Shack, and Starbucks (Twix Frappuccino, anyone?). But for the local Philly spots, there's a little more gumshoe work involved. We sniffed around town, very nicely asking chefs, restaurateurs, and in-the-know diners to tell us the hottest secret menu items. Let us know if we missed any in the comments.
The Revolution Burger
​Revolution Taco (address and info) Rittenhouse
Revolution Taco's Revolution Burger is not only a secret, but they only make six of them a day. To get it, you have to ask for it by name. Ten bucks gets you a local (Indian Ridge in Telford), dry-aged beef blend of ribeye and T-bone, topped with bacon sourced from Stryker Farms pork belly with Cooper cheese, roasted poblano crema, and avocado chimichurri sauce. It's served on a brioche roll from Breakin' Bread Bakery. It's a handful, a mouthful, and 100% secret. More Stuff You Will Like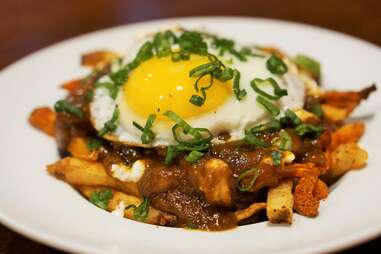 Southern poutine
​The Little Lion (address and info) Old City
You might be under the impression that you can only get Little Lion's Southern Poutine during happy hour at the bar. But you'd be wrong! You can order them any time during service, but you have to ask for it by name as you won't find it on their printed dinner, lunch, or (soon to be launched) brunch menus. Dig into their dry-rubbed, hand-cut fries with pork belly, short rib jus, farmers cheese sauce, fried egg, and with a generous sprinkle of scallion anytime you like. Continue Reading
Superfood bagel with cinnamon raisin cream cheese and bacon
​Knead Bagels (address and info) Washington Square West
Here's a little secret... Knead can make you the staff-favorite bagel sandwich if you ask: superfood bagel with cinnamon raisin cream cheese and bacon. You can also add bacon to the kale sandwich and pimento cheese to the turkey sandwich, if you feel like remixing the the menu.

Mac and cheese pancakes
​Honey's Sit N' Eat (address and info) Various locations
Honey's is all about having a secret menu. The most popular item: mac and cheese pancakes. People swear by the cheesy, crispy head-sized circle. Honey's also makes an "adult grilled cheese," which is basically a turkey club sandwich but with double layers but of grilled cheese. You can put bacon, cheese, tomatoes, whatever you like in this off-the-wall creation. There's also the veggie patty melt -- (you know what we're gonna say here) just ask!


Assorted bar bites
​Palladino's (address and info) East Passyunk
This isn't a secret item per se, but we just got wind that Italian restaurant Palladino's has launched a new late night happy hour with free assorted bites at the bar. Just pop in anytime from 10pm-12am Thursday through Saturday night. You won't find these anywhere on the late night menu, but you'll be able to nosh on whatever nibbles the chef feels like making that week. Did we mention it's free? Because they're free.
Pizza cake
​SLiCE (address and info) Italian Market
Behold the Pizza Cake. It takes one hour to make and it's eight gooey, cheesey layers piled high. You can get it at the South Philly SLiCE location with an hour's notice at minimum, and, yeah, you won't find it on menu. You have to ask for it.

Omelette
​Beau Monde (address and info) Bella Vista
Beau Monde is known for their crepes, but little known fact: the chefs can make you an omelette. It's not advertised anywhere on the menu, but they'll do it if you say please.


Rare wine
​Kensington Quarters (address and info) Fishtown
This popular Frankford Ave restaurant/bar/butcher spot hosts fried chicken nights on Tuesdays, steak nights on Sundays, and the occasional pop-up function upstairs, but this SMI can be found in a glass. They have limited bottles of special wines that aren't on the regular list, like ones from Domaine Lucci in Adelaide Hills, Australia. These rarities are held for particular guests who will appreciate them. So if you're a wine connoisseur, there's a hidden gem or two for you here.
Dill pickle-glazed fried chicken
​Federal Donuts (address and info) Rittenhouse
Forget about honey-ginger and chili-garlic, because ask nicely and the fry cooks at Fed Nuts' Sansom Street locale will combine your love of fried pickles and fried chicken and coat your crunchily twice-fried bird with an umami bomb of that dill pickle juice glaze.

Nutella pizza
​Osteria (address and info) Fairmount
There are already nine pies on the menu at Marc Vetri's Tuscan feastery -- how many more do you want? If the answer is "one", wait 'til dessert, then order this Nutella pizza, an oven-baked dough-hooded chocolate-hazelnut smothered crust buried under a mound of powdered sugar.


Foie gras-stuffed lobster tails
​Davio's (address and info) Center City
What's more baller than the off-menu foie gras skewers at Zahav? A hulking slab of that fatty goose liver goodness stuffed all up inside a half-pound tarragon butter-poached lobster tail at this Center City northern Italian joint.

Corned beef cheesesteak
​McGillin's Olde Ale House (address and info) Penn Center
Want to celebrate your Irish-Italian-Jewish heritage in meat form? Get the best of all worlds with this secret cheesesteak that replaces chipped ribeye with salt-cured Reuben-filler bundled with melted cheddar inside a hoagie roll.


Welsh rarebit chips
Victoria Freehouse (address and info) Old City
There's two reasons to whisper this dish's name: 1) the twice-fried chips covered in hot cheesy bacon, onion, and ale gravy are an off-menu treat previously only known to employees, and 2) you're probably ordering this ultimate hangover cure for a very good reason.

Sign up here for our daily Philly email and be the first to get all the food/drink/fun in town.

Anna Goldfarb is author of the humor memoir, Clearly, I Didn't Think This Through, and wonders what it'd be like if all restaurant food items were secret. Could you imagine? It'd be anarchy! You can follow her: @MsAnnaGoldfarb. Still hungry? You don't even have to go off-menu to get Philly's best pizzas...