The Donnoli: Have you seen Philly's new donut-cannoli hybrid?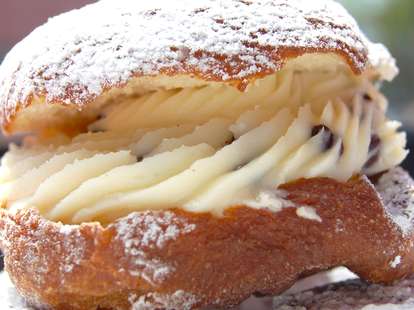 All photos: Cassie Hepler
All photos: Cassie Hepler
If you thought Philly had reached the peak of donut achievement thanks to food trucks making Cap'n Crunch- & bacon-topped versions; delicious Cronut knock-offs; or shops slinging fried chicken & donuts... well, then you clearly aren't the folks from Frangelli's Bakery, who've created a glorious donut-cannoli hybrid, or the people at Di Bruno Brothers, who've just started selling them, or one of the people lucky enough to have tried 'em already. They know better. And you will, too, after seeing the Donnoli for yourself:
Deep in South Philly is where the magic happens... if by "magic" you mean "stuffing people so full of pastries they can't make the other kind of magic happen ever again".
Things start with a donut dough recipe that hasn't changed since 1947.
Next, what usually happens to you when you go drinking in South Philly happens to the dough: it gets beaten... and rolled flat.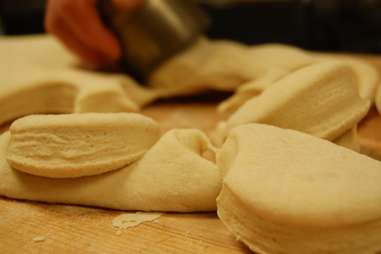 Then, they cut each donut by hand...
... and put 'em in a warm oven to proof, a process that helps the dough rise and get fluffy.
A half hour later, these suckers are ready for the fryer.
Mmmmmm.... if only you smelled this good after a hot bath. Heck, if only you took baths.
Wow... they're totally done. Psych! Frangelli's is just getting started.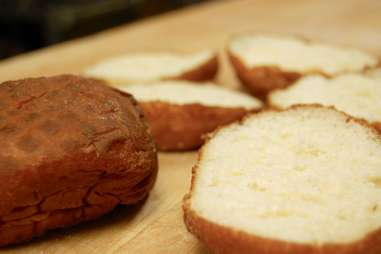 Once these suckers're chopped in half, they're ready for a generous helping of classic cannoli cream.
This glorious mixture of Impastata cheese, 6X powdered sugar, chocolate chips, and buttercream can't wait to join the party... in your mouth!
Leave the gun, make the cannoli-donut hybrid with a pastry bag.
Finally, they make it rain powdered sugar all over 'em, and they're ready for customers to make it rain cash -- or just show up early -- in order to get one.
Each has an estimated 500 calories, "but it has protein in the cheese", so don't feel bad posting-up at the mom-and-pop bakery, or one of the Di Bruno Bros' Philly spots...
Trust us, it's worth a trip to South Philly just to get a peek at the new peak of Philly donut perfection. And to, you know, eat a dozen or so.