Go Dutch with fried meatballs & giant burgers
Surprise your date by going Dutch and picking up the check at Noord, South Philly's Northern European-influenced BYOB, then watch her jaw drop a second time for Nordic nibbles and Viking-sized melts like Icelandic fish-and-pickle sliders and a two-fisted Gouda burger she'd be just as happy to pick up and not split with you.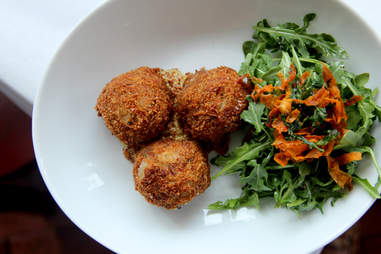 Practice sharing with these Bitterballen. Not just Chris Brown's next neck tattoo, it's also this classic Dutch snack of brown sugar-braised deep-fried pork meatballs.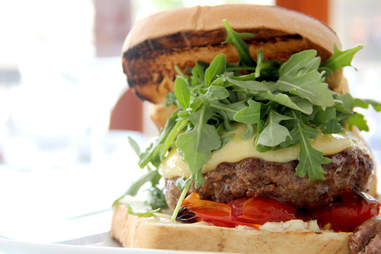 Even if you put them all together, they're still not as big as this spicy-sweet Suriname-curried grilled lamb patty laid on a bed of roasted tomatoes, melted under a sheet of Dutch gouda, and almost contained by two toasted wedges of thick-cut house-baked brioche.
Want tots with that? Or whole roasted peanuts? Or both? The burger's sided with a plate of whole roasted peanut... 'taters... slathered with mustard remoulade.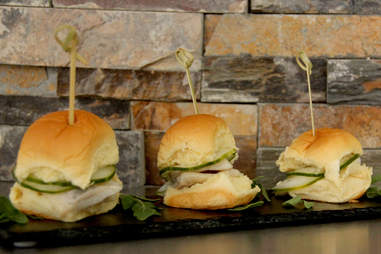 If White Castle ever decides to open in the Netherlands, they'd do well to offer these sliders filled with soused Icelandic herring stacked with cucumber and pickled onions.
Like your fish soused with something stronger than herring brine? Lucky for you, Noord's a BYOB for a reason -- all the beer they stock goes into this pan...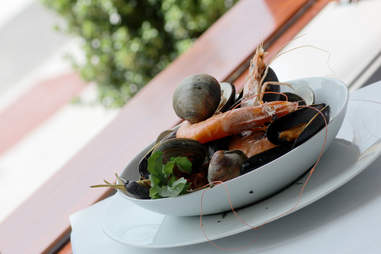 ... to make Noord's Shellfish Waterzoois, a small water zoo's aquarium's worth of prawns, Gulf shrimp, Prince Edward Island mussels, and littleneck clams literally stocked with brew.