7 things you need to know about Philly's hottest pizza player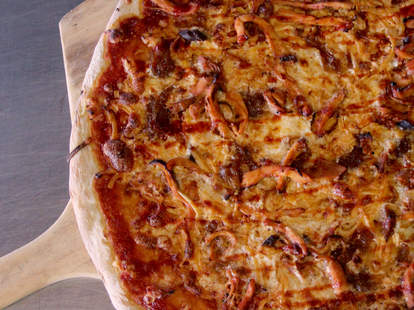 If you've ever peeked beneath the garage doors of those anonymous cigarette and cinder block warehouses lining Washington Ave, odds are you've left the Graduate Hospital 'hood with more questions than answers.But if the guy behind Kraftwork and Sidecar opened doors to one painted with an Ivan Drago mural, packed with display cases full of fresh-baked sausage pies, cheeseburger Hot Pockets, and chocolate-marshmallow Pop-Tarts, and lined the psychedelically-floral facade with a fleet of custom bikes tethered to cast iron pepperoni slices, you wouldn't be going anywhere until both your questions AND your appetite were satisfied. But it'd be way easier to take care of some questions first so you can get right down to the eating, so here's the essential info:
1. Kermit's is a whole new animal: The Italian bakery-American pizzeria hybrid's unlike anything Philly has seen, and while Miss Piggy may have been consulted on the facade, the space is named after the owner's cat (who's actually named after New Orleans jazz great Kermit Ruffins).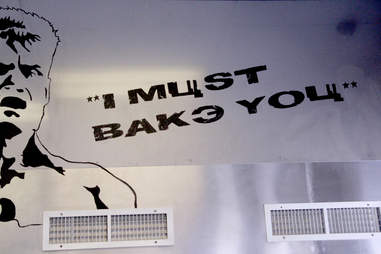 2. There's more than one baking heavyweight in the kitchen: The pizza ovens are manned by Kraftwork's current chef, while a Le Bec vet who trained in France and competed on the last season of TLC's Next Great Baker's handling the sweet science. Mr. Drago is relegated to wordplay.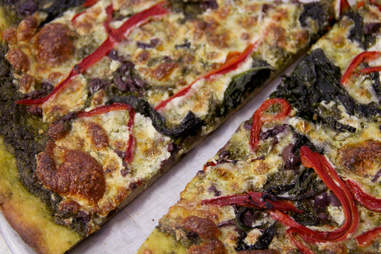 3. You can really pile it on: Red and white pies serve as an 18in landing pad for 20 toppings you can rearrange in infinite combos, like this house-smoked chicken jawn piled with roasted peppers and almond-garlic pesto.
4. White pies are as cheesy as they come: They start out oozy with a threesome of mozzarella, Grana Padano, and Pecorino Romano, but from there, you can really mix it up with the likes of smoked Gouda, cheddar, ricotta, and sharp Provolone.
5. Sweet deals are guaranteed: Pastries are all under $5, from toasted-to-order Pop-Tarts in rotating flavors like apple-cinnamon and chocolate-marshmallow, to over-sized candy bars fat with nougat and crunchiness, to these Chantilly creme-topped chocolate tarts.
6. You're gonna want to keep your head up: The rippled tin ceiling's designed to resemble pie dough evened out by a giant motorized rolling pin mounted above the kitchen.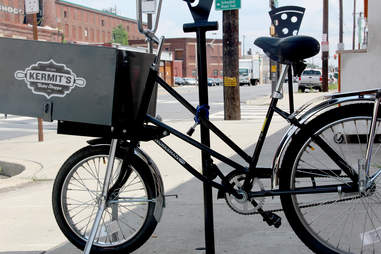 7. You can always order in: Have a phobia of massive mechanized rolling pins flattening you into a pie shell? There's a fleet of custom-designed bikes parked outside ready to deliver you eight slices of dinner. Plus, there's a mobile app for orderings rolling out later this year.