Point Breeze gastropub American Sardine Bar collab-ed with Top Chef vet and 10 Arts alum Jen Carroll for its March sandwich special, and the Philly icon, (famous for her refined French cooking), came up with a roasted chicken, pimento cheese, and pickled green tomato sammy that's been battered and French-fried into this hardcore Hot Pocket. The only thing more intense? What's packed inside ASB's first commercial: 30sec of pure bait material.
Recommended Video
This Beef Sandwich Costs $85
Previous Venue
Next Venue
Venue Description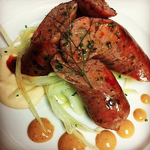 1. American Sardine Bar
1800 Federal St, Philadelphia, PA 19146
Point Breeze's best bar-with-a-fish-in-its-name has awesome beers and comfy seafood jawns like Marinated Shrimp Tortas and Drunken Krab Chowder, made with a crustacean whose claws were even more hammered than usual.