Stephen Starr plus Momofuku's top chef equals Philly's biggest opening this year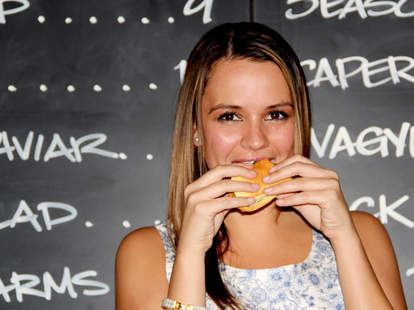 Serpico is Stephen Starr's South St remake of Sidney Lumet's Golden Globe-winning crime drama about an incorruptible undercover cop New York City's James Beard Award-winning Momofuku Ko, co-produced by Food & Wine Rising Star Chef Peter Serpico (ah, that makes more sense), who's ready to feed you the likes of freeze-dried foie gras, caper-brined trout, and deep-fried duck buns all scrawled out on the dining room's chalkboard walls
Just click the starring roll up top and get a taste of everything packed inside.
Like Serpico's take on Momofuku's ubiquitous pork bun. Here it's a deep-fried boneless duck breast overstuffed inside a toasted potato roll with hoisin sauce, scallions, and house-cured pickles.
Serpico's daily menu's loaded with seasonal dishes like steamed egg custard with Siberian caviar, Wagyu chuck flap with fried potatoes, and everything you can imagine in between. Except for her.
Like your dinner like your astronaut ice cream? Opt for a bowl of powdered frozen foie gras studded with peeled green grapes and candied peanuts...
... then tell your date to close her eyes and see if she likes Halloween as much as you do.
Of course, then she might return the favor and trick you into eating your vegetables. Not that you'll mind -- even this lettuce and snow pea salad looks enticing.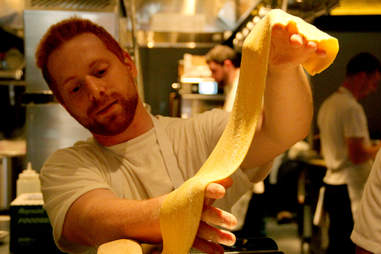 Before you're torn between the chorizo & white cheese corn ravioli and the chicken skin & snail pasta, this dude's hand-tearing it.
And if a booth isn't cutting it, score a seat at the open kitchen's wraparound counter.
Want a drink? Wrap your mind around the bottle-lined bar's beer, sake, and cocktail menu, packing punches like this stir of Monte Albon Mezcal, Amaro Averna, lemon, grapefruit, and agave.
You can also go off-menu for a custom Scotch-and-every-cordial on the rocks...
... or go completely off the wall with Serpico's three-booth-long wine list.
Just be careful not to go too far off the wall or you'll end up inside the kitchen.