The Best Places to Eat & Drink on the Main Line
Whether you grew up in the suburbs or are a Philly transplant, chances are you've heard mixed reviews of the Main Line. The area gets a bad rep for being full of snobs, but it has a lot more to offer than a Starbucks on every corner, a Mercedes on every street, and a fully-functioning cricket club. From locally-brewed beers, to tequila flights, to authentic Irish dishes, here are 10 places that are absolutely worth getting out of town for.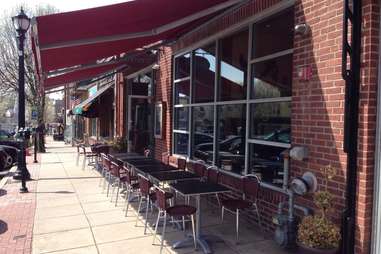 Wayne
Located (naturally) next door to Teresa's Cafe, the adjacent option offers an extensive beer list that has brews like Freigeist Köpenickiade and more flavors of Lindemans than you knew existed. The spot's emphasis on beer from around the world, as well as whiskeys from Tennessee to Japan, will have you thinking you wound up somewhere pretentious Downtown, instead of zone 3 of the Paoli/Thorndale line. The spot is also a refreshing alternative to stuffy suburban spots thanks to late night hours throughout the week (the kitchen stays open until midnight, and doors close at am everyday), as well as an eclectic food menu that serves to complement the drink list perfectly.
Gulph Mills
Save up your hard-earned dollars for a trip to this tucked-away retreat that masters high-end cuisine without sacrificing portions. It's always comforting to find a restaurant that offers a "formal" menu full of succulent dishes like scallops, Maine lobster, and foie gras, but also a "casual" menu that offers up blue crab spinach pasta and Margherita pizza.
Ardmore
To the joy of Mainliners and city dwellers alike, Tired Hands has expanded its presence in Ardmore since first starting its brew pub in 2011. The initial outpost offers creatively named brews you'll surely miss when they tap out (last winter's Truth Bombs, for example), as well as cheese and assorted charcuterie plates. Now you can get a second Tired Hand's experience at the airy, angelic beer heaven at Tired Hands Fermentaria, just a few blocks away. Here you'll find some additional food options (including tacos!), up to 10 rotating beer options, and cold brew coffee on tap.
Bryn Mawr
This tapas joint by the Bryn Mawr Film Institute is a grab bag of Latin-infusion delicacies, with a seemingly endless tequila list (and flights!) to choose from. If you're merely a tequila novice, Verdad has plenty of ways for you to develop your palate with daily happy hour specials on potent margaritas, including the El Fuego, which is served to you, literally, on fire. The appetizers shouldn't be passed over either: if you only eat one thing ever in Bryn Mawr, it should be Verdad's strawberry habanero guacamole, which conveniently happens to taste great with tequila.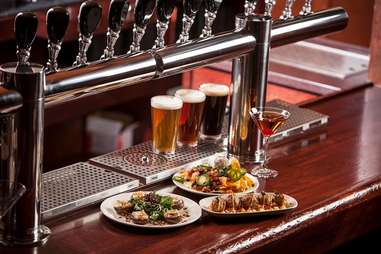 Ardmore
The local chain's Ardmore outpost is further helping to make Ardmore a craft beer-happy town, observing seasonal specials and original Iron Hill brews. Enjoy beers brewed in-house, as well as a hearty menu loaded with pizzas, sandwiches, salads, and burgers. Opt for takeout, and you can grab two pizzas (like the Voodoo Chicken pizza, coated in barbecue sauce and Gouda) and a beer growler for $25.
Bryn Mawr
Tango is located right by the regional rail line, which means you can get there and back with relative ease, plus depending on where you're seated, the window by your table may fill with the sight of a moving train, which can be pretty neat/pretty terrifying depending on your love/fear of large locomotives. However, one thing that is never scary here is the menu. Opt for brunch and pick up a breakfast burrito or buttermilk pancakes, or go for dinner and choose from dishes such as sautéed scallops, an eight-oz filet, fish tacos, or a rotating lineup of small plate specials.
Haverford
The seasonal restaurant's University City outpost has two sibling locations on the Main Line, with the newer Haverford location rounding out the franchise. Every room throughout any of the locations adopts a different aesthetic, and the menu constantly changes from season to season, even offering "Early Fall" options before switching to the "Late Fall" menu. What this means is you're getting served some of the best locally-made and sourced ingredients for fresh dishes of chicken, lamb, seafood, and more.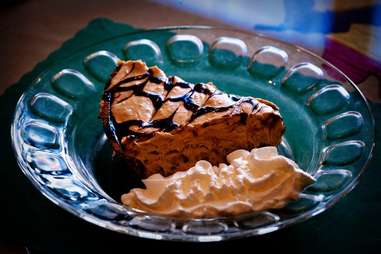 Ardmore
McCloskey's already has a reputation for being the oldest Irish pub on the Main Line, but the food menu denotes anything but a watering hole. The long-running family business boasts a beer menu mixing a focus of local beers with popular seasonal brews from everywhere else, as well as offering bar food staples (try the potato skins) along with pasta, beef, and other dishes you normally wouldn't trust at any other local Irish pub.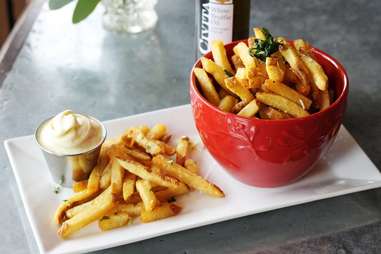 Wayne
Silverspoon is another great eatery focused on local, seasonal, and sustainable ingredients, making way for plates of slow-roasted salmon, lobster risotto, and rotating bisque specials. The menu's also outfitted with staples that aren't going anywhere just because the weather changes, in particular the truffle popcorn that could give the Khyber's bacon grease popcorn a very artery-clearing run for its money.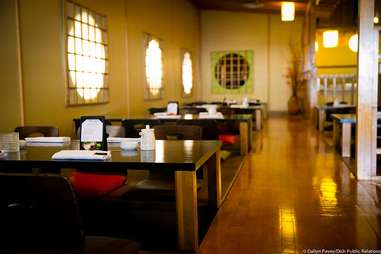 Ardmore
Part Japanese sushi experience, part Thai restaurant, Mikado offers both. You can either choose to sit traditionally on the floor, or post up by the bar to check out a game on their TV. Either way, the sushi and Thai food are both among the very best in the Philly area, with creative maki combos -- like the sweet and savory strawberry, honey, and shrimp Godzilla roll -- and the ability to make pretty much anything into a tempura version of its original self. Oh, and this fact isn't limited to your dessert of choice at Mikado: fried ice cream.
Sign up here for our daily Philly email and be the first to get all the food/drink/fun in town.

Marielle Mondon is a Philly-born freelance writer, but one of her favorite Wawa locations is on the Main Line. Follow her @MarielleMondon on Twitter and Instagram.