As much as State College is one of the best college towns in America, it's often derided for its lack of defining restaurants. And although it's true that there's been an influx of chains in recent years, there is still a good number of worthy places for a bite in this town yet! Check out the 13 best restaurants in State College, PA.
Recommended Video
Winter Starbucks Beverages Around The World
2235 N Atherton St
Otto's may be best known for its beers (an on-site distillery is on the way!), but the burgers with locally-sourced ingredients are where it's at. Try the Cowboy, with barbecue sauce and bacon, The Ottonator (pancetta, grilled onions, and Amish white cheddar), or the Juicy Lucy, a take on the Minneapolis classic.
1229 S Atherton St
Widely regarded as State College's premier pizza joint for students, alumni, visitors, and townies alike, its oven is wood-fired and the pepperoni is the curly edged kind. The toppings here are anything but pedestrian.
137 Elmwood St
Start with the short rib nachos, then dig into the intense Shish Kicker -- a grilled chicken sandwich topped with fontina, shishito peppers, and garlic aioli -- paired with a brewed-on-site Tailgater Pale Ale or a Phyrst Phamily Stout.
1610 W College Ave & 1229 N Atherton St
Be prepared for a wait on any weekend, but especially Sundays following Penn State home games. Don't let the line deter you, though -- there's a reason for the crowds. The headlining waffles are huge, and the chicken noodle soup will make you wish for a head cold more often.
123 W Beaver Ave
A quality cafe is a must in any college town, and this little shop with its outdoor seating is an excellent place to cram for an upcoming exam, or to simply enjoy the nice weather that occasionally decides to visit central Pennsylvania.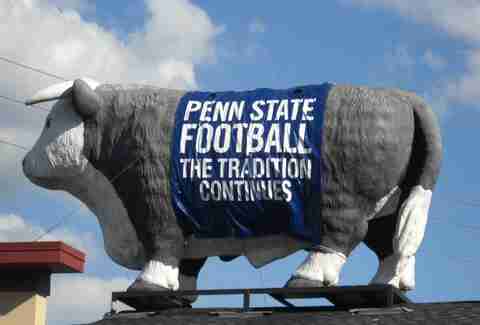 316 Boal Ave, Boalsburg
OK, so technically this roadhouse isn't in State College proper, but it is only four miles down Route 322. The giant rooftop bull gives it the air of a tourist trap, but it's anything but -- State College residents themselves lauded it as the town's best steakhouse eight years running.
100 W College Ave
Located on the second floor of the more than 150-year-old Hotel State College, the view here is downright iconic. Prices are reasonable for students, and the vibe is classy (there's a piano!) without being black-tie. Sit near the giant windows and watch "The Corner" -- where College Ave meets Allen St -- bustle below, then head to the bar for live music every Wednesday through Saturday night.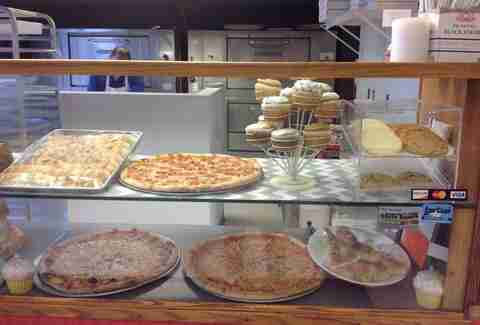 222 W Beaver Ave
Although college kids will invariably tell you the best cheap slice in town is Canyon Pizza, our sleeper hit is several blocks west. Margarita's, squished between a parking deck and an apartment building, is no-frills but not in a way that feels cheap -- the menu is surprisingly deep (for a pizza place, anyway) and the staff even remembers regulars' orders.
106 S Allen St
Despite the presence of one of America's most successful university athletic programs, State College doesn't have an abundance of true sports bars. Enter Pickle's, with its central location, drink specials, and TVs for watching Pittsburgh and Philadelphia duke it out over bocce ball. A big portrait of the bar's namesake hangs on the back wall. Was he a real person? No! Doesn't matter.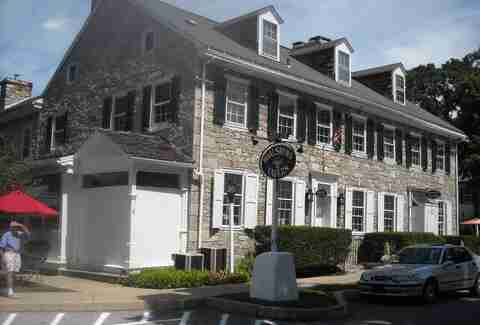 113 E Main St, Boalsburg
This roadside pub and patio -- established in 1819 -- serves the standards, but creative options like Wasabi Garlic Ranch, Thai Maple Soy, and Bacon Habanero Ranch are what you're here for. The name of the latter is rarely spoken aloud for fear of jinxing its presence at Wednesday wing nights. It's that good.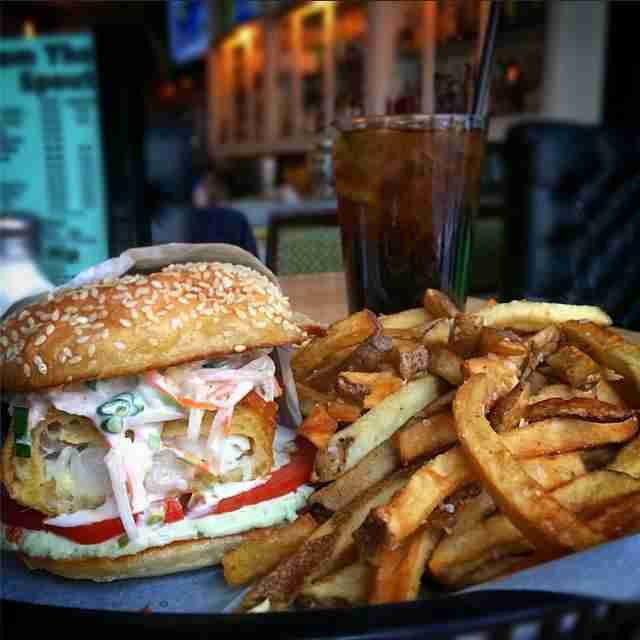 107 E Beaver Ave
It's located directly above one of the top college bars in America with a kitchen that's open until at least 2am, so you do the math. The impressive late-night menu from connected Famous Ernie's Steaks comes complete with cheesesteak egg rolls, a Beaver Burger (not the animal meat -- gross! -- just the street name), and the best Reuben in town. Fries come in two sizes: plate and tray.
Best place you'll probably go to after graduation but should really go to more often: The Tavern
220 E College Ave
An institution since 1948, it's the go-to post-graduation spot (likely because of all the Penn State ephemera decorating the walls), but that doesn't mean you shouldn't visit year-round. The menu changes frequently but is heavy on steaks and seafood, and sides are unlimited.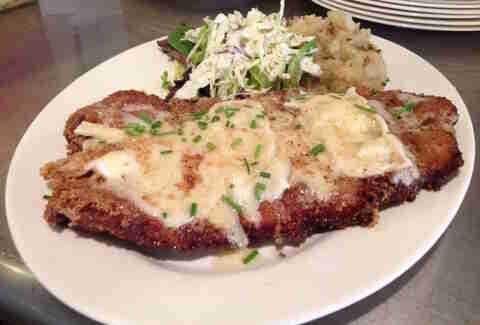 Best place to get yelled at for not finishing your food: Herwig's Austrian Bistro
132 W College Ave
Reasons to come here: 1) it's BYOB, 2) the schnitzel. Oh, the schnitzel, and 3) the huge, huge portions that you better finish -- you'll be scolded otherwise!
Sign up here for our daily Philly email and be the first to get all the food/drink/fun in town.