Philly isn't the only place in Pennsylvania with delicious burgers -- it turns out the rest of the state feasts on red meat as well (even the Amish parts!). So should you find yourself in search of not only the best burgers in the city, but also the rest of the state, here's the guide to PA's 15 finest burgers.
Recommended Video
Debatable: Is Shake Shack Really Fast Food?!?
Lancaster
What you're getting: The Aussie Burger
There's much more to Lancaster than Rumspringa, like the top-notch Australian-inspired cuisine at cozy spot Aussie and the Fox. The Aussie Burger is yours complete with lettuce, tomato, pineapple, griddled onion chutney, pickled beetroot, smoked Gouda, and fried egg on ciabatta.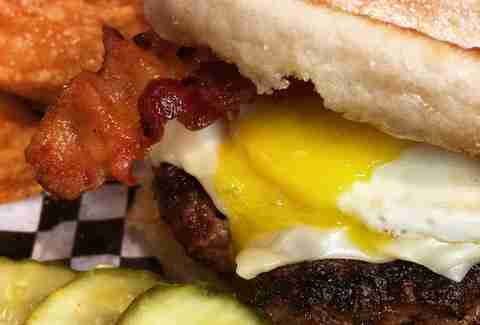 Scranton
What you're getting: The Morning After Burger
The Morning After Burger is the perfect companion to any hair o' the dog you need -- it even comes with drink recommendations. This breakfast sandwich-meets-burger comes with bacon, egg, and cheese on an English muffin, plus chips, coleslaw, and a pickle.
 
Bethlehem
What you're getting: Cast Iron Seared Slow Roasted Burger
Bolete prides itself on farm-fresh foods suitable for PA's more refined diners, but still serves a mean burger. Head there for brunch and try the Cast Iron Seared Slow Roasted Burger complete with bacon, red onion, arugula, mushroom marmalade, house-made chips, and your choice of cheese.
Pittsburgh
What you're getting: Meat Your Maker Burger
Burgatory is loved by 'burgh locals as the best spot to satiate their burger-and-a-shake cravings. No doubt it'll be a tough call to pick out your perfect combo with 10 options in each category, but we suggest you go big or go home with the Meat Your Maker with dry-aged wagyu beef, sweet onion crust, and aged Gruyère as you ascend into burger heaven.
Allentown
What you're getting: Vertigo Burger
Come here if you want a true burger challenge in the form of an ambitiously stacked Vertigo Burger with the option to order between three and 10 meat patties. Finish a 10-patty burger and you'll be done with calories for the entire day/week/life.
 
Lancaster
What you're getting: Texas Burger
Though pizza is Four54's big draw, the Lancaster spot isn't afraid to overstuff its sandwiches. The best-selling Texas Burger includes pepper jack cheese, sweet onion marmalade, onion rings, applewood bacon, and a grilled brioche bun, in case you wanted to get your cowboy on in Amish country.
 
Philadelphia
What you're getting: Good Dog Burger
The bar's eponymous burger comes with a half-pound sirloin burger stuffed wtih Roquefort and topped with caramelized onions on brioche. Good dog, indeed.
 
Scranton
What you're getting: Stuffed burger special
Every Wednesday at the Keys, one of Scranton's most highly regarded bars, you can score hand-stuffed burgers for $5 to go along with the spot's proud beer menu. And you thought $2 tacos were exciting.
Philadelphia
What you're getting: Prohibition Taproom burger
The burger at Prohibition Taproom is all local, with 100% grass-fed beef, which is butchered and ground at Kensington Quarters, then topped with Hope Springs cheddar from Lancaster (plus lettuce & haystack onions), and finally bedded onto a snowflake bun, making it one of the city's finest burgers.
 
Philadelphia
What you're getting: Sassafras Bar Burger
Sassafrass burgers are essentially build-your-own, which means you start by picking your meat (ostrich, bison, lamb, or, you know, plain old sirloin), then for an additional $3 you can go really Philly and make it "Gangster Style": ordering the Dillinger means adding caramelized onions and Gruyère, while the Al Capone gets you bleu cheese and bacon.
Pittsburgh
What you're getting: Build-your-own stack
You may need some time to perfectly design your dream burger, or just rush through the menu options and pick everything that sounds remotely good. Sauces and toppings range from traditional (BBQ, red onion) to more experimental, such as peanut butter or Fritos. Prepare to get creative.

Sketch Burger Philadelphia
What you're getting: The Truffle Butter Burger
Philly's own Fishtown Sketch Burger is a local favorite for anyone with tastebuds looking to get experimental yet not go so far as PYT. The Truffle Burger comes complete with truffle butter and seasoning, mushrooms, a fried egg, bacon, and avocado, or opt for build-your-own options like Kobe beef and seven kinds of house sauces including wasabi.
Philadelphia
What you're getting: Whiskey King
If you're looking to get decadent with your burger choice, turn to the Whiskey King burger, best ordered medium rare and with a side of duck-fat fries. At $26, the burger comes topped with foie gras, applewood bacon, bleu cheese, and maple-bourbon glazed cipollini, just in case you didn't know you were getting your money's worth.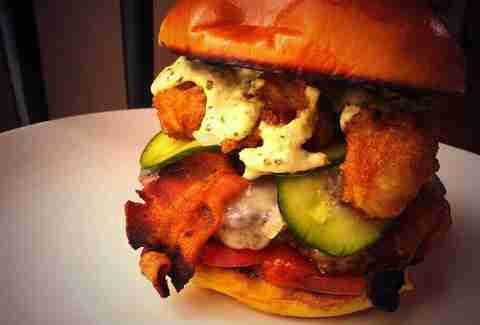 Philadelphia
It's hard to believe that one of the best burgers in Philly (and thus in all of Pennsylvania) comes from a food cart primarily targeted toward Drexel students, but oh, it is true. SPOT's creative concoctions (such as the Charlie Brown with whiz, fried onions, and bacon) and other savory, made-with-brotherly-love burgers make it a favorite for students and pretty much everyone else. Standing in line outside not your thing? Wait it out for SPOT's upcoming, non-mobile storefront slated to open in Mantua.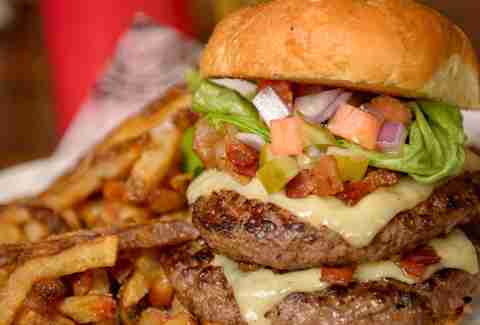 Reading
What you're getting: The Wimpy Burger
Frank & Diannah's makes its burgers with filet and prime rib, automatically putting it ahead of most other PA burger contenders, and it hosts a Thursday burger night to make it even more worth your while. Try the Wimpy Burger for a decidedly non-wimpy 8oz burger with spinach, caramelized onions, and Mornay sauce.
 
Pittsburgh
What you're getting: Jefferson's Repeal
Most burgers on the menu at Winghart's have quirky backstories for the burger's namesakes, but the Jefferson's Repeal is pretty straightforward: Jame'O sauce over fried onions and Irish whiskey cheese. Aside from being one of Pittsburgh's favorite burger joints, it's also big on beer and whiskey.
Marielle Mondon is a freelance writer and editor trying to eat Philly's best food in the name of research. Follow her on Twitter at @MarielleMondon.
Sign up here for our daily Philly email and be the first to get all the food/drink/fun in town.