Maybe you've been taking that special someone on dates that cost over $20 (why the eff would you do a thing like that?!), or maybe you're saving some money so you can keep up with those Comcast bills. Whatever the reason, Philadelphia is the perfect place to be a little parsimonious and still eat like a champ thanks to all the things on our list of 15 great Philly foods you can get for $10 or less, none of which are cheesesteaks. Or pretzels. Or from Wawa.
Noodle bowl, $9.50
Same Same
Address and Info
Northern Liberties
This traditional dish is filled copiously enough with herbs, veggies, and toasted peanuts that you'll probably have leftovers the next day. Opt for the $4 spring rolls and $2.75 custard for dessert and you've got yourself a meal.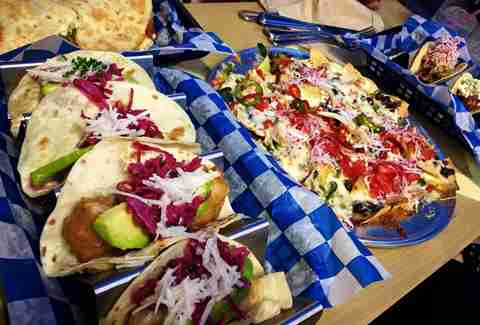 Nachos, $9
Buena Onda
Address and Info
Fairmount
Casual street food gets a Jose Garces twist at Buena Onda, where tacos start at just $3.50 a pop and shareable appetizers all clock in below $9, whether you opt for the $7 guac or the black bean-, queso-, and tomato-topped nachos.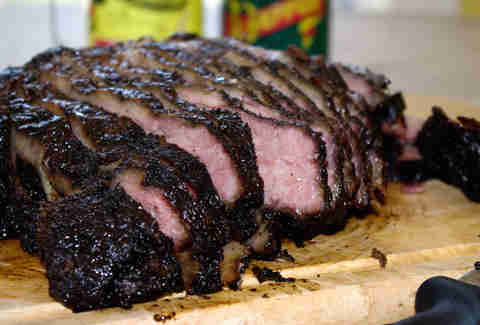 Brisket sliders, $9.50
Smokey Pint
Address and Info
Bridesburg
Almost the entire scrumptious barbecue menu at Smokey Pint costs less than $10 despite the fact it's some of the city's best BBQ, with portions that look like they'd go for... well, more than $10, presumably, and beer prices that are also fittingly low.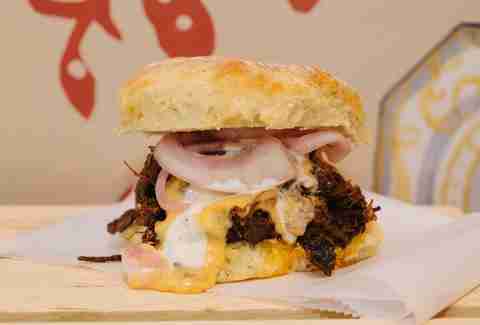 The PA Dutchman, $8
Scratch Biscuits
Address and Info
Midtown Village
Any biscuit concoction you can imagine at Scratch -- whether it's the brisket brisket for $8.50 or the plain jane for $3 -- is a no-brainer wallet-wise, especially since if you grab one for breakfast at this MV spot, you won't be hungry until it's time to come back for something on the lunch/dinner menu.
Nauti waffle, $10
Waffles & Wedges
Address and Info
Rittenhouse
Channel your inner Leslie Knope and stuff yourself full of one of the dozens of waffle possibilities at W&W. You can opt for a more traditional buttermilk waffle for $4, or one of the 15 more exciting sweet and savory waffle concoctions, ranging from $5 to $10.
Mama's sandwich falafel large, $7
Mama's Vegetarian
Address and Info
Rittenhouse
The lunch lines at Mama's may look intimidating, but don't give up: the staff knows how to deal and will move quickly to provide you with fries and a soda for $2.50, spicy $6 avocado sandwiches, or this over-stuffed large falafel sandwich. Get a bit of everything and you're still going to be spending close to the $10 range.
Weekday bargain breakfast, $4.95
Honey's Sit 'n Eat
Address and Info
South Street, Northern Liberties
Head there before work from 7am to 9am Monday through Friday and you can score a bounteous breakfast for less than $5. You get two options: two eggs, potato latke, grits, toast, and coffee, or a short stack of pancakes, side of meat, and coffee, both for just $4.95.
House-made ham, $8.25
Knead Bagels
Address and Info
Market East
It's not too late to hop on the Philly bagel revolution pioneered by spots like Knead that will make you yearn for New York no more, and that will serve you plenty of deluxe bagel sandwiches, all comfortably below $10.
American-Italian hoagie, $6.25
Matt & Marie's
Address and Info
Logan Square
This is a perfect sandwich shop for the legions of Center City workers looking for a quick-and-easy Philly staple around the corner. The fresh Italian sandwiches at Matt & Marie's range from $6.25 to $8.50 and the spot is open for breakfast or lunch.
Pizza al taglio, $6
Pizzeria Vetri
Address and Info
Fairmount
Regular pizzas at Vetri will cost you upwards of $12, but the always-changing al tagio specials usually clock in around $6 to $8. The cheaper fare at Vetri also includes $4.50 rotolo and fairly priced canned beer.
Unos ricos tacos de pancita, three for $8
Los Jimenez Mexican Cocina
Address and Info
South Philly
Your choice of three tacos at Los Jimenez will run you on average $6 to $9, but they taste like the place has spared no expense. The fresh, authentic tacos are enough to keep you satisfied, but also light enough on your wallet that you can try something else from the rest of the spot's inexpensive menu, ranging from the $8 enchilada entree to the $6 chips and guac.
Ta-Korea, two tacos for $8
Dos Tacos
Address and Info
Rittenhouse
This taquera-style newcomer has plenty of discounted taco specials throughout the week, including a limited menu through 3am weekends and guac going for $1.50. The aptly named spot provides you with, of course, two tacos of your choosing, all of which fall below $9.50.
Happy hour buck-a-shuck oysters, $1
Oyster House
Address and Info
Rittenhouse
If you have a few extra dollars in your pocket and you're looking to get fancy, look no further than $1 oysters and discounted beers at $3 a piece. You can also opt for the coveted weekend happy hour for the same deal from 9pm-11pm on Saturdays.
Soup dumplings, $5.25
Dim Sum Garden
Address and Info
Chinatown
Located almost within sight of the brave travelers of the Chinatown bus, this spot serves up traditional Dim Sum in a flash for eaters on the go and on a budget. You can order soup dumplings and also try the $3.50 sui mai dumplings, making your meal still clock in below $10, and almost any other side you choose won't cost you more than a Lincoln.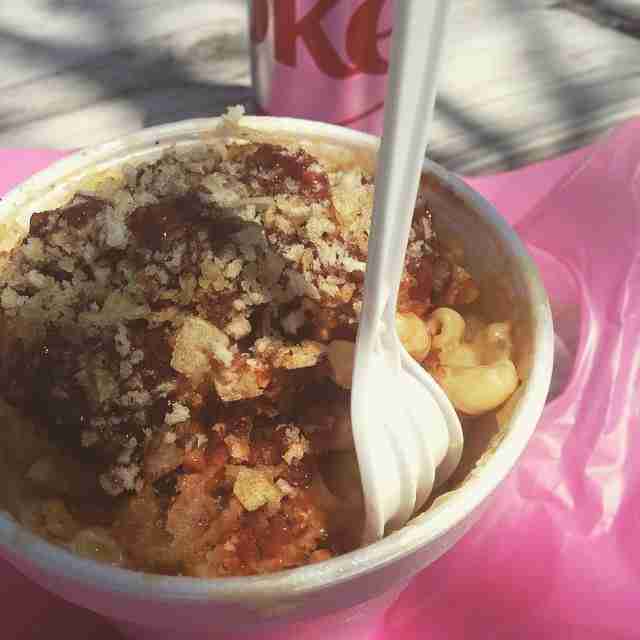 BBQ-in-a-bowl, $8
Mac Mart (address and info)
Food Truck
This Philly food truck favorite gives you the option of stuffing yourself to the brim by getting a cup filled to the brim with mac 'n' cheese. Oh, and even bigger portions with more gourmet toppings aren't too harsh on your wallet either, like the $10 crabby mac doused in Old Bay.
Sign up here for our daily Philly email and be the first to get all the food/drink/fun in town.
Marielle Mondon is a Philly-born freelance writer who could easily rack up a $60 bill eating one of these $10 foods. Follow her on Twitter and Instagram @MarielleMondon.