Now that the second-snowiest Winter in Philadelphia history is technically over, it's time to A) stop using that pea coat to hide the Winter weight you added, or B) put on even more weight at all of the sweet restaurants and bars that opened while you were stuck in the house/busy shopping for a slightly bigger jacket. To help you with the latter, here's our list of eight new, local spots you need to try right now...

Recommended Video
The Definitive Eggnog Recipe You Need for the Holidays
Federal Donuts West
West Philly
After crushing it in South Philly and City Center, the crew behind this famed fried chicken and donut shop decided to follow Horace Greeley's advice to "go West, young man, go West and feed people brand-new flavors of chicken, like Buffalo ranch or Pad Thai, that aren't available at your other stores." And so they opened a third location that also slings new donuts like Marshmallow Marshmallow and Chocolate Covered Strawberry.
Bourbon & Branch
Northern Liberties
What was once called Liberties Restaurant gets a makeover, and a new chef/owner (from Lola's in New Hope), who's serving up humorously out-there pub fare like the seitan cheesesteak for $10.66(6); build-your-own grilled cheeses; and fried chicken with bacon-and-beer mac and cheese.
Petruce et al
Center City Midtown
The long-awaited, family-run wood-fired grill-ery is finally open to the public, and now serving a small-but-pretty-awesome a la carte selection of things like chicken with charred cabbage, grits & egg yolk sauce; pork that comes w/ clams & okra; and small plates of chicken liver that is presumably just offal.
Sancho Pistola's
Fishtown
The gang behind Jose Pistola's in Center City has kept some of the mainstay Mexstaurant's old favorites (spicy tuna guac!) but added a shton of sweet, new stuff including a raw bar packed with prime bi-valves, and taco options like the NY strip/ roasted poblano/ avocado espuma/ cilantro Cecina.
The Strip Joint
Southwest Center City
Opened in the former SoWe, this "value driven steakhouse" is slinging the second-best thing you can get at a strip joint for $20: a 10oz New York Strip, a 6oz filet, etc. Plus, they've got a meat-tastic brunch menu (steak & eggs for $14!), and a playful selection of spirits like the Sweet Tease made with Jim Beam Maple, OJ & candied bacon.
The Gaslight
Old City
Not content getting kicked off Top Chef in the second week, the dude behind this gastropub in the old PBR spot is serving a creative array of eats that includes more dips than a Tupperware party (queso, hummus, Spice Baked Pumpkin, etc.); mains like buttermilk-fried chicken; and drinks ranging from the Tito's Handmade Vodka- & ginger beer-based Usual Suspects, to the bellini-ish Pirate Hooker.

Paris Bistro
Chestnut Hill
In addition to Parisian staples like escargot, crepes, and short rib beef bourguignon, this old-school Frenchtaurant boasts a sweet outdoor dining area, speakeasy-ish jazz cafe downstairs, and a badass brunch menu that includes crab cake benedict, and brioche french toast.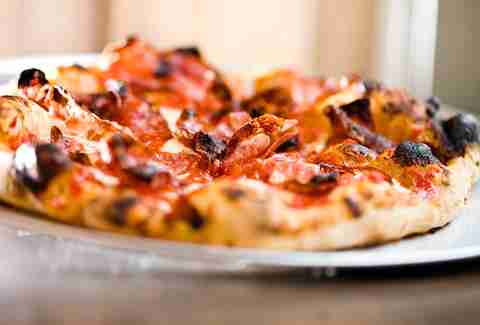 Zavino
University City
Already Midtown Village's go-to 'za spot, this boot-foodery's opened a second, much larger space that's allowed 'em to serve a wider range of pastas (tonarelli with pecorino tartufo, pesto cavatelli, etc.) and hand-tossed pies covered in toppings that're either locally sourced or specially imported, just like the watch you bought on South Street wasn't. Sorry, dude.