We know you're still mourning the loss off Little Pete's and Philly's other shuttered places, but there's no better way to bounce back (and spoil your New Year's diet) than to catch up on Philly's latest and greatest restaurants, so we've rounded up nine can't-miss spots.
Recommended Video
This Pizza Dip Lets You Throw a New Kind of Pizza Party
Rittenhouse
It's only January, so chances are you're still pretending to be healthy, which makes the hummus-centric menu of Rittenhouse's Dizengoff your new favorite thing. Fear not: the ever-changing menu has a lot more going on than just chickpeas and olive oil, with daily specials such as ground lamb, cured beef, and ticket-only Israeli brunch.
East Passyunk
One of the latest Italian restaurants in South Philly centers its menu on the wood-fired oven that bakes authentic pizza and other eats inspired by southern Italy, plus gelato that rivals some of the city's best.
Fishtown
After being mentioned on SNL and lauded by NPR for its novel no-tipping policy, brand-new Girard (on Girard Ave, of course) lives up to the hype with locally sourced French brunch and dinner dishes, which means you can keep it simple AND classy with a fresh croque-monsieur or go really crazy with the Brasserie Burger. Bacon jam is available as an add-on -- just saying.
Kensington
The new Kensington bar and restaurant comes equipped with a classroom to offer lessons on sustainability and all the goods you're about to enjoy -- because depending on where you sit, you're also about to watch your meal be made in the in-house butcher shop visible to the main dining space. If you'd rather not learn how the sausage gets made, try drowning your fears with the restaurant's nice selection of wine and seasonal brews.
East Passyunk
The much anticipated South Philly spot from Chef Luke Palladino finally opened in December and though it will be a few months before you can enjoy the outdoor seating, eat inside and you can watch Palladino and his crew at work in the open kitchen. Definitely start off by "sharing" the Truffled Grissini if you're into prosciutto-wrapped, truffle butter-soaked, Parmesan-sprinkled homemade breadsticks (you are).
Rittenhouse
Inspired by the food of the Jewish diaspora, Abe Fisher breathes new life to typical Center City cuisine with small plates incorporating a creative range of goods, from shrimp fried rice to veal schnitzel tacos.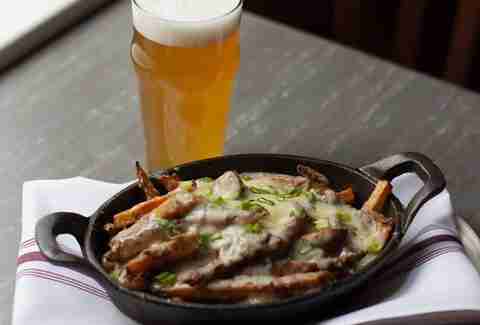 Old City
Yes, the second-floor brewery gives this brewpub its name, but the food is just as good a reason to hit up this Old City spot that formerly housed Triumph Brewing. Perfectly savory bites make up the menu, which includes fried starters by the basket (shrimp, corn fritters, hushpuppies) and entrées like braised brisket on a biscuit.
Fishtown
Dottie's gives you the best diner staples with a fresh dose of the unexpected (bacon glazed with maple syrup, thanks) as well as brunch favorites without too much frilly yuppie nonsense. When the craving hits for mac & cheese with a root beer float, this is the spot.
Washington Square West
You're probably washed out on '90s nostalgia by now, so head to Juniper Commons -- Kevin Sbraga's third Philly restaurant -- and dig into the decade of lycra and Axl Rose with 1980s-inspired decor and apropos soundtrack. The menu features appropriately excessive takes on American classics such as the smoked fish platter with salmon, bluefish, and whitefish terrine, and an equally foodie kid's menu for whatever spoiled generation comes after millennials.
Sign up here for our daily Philly email and be the first to get all the food/drink/fun in town.