Sometimes, some of you -- we're not naming names -- would rather eat ground sirloin over griddle-slapped rib eye. It happens to the best of us, especially when those beef patties are piled with pimento cheese, dipped in liquid nitrogen, and sandwiched between deep-fried buns, or even the world's smallest English muffins, like Philly's five crunchiest, juiciest, sous-vide...iest (?) and most definitely best-est burgers, which you can hear more about below.
Recommended Video
This Popular Burger Spot Used to Be a Public Restroom
5. Meatball Sliders
Cheu Noodle Bar
255 S 10th St; 267.639.4136
Still served up as poppable "cheeseburger buns" at the noodle-bar-in-name-only come dinnertime, Cheu's meatball sliders get the full-sized treatment at lunch with a coat of aged cheddar and a bed of leafy mustard greens served between still daintily crisp house-made Engish muffin buns.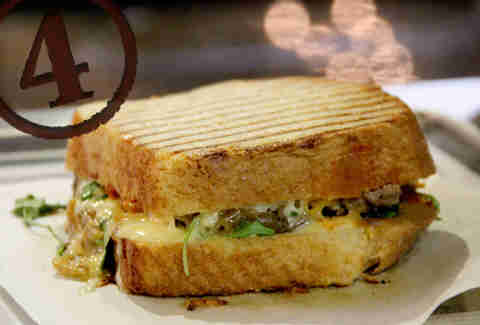 4. Tewksbury Patty Melt
Meltkraft
51 N 12th St; 267.639.3309
The Valley Shepherd Creamery crew's back-wall cheese stall in Reading Terminal Market's more about the melty goodness than what's underneath, but pass up the brisket 'wiches and grilled cheeses slathered with bacon fat and you'll find this Tewksbury patty melt, oozing with cave-aged Jersey cheese, arugula, sofrito, and caramelized onion-piled ground beef.
3. The Lasagna Bun Burger
PYT
1050 N Hancock St; 215.964.9009
The only reason this Piazza griddler doesn't rank higher is you never know what you're going to get week to week, but it's hard to go wrong with -- or anywhere after -- consuming a half-pound of red-sauced meatball flattened between two fried lasagna patties. If you don't catch it you can always back it up with a summery Jamaican jerk chicken burger bundled between fried plantains.
2. Sous Vide Burger
Morgan's Pier
221 N Columbus Blvd; 215.279.7134
What's cooking on the Delaware? Just this freshly ground, vacuum-sealed, slow-cooked, flash-frozen, deep-fried burger served under both a spoon of house-made American cheese and the Ben Franklin bridge.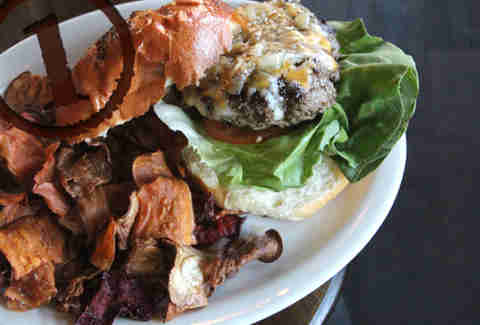 1. Burger
Cedar Point Bar & Kitchen
2370 E Norris St; 215.423.5400
The neighborhood is Fishtown, the burger is cow-city. The North of NoLibs Southern cookery serves grass-fed beef with a smear of Southern caviar, aka pimento cheese, plus a sheet of melted sharp cheddar, so those caramelized onions have somewhere to stretch out before going under a toasted brioche bun.