The single best beef-delivery device in Philly? The cheesesteak, obviously... but burgers are a close second. The problem, though, is that with so many good burgers -- and new ones showing up all the time -- picking the best of them can be tough. If only someone would put together a list of the best burgers in Philadelphia right now, or something... Oh, wait! We did that.
Recommended Video
Make This Sushi Burrito at Home, Become a Snack Legend
Revolution Burger
Revolution Taco
Address and Info
Rittenhouse
There's a not-so-secret burger on the menu at Revolution Taco: the Revolution Burger. Available only if you ask for it -- and limited to six per day -- the burger is made with a blend of Indian Ridge local dry-aged rib-eye and T-bone cuts and topped with house bacon, Cooper cheese, roasted poblano crema, and avocado chimichurri sauce. The bacon is made from Stryker Farm pork belly that's cured in-house with garlic and cascabel chilies, all served on a brioche roll from Breakin Bread Bakery. Hungry yet? Thought so...
All-American Burger
Village Whiskey
Address and Info
Rittenhouse
For a limited time (think end-of-July-ish) you can try the All-American burger at Village Whiskey, a souped-up take on your standard backyard BBQ burger. It's topped with smoked cheddar, house-made whiskey-cured bacon (two things we really like), caramelized onion aioli, and a side of onion rings. Y-yeah… that's exactly what we're making in our backyard...
Beast of Northeast (Philly)
The Blue Duck
Address and Info
Northeast Philly
The folks at The Blue Duck have always made some of our favorite burgers in the city, and the new(ish) Beast of Northeast (Philly) is no exception. Featuring a patty made with a mix of house ground beef and wild boar, the burger comes on a brioche bun and is topped with sweet tomato jam, smoked Gouda cheese, crispy Sriracha fried onions, and bacon. It's the second-most popular burger on the menu, behind perennial favorite, the Pork Roll Burger.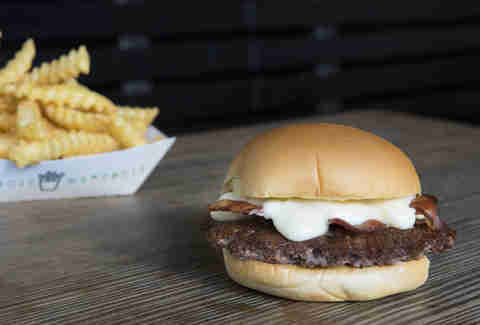 Bacon CheddarShack
Shake Shack
Address and Info
University City & Rittenhouse
Unless you've been living under a rather large rock, you've probably had Shake Shack at this point. It is, after all, one of the fastest-growing burger chains in the country. And there's a reason for that meteoric rise: the burgers are damn good. Our current pick at Shake Shack is the Bacon CheddarShack, which combines two of our favorite things, bacon and cheese. You won't win any hipster cred by eating at Shake Shack, but who cares... you'll be perfectly contented with your choice when you're full of delicious meats and cheese.
Cheese Burger
Fountain Porter
Address and Info
East Passyunk
Fountain Porter might be the perfect neighborhood bar. There's a great selection of rotating craft beer, a long wooden bar with stools (essential for any respectable establishment), and one of the best burgers in Philly. It's not overly complicated -- just a quarter-pound of meat, lettuce, tomato, and American cheese on a potato roll -- but holy hell, is it good. Salty, a little bit crispy where it needs to be -- this is a classic burger worth seeking out. And that's without mentioning that it's only $5. Nothing this good should be that cheap.
Jalapeno burger
P'unk Burger
Address and Info
East Passyunk
It's likely blisteringly hot outside right now… like, surface-of-the-sun hot ("heat dome"???). And while some think you should only eat cold food when the temps are high, science tells us that we should actually be eating hot things to cool down our core temperature, or something. We'll take the bait, particularly because of our love of P'unk Burger's Jalapeno burger, a spicy collab with the folks at 1732 Meats. The organic patty is topped with 1732's jalapeño bacon, jalapeño jack cheese, cilantro, and house-made pico de gallo.
Angus Burger
Royal Tavern
Address and Info
Bella Vista
Unfortunately, Royal Tavern's run of Bob's Burgers-inspired creations has taken a temporary hiatus. While we eagerly anticipate its return, you'll have to settle for either one of its other rotating special burgers, or the always-available Angus Burger with caramelized onions, smoked Gouda, pickled longhots, and chile mayonnaise.

Ostrich burger
Sassafras Bar
Address and Info
Old City
Almost unassumingly nestled on 2nd St in Old City is Sassafras Bar, and while it may be better known for its live jazz music and old-school vibe, its kitchen is turning out some mean burgers, with options ranging from traditional to more unconventional choices like bison and ostrich. Go with the ostrich -- the lean cut makes for an excellent, still-juicy alternative to the standard beef burger we've all had 1,000 times.
Weekly burger special
Rex 1516
Address and Info
Rittenhouse
We'd like to tell you which burger is the best at Rex 1516, but by the time you're reading this, the special will have changed. Here's what you need to know: every Tuesday, chef Justin Swain will announce the George Thorogood-inspired burger, beer, and shot special for $15. Regardless of when you go, it's gonna be a damn good burger.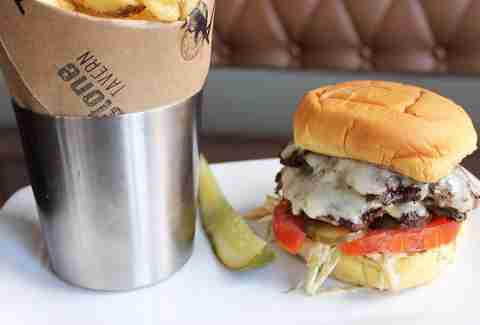 Dad's Burger
Whetstone Tavern
Address and Info
South Street
Even though Whetstone Tavern has only been open for a few months doesn't mean it can't compete with the city's burger heavyweights. In fact, the new restaurant from the team at Brauhaus Schmitz has a legitimate claim to the burger throne with Dad's Burger, available as a single or a double, with Cooper cheese, a tomato slab, crispy pickles, and refreshing iceberg "slaw" on a potato roll. Don't wuss out; order the double. You'll be happy you did.
P & K Cheeseburger
Pub & Kitchen
Address and Info
Rittenhouse
Long gone are the days of the Windsor burger -- a crowd favorite -- but the kitchen at P & K still makes one of the best meatwiches in the city. Made with house-ground chuck and topped with lettuce, onions, sharp cheese, and pickle, it's another classic combo done really, really well.
Sign up here for our daily Philly email and be the first to get all the food/drink/fun in town.