An editor's guide to eating around town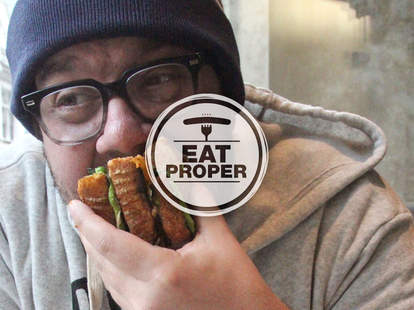 While Rocky used to tenderize ALL the beef, there's obviously way more diversity to Philly's food scene these days. Like donut-sided fried chicken, and pasta bowls buried under crushed cookies. Here to tell you where to get fat is Thrillist editor Adam Robb.
Favorite Restaurant:The best restaurant in a neighborhood comprised solely of everyone's favorite restaurants, Le Virtu on E Passyunk gets top honors for one single strand of pasta. Mind you, that bite's Maccheroni alla Mugnaia, an uncut, 3ft-long strand doused in garlic, hot peppers, and olive oil
Best Late-Night Eats: Choosing just one from a collection of two dozen hot dogs can be overwhelming at 4a on a Sat night. Fortunately, you can do no wrong with with the parm-, pepper hash-, and chili-topped brats at Underdogs
Best Cheap Eats: Do your daytime hot-dogging at South St's Hot Diggity, and wash down collab specials like a potato-piled Newark dog stuffed into Nomad Pizza bread with housemade Spicy PB&J soda.
Best Sandwich: Avoid the lunch rush and arrive early or late (not too late, they close at 4p) for a counter seat at DiNic's Roast Pork in Reading Terminal Market for garlicky roast pork piled with sharp Prov and roasted peppers
Best Dish: Also the best pasta your grandmother never spent all Sunday making, Le Virtu's porchetta-filled agnolotti's coated in a sage-and-black-truffle butter sauce, then topped with crushed amaretto cookies
Best Italian: Everything else on the menu at Le Virtu is amazing as well. Specializing in the hearty peasant food of Abruzzo's Medieval mountain villages, expect antipasti like spicy spreadable salame and porchetta-stuffed fried olives, plus pasta bowls topped with dried peppers scissor-cut tableside
Best Chinese: Head to Han Dynasty in Old City for Philly's most authentic Chinese comestibles (rabbit in chili oil, anyone?). On Mondays there's even a $25 tasting menu
Best Mexican: Sometimes I want the flavor of Mexico and none of the authenticity, so I score a booth at El Vez and throw down on some red-chili-honey-sauced fried chicken sided with aji amarillo mashed potatoes, blue corn bread w/ agave butter, and pickled Mexican vegetables, and throw back a few tequila-cinnamon Pineapple Canelas
Best Food Truck: There's no shortage of niche food trucks lining the sidewalks around Drexel and Penn, but The Cow and The Curd ventures out to Fishtown to sate late-night drinkers with plates of deep-fried cheese curds
Best Burger: There's no competition for fast-multiplying New York import Shake Shack. Its cheeseburger-topped-with-a-deep-fried-portobello isn't just one of the best in town, it's also one of the cheapest
Most Gut-Busting Dish: The Breakfast Bomb at Honey's Sit'n Eat sandwiches scrambled Lancaster County eggs and housemade sausage into a plate-sized pancake that's folded over, coated in powdered sugar, and saturated with maple syrup
Best Fine Dining: Fine dining in Philly doesn't mean white tablecloths and centerpieces. It means the refined local and seasonal fare at Vernick Food & Drink, like beef tartare & horseradish toasts, sea urchin w/ scrambled eggs, and a 28oz dry-aged bone-in strip loin for two
Most Romantic: The most romantic restaurant in Philly has chicken nuggets on the menu, but you probably shouldn't order those on a date after scoring a plush banquette beneath the dining room's woodland murals. Instead, opt for one of Fork's "for two" dishes like whole-roasted Peking duck
Best BBQ: Fishtown's Fette Sau's a beer garden-sized version of the Brooklyn original, where you can claim a picnic table and wash down Duroc pork belly, Angus brisket, and bacon brownies with 100+ domestic whiskeys
Best for Work: Steakhouses are where deals close in this town, and there's none better than the multi-level Del Frisco's, which fills the First Pennsylvania Bank building with prime ribeyes and the air of money
Best Lunch: Hit up Sansom St's The Corner Foodery for a porchetta hoagie or meatball sub you can incidentally wash down with 500+ beers by the bottle
Best Brunch: Head to Ela for cookie dough-stuffed French toast with bourbon-spiked Vietnamese iced coffee one weekend, and biscuits & bone marrow with kimchi Bloody Marys the next
Best Wings: The best known wings in the city may be from Fed 'Nuts (see below), but the best kept secret's Chick-A-Licious, a hole-in-the-wall opposite Thomas Jefferson Hospital, where the birds are double-fried Korean style and can be ordered 40 at a time
Best Donuts: There're three ways to do Federal Donuts: arrive when they open to score fast-selling Fancys like Spicy PB&J and Maple-Bacon; opt for made-to-orders fresh-tossed in Turkish mocha or strawberry-fennel sugar; or score a free honey 'nut with any order of fried chicken.