The 9 Best Ways to Eat Pretzels in Philly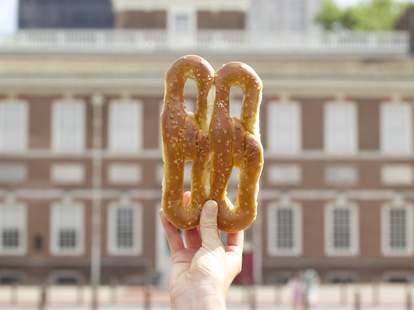 It's no secret that Philadelphians love pretzels. In fact, we love them so much that more than 80% of the nation's pretzels are produced here in Philly, and not surprisingly, we also consume 12 times more of them than anybody else. Maybe that's why we wear more sweatpants than the rest of the country, and there are so many sweet ways to eat pretzels in Philadelphia: starting with these nine...
Philly soft pretzel
Center City Pretzel Company (address and info)
Italian Market
For a real Philly soft pretzel, skip Wawa or the Subway of pretzel shops, Philadelphia Pretzel Company, and head to Italian Market's Center City Pretzel Company. It's been making pretzels since 1981 the old-fashioned way, using only three ingredients: flour, yeast, and water. Plus, you can order custom shapes (like the Phillies' "P") or stop by after midnight on weekends for a pretzel hot out of the oven.
Chocolate-covered pretzels
Shane Confectionery (address and info)
Old City
Established in 1911, the nation's oldest continuously operated candy shop slings a variety of old-school treats -- including everyone's least-favorite Halloween night candy, Necco Wafers -- but it's the chocolate-covered pretzels that are the real standout. These things are substantial and blow away anything you'll find in the local grocery store. So keep that in mind when you try and manage portions.
 
Beet Cured Salmon on a pretzel roll
High Street on Market (address and info)
Old City
At a place known for its otherworldly bread, it's no surprise that High Street on Market can also make a good pretzel. In this case, we're talking about its pretzel roll, which is the base for its Beet Cured Salmon with celery cream cheese.
Cheese Steak Pretzel Roll-Up
Miller's Twist (address and info)
Reading Terminal
This market-based shop offers a wide selection of Pretzel Roll-Ups, or soft pretzels stuffed with different choices of protein, including hot dogs, breakfast meats, and our favorite: the Cheese Steak Roll-Up, a Frankenstein combo of two of Philadelphia's most iconic dishes. We're still waiting for Miller's to find a way to incorporate a Tastykake into the mix, hopefully called the John Kruk.
The Ed Rendell
The Beese Knees (address and info)
Center City
Named after former Philadelphia Mayor Ed Rendell -- who, amongst his many (?) accomplishments can credit National Pretzel Day -- this namesake pie is a pretzel overload, and is brought to you by the gourmet cake makers at The Beese Knees. It features pretzel-infused ice cream and chocolate covered pretzel "crunchies" over peanut butter ice cream and a Nutter Butter crust. Cakes are only available through special order now, so you have a full year to plan out for next year's National Pretzel Day celebrations.
 
North Philly Sausage Cheesesteak on a Pretzel Roll
Alla Spina (address and info)
Fairmount
Although Philadelphia Chef Marc Vetri may be better known for his pasta, the dishes coming out of the kitchen of his Fairmount gastropub, Alla Spina, may be just as good. On a menu filled with winners -- we have to mention the poutine with short rib gravy -- the North Philly Cheesesteak, which features black pepper sausage, onions, and a spicy beer cheese sauce over a homemade pretzel roll, may be our top pretzel dish.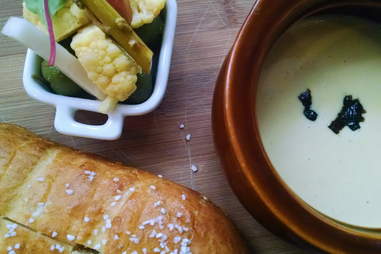 Vedge Restaurant
Rutabaga Fondue with pretzel bread
Vedge (address and info)
Washington Square West
Think that vegetables have to be boring? Head to Washington Square West for a meal at Vedge and you'll be proven wrong about a hundred times over. One of the best restaurants in the country, the chefs at Vedge can take a normal vegetable and turn it into something amazing. Their most popular dish, Rutabaga Fondue (with the best cheese sauce you've ever had without any cheese in it) served with homemade pretzel bread, is a prime example.
5:00 Sichuan Soft Pretzels
V Street (address and info)
Rittenhouse Square
V Street is the smaller, more casual sister restaurant to the aforementioned Vedge, and it's serving up 5:00 Sichuan Soft Pretzels, a riff on the classic Asian steamed buns. The pretzels are made with a Sichuan peppercorn-laced dough and and served with a side of spicy ginger mustard. While they may not look like your traditional pretzel, these things are a hot commodity, regularly selling out shortly after they are baked at 5pm -- all the more reason to leave work a few minutes (or hours!) early.
 
Pretzel Crusted Chicken Bites
The Sidecar Bar & Grille (address and info)
Graduate Hospital
Thanks to this GH boozer, Pretzel Crusted Chicken Bites only seem like a dish you can only sample if you're one of the judges of Chopped. Executive Chef Brian Lofink coats diced chicken breast with hand-crumbled sourdough pretzels and gives it a quick dip in the fryer. Out come the crispy nuggets, which are served along with spicy honey mustard that combines Dijon mustard, whole-grain mustard, honey, and mayonnaise. No mystery basket needed.
Sign up here for our daily Philly email and be the first to get all the food/drink/fun in town.