God, can you even imagine what it would take to pry you away from spending every single weekend at a different Boozy Brunch deal in Philly? You'd need some sort of list of Philadelphia's most important brunch items or something, just to get started. WAIT A MINUTE!
French Toast at Sabrina's Cafe
University City, Italian Market, Art Museum, Main Line
It's hard to pick one item at Sabrina's, but pretty much any breakfast-related craving can be solved with a fresh batch of the spot's overly stuffed French toast. Finishing just one slice is a delicate maneuver of sweet cream, fruit, marshmallows, and cinnamon dough, and is a legit accomplishment -- so reward yourself with that second slice.
Kegs & Eggs at Distrito
University
Distrito takes some pretty wonderful liberties when it comes to brunch -- who else could make breakfast nachos look socially acceptable? Same goes with their three kegs and eggs options, including the highly desirable de tomate, alongside your pick of Mexican beers.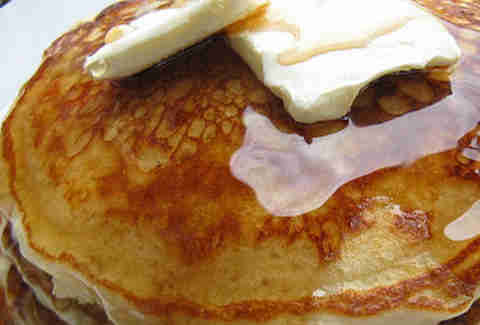 Scotch Pancakes at The Dandelion
Center City
Remember the Mad Men episode when Sally Draper mistook liquor for syrup when she made Don's breakfast? Well, the kid was apparently onto something, as evidenced by these Scotch-infused pancakes with maple apples and cinnamon cream to help get a jumpstart on your brunch buzz.
Fried Egg Sandwich at Garces Trading Company
Center City
Packed with bacon, Manchego cheese, almond pistou sauce, and... duh!... eggs, this extremely satisfying take on your run-of-the-mill breakfast sandwich will make running anywhere impossible, let alone some mill.
Fried Chicken & Waffles at The Twisted Tail
Society Hill
This comfort food staple is kicked-up by the addition of a sweet potato waffle, pineapple, some perfectly fried fowl, and is even better when you add a Southern wine cooler with fresh fruit, bourbon, and citrus.

Green Eggs and Ham at Jones
Center City
You can't really go wrong with Jones' brunch menu, especially if you opt for a side of tater tots, and the bottomless bellinis. That said, the pro move is repping your childhood w/ some green eggs and ham, or your city with the cheesesteak omelet, which is brimming w/ seared beef, onion, and, obviously, cheese.
Beermosas at City Tap House
University City
Sure, Champagne and orange juice are fine, but a pint glass full of City Tap's mix of Allagash, Champagne, St. Germain, and orange juice, will have you feeling fine, and that's what's important.
Steak and Eggs at Bar Ferdinand
Northern Liberties
Q: What's the best possible time for a New York strip and black truffles with a side of fried eggs and spinach? A: Duh... anytime! But breakfast is okay, too.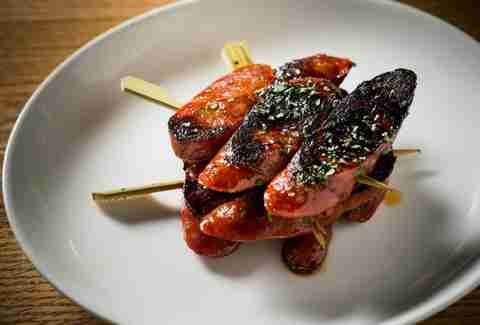 Chorizo at Amada
Old City
Luckily, the tapas menu at Amada will allow you to order more than one brunch dish with minimal shame, but the chorizo con papas is the place to start, thanks to the fried potatoes and fried egg that come along with the grilled Spanish meat.
Biscuits and Gravy at Village Whiskey
Center City
Behold, every flavor that brunch should include: savory bacon-cheddar biscuits, Irish coffee, red eye gravy, and sweet onions, all of which go great with Village Whiskey's specialty brunch cocktails -- and a side of house-made cheese puffs.