11 Things You Didn't Know About the Wing Bowl
Even with the Birds missing out on this year's Super Bowl, there's one bowl game that Philly will participate in: the 23rd annual Wing Bowl. The much-maligned arena eating event has a deep local history, and we bet there are a few things you don't know -- or can't remember -- about the event.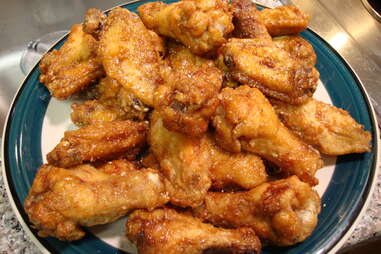 1. The Wing Bowl started as a joke
Back in January 1993, WIP radio host Al Morganti was looking to fill the air during the week before the Super Bowl since the Eagles lost to the Cowboys in the Divisional playoffs 34-7. Morganti made a connection to the Super Bowl-bound Buffalo Bills and the Wing Bowl was born.

2. The first Wing Bowl prize was an abandoned hibachi
It's hard to imagine the humble beginnings of the Wing Bowl now that the event fills the Wells Fargo Center with 20,000 spectators. The first Wing Bowl was held in the lobby of the Wyndham Franklin Plaza Hotel (now closed). There were two competitors, 150 fans, and donated wings from Al Morganti's neighbor. The winner of the first Wing Bowl, Carmen Cordero, was given a radio contest prize that no one had picked up -- a Budweiser hibachi worth $50.
3. Qualifying for the Bowl may require speed-eating five Big Macs
Assuming you don't get a personal invite -- good luck appealing to commissioner Pat Croce for one -- there are two ways to qualify. The first is to complete an on-air eating stunt on WIP (past challenges have included eating 20 cups of cooked oatmeal, three-plus pounds of creamed spinach, or five Big Macs). The second is to win one of the local area "Wing Offs," 10-minute eating contests held at local bars.

4. The event calls for 10,000 chicken wings
P.J. Whelihan's of New Brunswick is tasked with making over 10,000 mild buffalo wings for the event. They produce wings that average 10-12 wings/drumettes per pound. The wings only come from the left side of the chicken as most chickens are right-winged and the right wing has more muscle that makes it tougher to eat.
5. The reigning champ is a 120lb former Applebee's waitress
Molly Schuyler, mother of four, was a server/bartender at Applebee's before becoming a competitive eater. Her eating accomplishments are impressive and she's most famous for demolishing a 72oz steak in two minutes and 44 seconds. She'll be back to defend her title since downing a record-setting 363 wings in the 2014 Wing Bowl. To further prove she's not human, Molly went on to compete in (and win) the IHOP Pancake Bowl (59 pancakes in 10 minutes) AND the Blue Ribbon Bacon Festival (5lbs of bacon in three minutes) THE NEXT DAY.

6. The average combined weight of Wing Bowl competitors is over 7,000lbs
Despite the diminutive size of Molly Schuyler, most competitors are on the larger end of the scale.
7. Only one champion has come from Pennsylvania
Despite all the smack-talking, NJ has the most wins in the 22-year history. Only one winner has hailed from PA, five-time winner Bill "El Wingador" Simmons from Philly.

8. The Jumbotron camera is known as the "Can Cam"
In between shots of competitors shoving dozens of wings in their face, the camera actively searches the crowd for boobies. But it's not as if they need to search that hard to find scantily clad women with skimpy Wingettes escorting competitors to their seat. Contestants have now become sponsored by local gentlemen's clubs, so there're also plenty of strippers trying to lure you back to the clubs for early morning lap dances.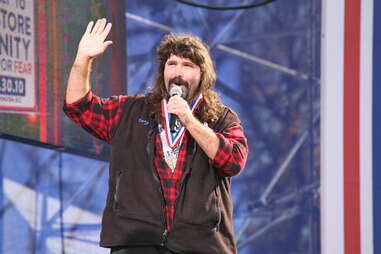 9. Pro wrestler Mankind will be working his mandible this year.
Among past competitors, most people will recognize professional competitive eaters and Nathan's Hot Dog Eating Contest foes Joey Chestnut (2007, 2008 champion) and Takeru Kobayashi (2012 champion). The Bowl has its own hall of fame with members including El Wingador (five-time champ), the late Eric Gregg (MLB Umpire and first Wing Bowl Commissioner), Sloth (known for epic projectile vomiting) and Jennifer Burmeister (first Miss Wing Bowl). Eagles center Jason Kelce competed last year and this year former WWE star Mick Foley will be a contestant -- holding out hopes that Mr. Socko will make an appearance.
10. ESPN has deemed it "the most disgusting competition known to man"
That means something coming from a network that knows "disgusting" first-hand in the form of Skip Bayless.

11. You can (probably) get a free breakfast afterwards
Remember the Wingettes we mentioned earlier? Well, assuming you still have an appetite after watching people puke from eating too many chicken wings, several of the local gentlemen's clubs offer free breakfast that morning. Should you go to a strip club on a Friday morning (for free breakfast)? No.
Sign up here for our daily Philly email and be the first to get all the food/drink/fun in town.