9 things you didn't know about Wawa
You already know that Wawa is the single best place to score Philly's favorite snack, Tastykakes, and that it's got a weird name, but you probably didn't know that it's turning 50 this year, or these nine other things about PA's sweetest convenience store, including why the heck it's called that...
1. Wawa started as a dairy farm in the DelCo town of Wawa, PA in 1902.
You can still drive out and see the farm in action today, and even now the Wawa headquarters is housed in a tasteful Colonial home -- basically solidifying Wawa's position as the classiest convenience store and gas station EVER.
2. The first Wawa store opened in Folsom, PA in 1964
Six years later, Wawa's progress toward world domination (or at least domination of Pennsylvania and New Jersey -- so, same thing) was well underway with more than 50 locations in the region. Today there are more than 645 locations throughout PA, NJ, Delaware, Maryland, Virginia, and… ugh, Florida. Nobody's perfect.
3. Wawa's bread is baked fresh in the store
Available in Junior, Shorti, and Classic sizes, enough Wawa bread is made every month to stretch the New Jersey Turnpike six times.
4. They sell 70 million hoagies (not subs) a year
The pepperoni pizza hoagie > that all other Wawa hoagies. Just sayin'.
5. They've got Thanksgiving dinner sorted
Why do something foolish, like cook, when the Gobbler is packed with turkey, cranberry sauce, gravy, and stuffing. No wonder the sandwich's Facebook page has more "likes" (500+) than you have friends.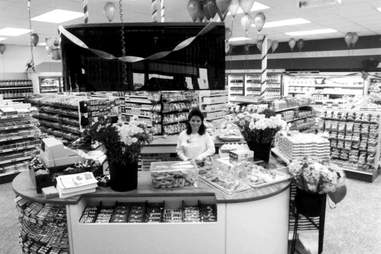 Wawa
6. Wawa pioneered the check-out counter...
Wawa was one of the first places to separate the cashier and the deli, something you may have noticed, like, everywhere nowadays.
7. ... and touch screens
It was one of the first convenience stores to implement a touch screen ordering system, which has saved Philadelphians from a world of judgement. Seriously, it's not like a computer can smirk when you order a hoagie with three sides of bacon at 3am.
8. Johnny Knoxville loves Wawa
Everyone's favorite Jackass has a tattoo of the Wawa logo on his upper arm, and he's not alone in celebrity appreciation of the store, or in Wawa customers devoted enough to get some ink.
9. Wonder no more: "Wawa" is the Lenni-Lenape name for "Canada goose"
And if you've been reading closely, you already know that it was inspired by the rural PA land where the Wawa's dairy farm was originally built.
Sign up here for our daily Philly email and be the first to get all the food/drink/fun in town.