Schmear It: Philly's first mobile bagelry's mixing your cream cheese Cold Stone-style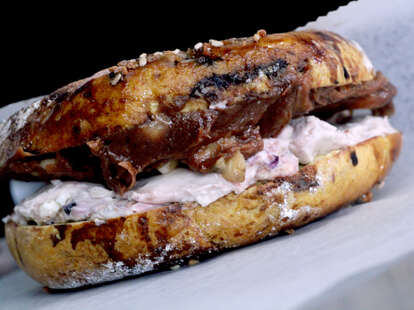 That lipstick on your collar? First of all, dude, well played. Second, that's a smear. A schmear is what's going down every morning inside the 14 styles of split-toasted, South Philly-boiled bagels the Schmear It truck's spreading with fresh cream cheese mix-ins blended to order Cold Stone-style, with combos like chopped salmon, wasabi & soy, maple-syruped walnuts & banana, and Sriracha-doused strawberries, providing another round of sweet hotness to stain your shirt.
Even though the truck's loaded with bagels, it's always on a roll (!). You can follow @schmearit on Twitter to see where they're pulling up next, from Love Park to City Hall and 33rd & Arch.
And once you've pulled up, you can choose from more than a dozen schmearables, from poppy-sesame-and-salt-rolled everything bagels, to still totally somethings like chocolate chip, sun-dried tomato, and French toast.
As your bagel gets guillotined with the second greatest French invention behind the Cronut...
... it's almost time to spread 'em. You could opt for readymade blends like the Sriracha-mango Flaming Islander, to this bowl of two-berry/cinnamon/maple/walnut Stuffed French Toast cream cheese.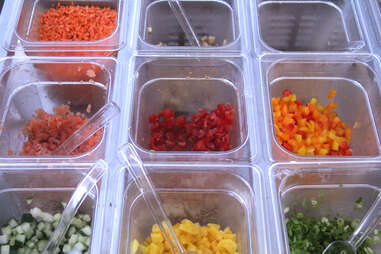 Want to see the bagel butchers go Cold Stone on your cream cheese? Opt for any or all of their seasonal fruit, fish, and veggie mix-ins. Not craving cream cheese? They'll stir them into PB&J, Nutella, roasted onion hummus, and even tuna salad.
Just craving sushi? Oddly, you've also come to the right place. The Philly Roll bagel's paddled with chopped smoked salmon, wasabi, cucumbers, and a splash of soy sauce.
And just like your favorite sushi joint, they secretly judge you for ordering Philly rolls take credit cards.
If you can't decide what to order, you can go half-and-half...
... or splitsies with that cute girl behind you who was waiting for you to make up your mind.