The Best Eats at the Phillies' Citizens Bank Park, Ranked
Another Phillies season is upon us, and with that, the promise of a -- actually, let's cut the crap. The Phils are blowing it this year (again -- never change, guys), but that's not to say that a game at Citizens Bank Park isn't something we've enjoyed anyway. Just ask these guys.
At least Citizens Bank Park has some pretty great food (at stadium prices, of course) to get you through the fights and mediocre baseball. To help you out on your next trip to the ball game, we're ranking the best eats at Citizens Bank Park, from worst to best. 
16. Salad
Philly Fresh
Section 138
Please don't get a salad at a baseball game.
15. Cracker Jack
Multiple sections (and at your seat)
We have mixed feelings about Cracker Jack -- great when we were younger, now overpriced, too sweet, and frequently getting stuck in our teeth. Basically, the Ryan Howard of snack foods.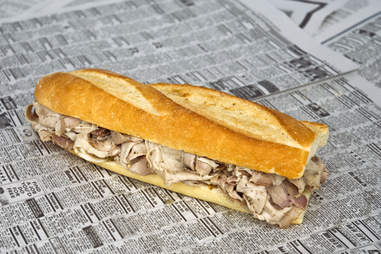 Courtesy of Tony Luke's
14. Roast pork sandwich 
Tony Luke's
Ashburn Alley 
A little too messy to eat at the ballpark, Tony Luke's roast pork will always be better down on Oregon Ave. But if you're coming for an out-of-town game and this is your only chance to get one in Philly, it's worth a shot.
13. Heater 
Campo's Steaks
Ashburn Alley
Campo's spicy heater with jalapeño hot sauce and spicy cheddar is our favorite for an in-game cheesesteak. Perfect when paired with an order of crab fries (#7). 
12. Chicken fingers & fries 
Aramark
Multiple sections
Yep. Regular, standard, boring chicken fingers from Aramark. They're basic as all hell, but one of the more cost-effective items you can get at the game. Sometimes all you need is something basic.
11. Cheeseburger with pork roll 
Wayback Burger
Multiple sections
The burgers at Wayback have always been a little bit better than the standard Aramark jawn, and every year it introduces a new, semi-gimmicky option that's worth a try. This year, it's a pork roll-topped burger that comes with a mini corn dog.
10. Signature dogs 
Hatfield Grill
Section 134
Skip the regular hot dogs (unless it's dollar dog night) and try one of three new signature dogs at Hatfield Grill this year. Options include a beer-braised dog with cider onions, one with sweet & sour slaw, and the bacon-wrapped Sonoran dog.
9. Water ice
Rita's Water Ice
Multiple sections
There aren't a lot of things more Philly than a cold water ice on a hot day.
8. Brisket grilled cheese
Alley Brewing Company
Section 102
Alley Brewing Company, the beer garden behind Harry The K's with 18 beers on tap, is probably better known for its beer selection, but it actually has a pretty decent food spread. Top picks are the pastrami sandwich and criminally underrated brisket grilled cheese.
7. Crab fries
Chickie's and Pete's 
Multiple sections
They're a stadium tradition, even though they're overpriced for what you get. Still, when we've had a few drinks, it's what we crave.
6. Chicken sandwich 
Chick-fil-A
Multiple sections
Since we don't get into politics 'round these parts, let's just stick to the basics. Citizen Bank Park has Chick-fil-A, meaning there is an outlet that isn't a mall to get your fix of that fried chicken... that is, any day but Sunday. 
5. Andrew Zimmern's Korean fried pork belly sandwich
Harry The K's
Sections 143-145
A newcomer to Harry The K's, this sandwich was a hit at the preview party and is one of the funkier foodie options you can get at CPB -- a deep-fried pork belly sandwich with grilled pineapple, gochujang sauce, and chili lime salt.
4. BBQ ribs
Bulls Barbecue
Right field gate
Long lines seem to agree -- the 'cue ain't bad from Greg "The Bull" Luzinski. While it's tough to pick a favorite from here, we'll stick with the meaty ribs. 
3. Chicken sandwich
Federal Donuts 
Section 140
While the selection isn't as vast as the city locations, the fact that you can get Fed Donuts at CPB is pretty cool. Every order of fried chicken comes with a honey donut, making it that rare two-for-one deal at the ballpark. 
 
2. Souvenir ice cream helmet 
Turkey Hill 
Section 136
We're of the opinion that everything tastes better in a tiny plastic batting hat.
1. Dollar dogs
Hatfield Grill
Multiple sections
Hatfield franks on Dollar Dog nights -- only four of them this year -- are by far the best deal at Citizens Bank, and a reason in and of itself to visit the stadium. Lines will be long, but that's part of the experience. Now, if only they could do dollar beer night... 
Sign up here for our daily Philly email and be the first to get all the food/drink/fun in town.
Dan is actually a Pirates fan, for real. He's so happy that's no longer the punchline. You can follow him on Twitter or Instagram @dannypageviews.