Brunch is by far the superior meal option -- there's no expectation to eat a salad, bottomless cocktails are encouraged and you still have a full day to sleep off your hangover (or be productive, if you're into that kind of thing). Plus, depending on the occasion, there's a brunch and a brunch spot for everyone, from families enjoying a midday meal to weekend warriors looking for eggs benedict without the wait. Regardless of what you're looking for, here's our top spots around the Valley for everyone's favorite mid-morning meal. Also, while you can certainly drink at most of these spots, we've also got a guide to Phoenix's best boozy brunches by neighborhood, if cocktails are your brunching priority.
Recommended Video
This Avocado Is Stuffed With Barbecue
North Scottsdale and Chandler
Kind of like having brunch in a dance club
If you're looking for a weekend morning brunch that serves as an extension of last night's party, Hash Kitchen is the place for you. Between the DJ, mimosa flights, the state's largest bloody mary bar, and a long list of decadent, 'gram-worthy, hangover-curing dishes, it blends all the best elements of your favorite restaurant and a dance club. Our favorite dishes range from the super sweet, like the s'mores french toast and the cannoli pancakes, to the savory, like the herb fried chicken and waffles. Brunch is served daily from 7am to 3pm, so you can count on a fresh stack of pancakes whether you're an early riser or an afternoon bruncher.
Arcadia
The craft Bloody Mary destination
While The Henry serves as the go-to spot for early-morning meetings and quick coffees during the week, it transforms into a brunch-time mecca from 8am to 3pm on Saturday and Sunday mornings -- complete with the infamous bloody mary cart. Bloody mary cart aside, this is the place to go for top-quality eats in a bustling yet cozy space. Plus, it has something for everyone, like the caramel apple french toast, chicken fried chicken and rancheros breakfast bowl.
Phoenix
A brunch spot for every palate
Muse + Market is a relative newcomer to the Phoenix brunch scene, but it's not to be overlooked, bringing a blend of Asian, Latin and French inspired cuisine to its brunch menu with its brisket hash with truffle aoili, french toast with goat cheese whip and pomegranate seeds as well as an assortment of pastries, like the signature cinnamon bun. Even better, it's sensitive to vegan and gluten-free diners, making it a go-to spot for even the pickiest eaters. Plus, if the locally roasted assortment of coffees isn't your thing, during weekend brunch hours, you can opt for bottomless mimosas.

Paradise Valley
A go-to brunch for the bacon lover in your life
Lon's at the Hermosa Inn provides an elevated brunch experience with unexpected menu items like filet and eggs or short rib hash alongside classics like eggs benedict and french toast. The best option for hungry diners however, is the Hacienda Brunch for Two, which features an appetizer like the avocado toast or sizzling bacon, an entree (we recommend upgrading to the lobster benedict!) and two beverages including prosecco, hermosa mule or the house margarita.

Downtown Phoenix, Tempe, Sky Harbor Airport and Biltmore
Classic breakfast done exceptionally well
Since opening in 2004, this Arizona breakfast staple has gained national acclaim, including a feature on Food Network's Diners, "Drive ins, and Dives," but the true testament to its delicious breakfast options is the neverending crowd of people clamoring to enjoy menu items like The Chope and Chick -- a two egg skillet with pork rib chop. Plus now, you can enjoy the full brunch experience at its Tempe location, which serves up the Matt's Big Bacon Bloody Mary alongside other breakfast cocktail staples like mimosas and bellinis.

Downtown Gilbert
The ultimate meaty brunch experience
With the increased culinary expression in downtown Gilbert, Nico Heirloom Kitchen has risen to the occasion as the area's first upscale, chef-driven restaurant. Now, it's taking on breakfast with a vengeance with "The Ultimate Breakfast" at a whopping $135. Don't let the price tag scare you though, dedicated brunch-ers will be rewarded with a 40 oz tomahawk bone-in ribeye, 12 scrambled eggs, roasted potatoes, chimichurri and veal demi. If you're in the mood for something a bit lighter, you can look forward to a crepe, eggs benedict or french toast. Plus, each entree can be upgraded to (almost) bottomless mimosas and bellinis for $10.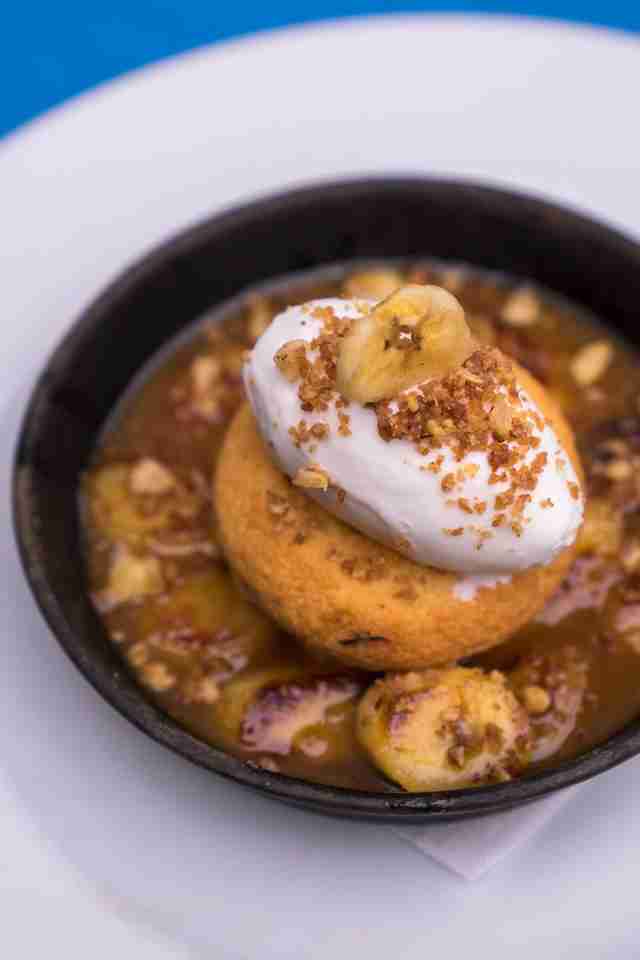 Uptown Phoenix
Family-friendly, seasonal cuisine with live jazz and award-winning bread
It's hard to go wrong when you brunch at a restaurant that's won an award for its bread, because let's face it, a good brunch is centered around carbs. You can enjoy classics like the eggs benedict or the baker's quiche at St. Francis from 9am to 3pm every Saturday and Sunday, but if you dine between 10:30am and 1:30pm, you'll catch live jazz. St. Francis is known for its emphasis on using seasonal, fresh and locally sourced ingredients and its brunch is no different. Best of all, its breezy, laid-back atmosphere is perfect for a family-friendly meal, which is not to say they don't have a great cocktail menu. You can get any of your favorites, like a bloody mary or mimosa, but we'd recommend their banana bread martini, which is crafted with vodka, coffee liqueur, banana gifford, cream, and cinnamon.
Central Phoenix, Tempe, Gilbert, North Scottsdale, Ahwatukee
A quirky chain great for mix-and-match breakfast dishes
You've likely seen a Snooze pop up in your neighborhood as the concept rapidly expands across the Southwest -- and for good reason. This restaurant exists to serve you an incredible brunch experience every day from 6:30am to 2:30pm in a vibrant, quirky atmosphere where the food definitely lives up to the hype and meal customization is encouraged. There's a dish for practically anything you might be in the mood for, from a classic breakfast with eggs, toast, and bacon, to huevos rancheros or hot chocolate pancakes -- just to name a few of our favorites. Plus, you can look forward to over a dozen classic and seasonal brunch-themed cocktail choices.
Central Scottsdale
Asian and Mexican fusion, without limits
If you do brunch right at Sumomaya, it's not just a brunch, it's an experience. The upscale, contemporary restaurant delivers a fusion of Asian and Mexican cuisine that really shines during its bottomless brunch on weekend mornings from 9am to 2pm, and if you make the most of your meal, you might be there the whole five hours. Indulge in bottomless cocktails, unlimited shared plates and sides -- like the three leches oatmeal and pomegranate guacamole before settling on your choice of entrée (our favorites are the cuban breakfast sandwich with ham, pork carnitas, and mustard aioli and the sweet potato waffle with banana and warm syrup) and finishing with a liquid cheesecake brulée.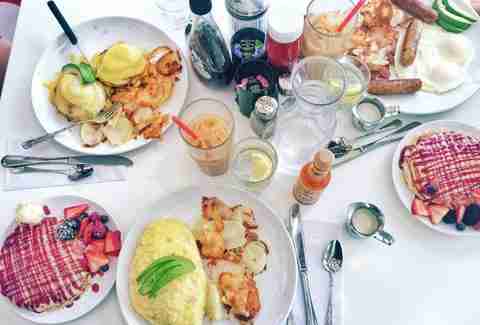 North Scottsdale, Scottsdale
Like brunch at grandma's (on weekdays or weekends) -- without the drama
Butters Pancakes & Cafe provides the nostalgic feeling of breakfast at your grandmother's house with a diner-style atmosphere and classic cuisine to match. This is the place to satisfy your comfort food cravings with things like biscuits & gravy, chocolate chip pancakes, and classic eggs benedict, knowing that it's going to be just as good (or better) than your mother made. It's open daily from 6:30am to 2:30pm every day, so it's the perfect spot for a lazy weekday morning breakfast or a weekend brunch with the whole family.
Old Town Scottsdale
Like a tea party (with mimosas)
This is where you take your grandma for her birthday, your mother for Mother's Day, or the new person you're dating and trying to impress for a brunch to remember. Arcadia Farms, which has become one of Scottsdale's most beloved cafes over the past two decades, emanates the feeling of a charming and luxe garden party -- but with better food. Open each day from 7:30am to 3pm, its menu features a breakfast panini with applewood smoked bacon, roasted tomato and cheddar as well as fresh berry crepes and lump crab cakes, all created with fresh, local, and organic ingredients.
Central Scottsdale, Downtown Phoenix, Biltmore, Tempe
Quick and easy every day, without compromising taste
Scramble offers counter service (read: fast for those early onset hangovers) without compromising quality, or options. Plus, it has a dog friendly patio, vegan and gluten free options, so it really doesn't get much better. It's open from 6am to 2pm every day serving up menu items like the Chicago "brizza" with sausage, hash browns and lots of cheese, the garden scramble with squash, zucchini, bell peppers, sun dried tomatoes and cheese, and the chile verde burrito with pulled pork, monterey jack cheese, green chile sauce, and queso fresco.
Sign up here for our daily Phoenix email and be the first to get all the food/drink/fun in town.