The venerable hamburger is an American classic, a staple of backyard BBQs and culinary institutions alike. By some definitions, it can even be labeled a work of art. Just think about this: Americans alone consume 13 billion hamburgers per year, which is enough to circle the Earth thirty-two times. And although that number might seem staggeringly high to some, it proves that our demand for burgers doesn't seem to be tapering off anytime soon.
So to ensure you're making the most of your burger questing, we've rounded up the best of the best when it comes to those patties in the Valley -- from Food Network featured delicacies and off-the-wall donut/hamburger mashups to the nostalgic, top-quality classics you've had for years.
North Scottsdale (& Biltmore)
Where the burgers double as breakfast food
Hopdoddy Burger Bar masters the creative, over-the-top Instagram-worthy burger craze without compromising quality -- the counter-style hotspot even has an in-house bakery and butchery to offer top-of-the-line ingredients. You can look forward to classic burgers as well as unexpected burger combinations like the breakfast burger or the ahi tuna with sushi-grade tuna, sunflower sprouts, nori chips, teriyaki, honey wasabi, mayo, pickled ginger, lettuce and tomato. But as any local will tell you, the meal doesn't end there. At Hopdoddy, you can pair your burger with artisan sides like the green chile queso fries and then finish things off with a Nutella chocolate pretzel shake.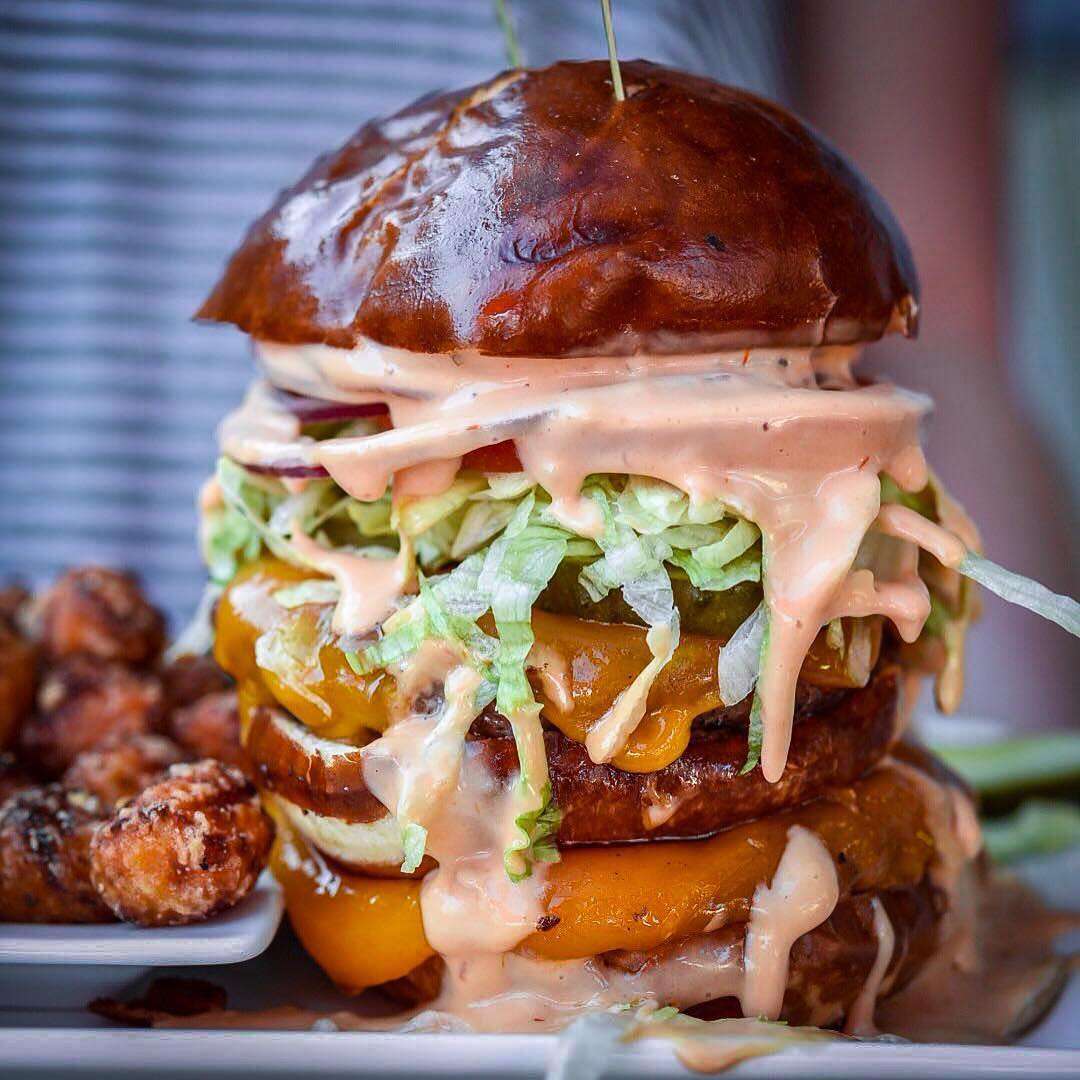 Old Town Scottsdale (& Others)
Unforgettable burgers with a side of inner peace
Rehab Burger Therapy is about a lot more than just mouthwatering burgers -- it was founded to create a burger-filled safe haven from the craziness of the world, hence the focus on food therapy. The laid-back beachy atmosphere and great service instantly provides a calming atmosphere, and the nearly 30 burger options -- from the Spicy Mac-N-Cheese burger to the Hawaiin Burger -- ensures there's a delicious meal for any craving.
Arcadia
An unpretentious burger joint with national accolades
The Stand is exactly what it sounds like: a stand. And while it might not look like much, it's been touted as the state's best burger thanks to its high-quality ingredients, homemade sauces, and consistently throughout. Its straightforward menu features The Standard, which is crafted with a beef patty, crisp lettuce, fresh tomato and onion, dill pickles and the homemade Stand Sauce, all for just $5.99. More adventurous diners can opt for The Arcadia with grilled onions and homemade guac or the Grand Royale with thick cut bacon, grilled onions and homemade ranch. Pair any of their five burgers with hand cut fries, homemade lemonade, or specialty hand-spun shake for the full experience.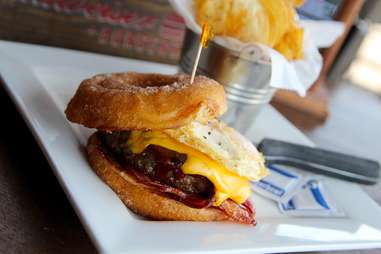 Scottsdale (& Others)
Home of over one thousand customizable burger options
In under a decade, Cold Beer & Cheeseburgers has become nothing short of a burger phenomenon. What began with one North Scottsdale location has multiplied into a total of ten metro Phoenix locations and a San Diego location (with a California spot on the way). The name says it all, especially with its practically endless burger combinations and 130 beer choices. And while you can't go wrong with a classic cheeseburger here, we encourage opting for more of the adventurous variations, like the Donut Bar Burger -- which features a burger wrapped in a sweet, cinnamon sugar Donut Bar donut. The restaurant also serves as a prime spot for watching sports, with some locations boasting up to 60 flat-screen TVs.
Gilbert
Farm-fresh burgers from Gilbert's best-loved restaurant
Restaurateur Joe Johnston can be credited with putting Gilbert on Arizona's culinary map, and it all started with Joe's Farm Grill, a Diner's, Drive-Ins and Dives-approved counter-style restaurant with farm-town appeal. However, the farm isn't just for the atmosphere, many of the ingredients used in the menu's seven burgers come directly from the farm, or other surrounding farms, creating super fresh, high quality burgers. Some pay homage to Arizona's Southwest roots, like the Flamin' Southwest Burger with ghost pepper, fried jalapeno, pico de gallo, chipotle mayo, and avocado while others, like the Farm Burger, keep it simple with top quality beef, your choice of cheese, and grilled onions.
Biltmore (& Others)
Arizona restaurant royalty Sam Fox's take on the burger
While Sam Fox's concepts began as a beloved Arizona secret, between the company's Cheesecake Factory acquisition, interest from Oprah Winfrey and rapid nationwide expansion, they've now become a coast to coast sensation and Zinburger is no different. The restaurant offers an upscale but comfortable atmosphere and straightforward burger options that cater to everyone, from the low-carb California Burger Bowl to the Clint's Almost Famous Veggie Burger to the Classic Diner Burger.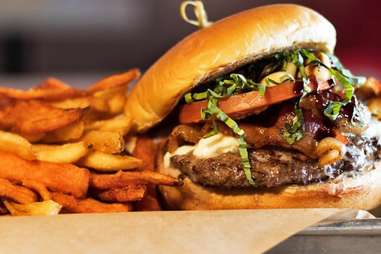 Paradise Valley
A cult-favorite food truck turned nationally recognized burger purveyor
Aioli Gourmet Burgers opened its brick and mortar location in 2016, but it was already a burger mainstay in the area, slinging burgers from its truck. This is all thanks to delicious offerings like the namesake Aioli Burger with cheddar, applewood smoked bacon, onion jam, lettuce, tomato and of course, aioli. Over the years its chef has been featured on Food Network's Chopped, and the shop's racked up accolades including Phoenix New Times' Best Burger, Burger Battle People's Choice Winner, and a Foodist Award for Best Food Truck.
North Phoenix
Home of a Guy Fieri favorite: the Country Fried Burger
Paradise Valley Burger Co. is another Diner's, Drive-Ins and Dives burger joint thanks to its lineup of unique offerings, like the Country Fried Burger smothered in gravy and topped with lettuce, tomatoes and crispy fried onions as well as the breakfast-inspired Burger Brulee with a fried egg, bacon, onion, burnt sugar and havarti cheese. While the wow factor is consistent amongst its lineup of one-of-a-kind burgers, the quality is there too, thanks to its focused on high-quality fresh ingredients.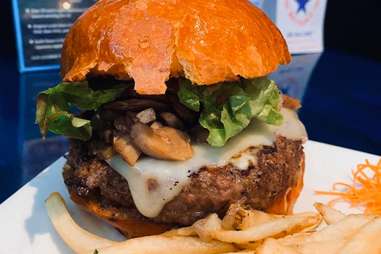 Biltmore
A one-of-a-kind haven where sushi and burgers coexist in harmony
It's hard to imagine that any restaurant can master vastly different cuisines, but Delux Burger has defied all odds with its sushi and burger match-up. However, let's focus our attention to the burgers. There are six award-winning ones to choose from all made with Niman Ranch beef (read: damn good beef). We recommend the classic on a brioche bun or the PV Chile Verde Burger with roasted chile verde peppers, pepper jack cheese, red onion, lettuce, and a side of house made garlic aioli. Even better? It's a great spot for late-night cravings with a reverse happy hour from 10pm to 2am.
Sign up here for our daily Phoenix email and be the first to get all the food/drink/fun in town.
Jamie Killin is a Phoenix native and Arizona State graduate who specializes in lifestyle and features writing. You can usually find her at the spin studio, a concert, or trying new restaurants across the Valley. Follow her at @jamiefayekillin.