The burger has come a long way since some crazy genius looked at a sandwich and said "You know what? This could be better". Here in Phoenix, we kind of agreed, and now enjoy everything from a classic cheese topping to glorious ramen buns. But where can you find the best? Well, look no further...
Recommended Video
Timothy DeLaGhetto & David So Take Over LA's Premier Foodie Event
Downtown Phoenix
What you're getting: The Ramen "Momo" Burger. Maybe two.
We heard wild stories about this burger. We even saw photos of this rare unicorn. But the moment we took the first magically crunchy bites of the ramen "bun" encasing, juicy burger complete with Sriracha soba sauce, caramelized onions, and pepper jack jalapeño mayo, it became clear this mysterious creature is even more magical than previously imagined. The flavors ring of an asian BBQ burger with a chili kick and a bun that defies logic as it maintains a crunch despite all that sauciness.
Scottsdale
What you're getting: The Primetime with a side of truffle fries
Between the quality meat, buns baked fresh twice daily, and creative toppings, 'doddy stakes its claim on this list. Order one of its vetted burgers on the menu or engineer your own by throwing any of its eight types of cheese, and half dozen extras on there.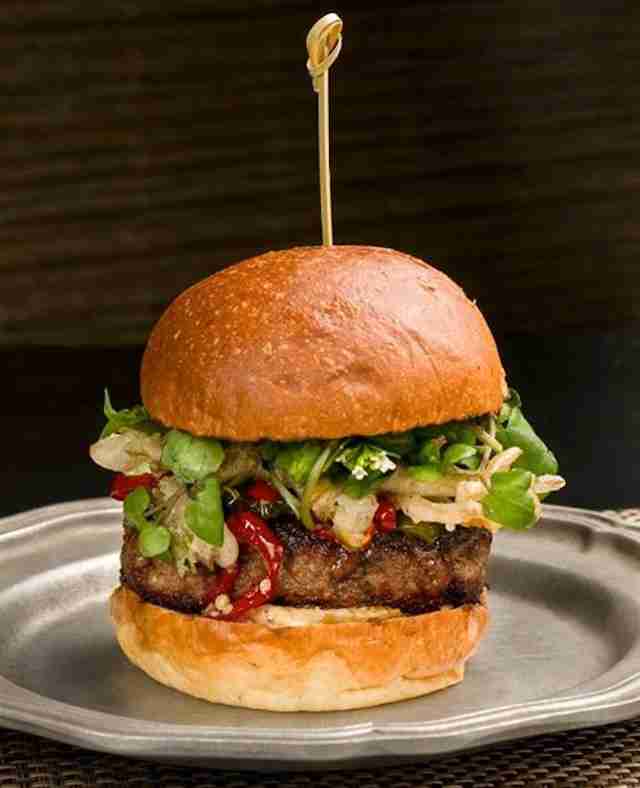 Arcadia
What you're getting: The Buffalo Burger (or get an order of a variety of sliders to sample 'em out)
It's wall-to-wall burgers in here; crazy-huge ones, teeny-tiny ones, sushi-inspired burgers, pizza inspired ones... and what's more, the average burger elsewhere makes its way to your plate from an oven heated to 550-650 degrees Fahrenheit. Your chefs at The Grind prepare your burger in the first 1,000-degree oven in the US, because the faster the burger is cooked, the better the juices and flavor are sealed for your pleasure.
Uptown Phoenix/Camelback Corridor
What you're getting: The one, the only, Chile Burger
Welcome to the home of Phoenix's best Chile Burger. We're talking a burger served Southwest-style from the Southwest. Everything from the juicy burger, roasted green chile, jack cheese, shaved romaine lettuce, sweet and sour onions to the chipotle aioli are grown and sourced locally and prepared in a wood-fired oven. A restaurant that's mindful of the community, lets kids 10 and under eat for free, and serves food so good you could cry, is A-okay in our book.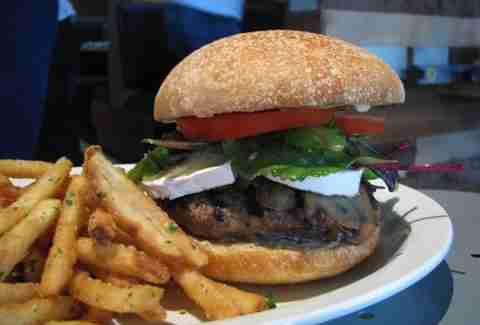 Biltmore/Camelback Corridor
What you're getting: Whatever appetizer is featured on "the clipboard" followed by the Parlor Burger with aged white cheddar
Why are you so shocked we're including The Parlor on the top 10 burgers list? Just because their pizzas and pastas are superb doesn't mean the sole burger on the menu isn't right on par, too. To be fair, it took us a while to get around to testing out the burger because sometimes the burger secures a spot on most menus thanks to the universal affection for them. Now that we seriously know better, it's kind of hard to turn down the Pesto pizza or the Spicy Seafood Linguini, but this beef puck is worth it.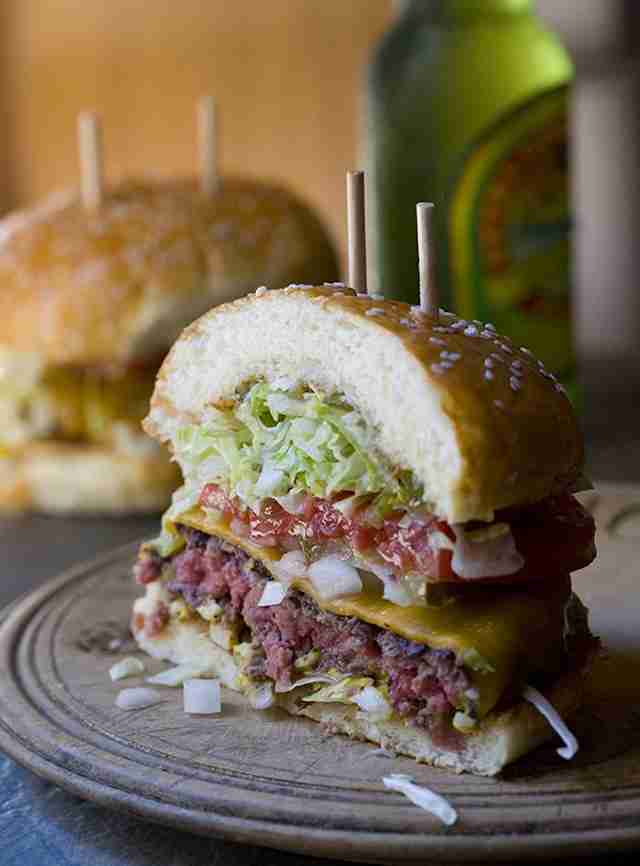 Scottsdale
What you're getting: The cheeseburger with their shoestring fries
We'll probably get a lot of flack for including this agent of the Hillstone behemoth but we don't care, because ultimately it's more about the burgers than the place itself. Perfectly cooked to order chuck beef on a bun baked that morning complete with the cult classics, cheese, lettuce, tomato, onion... you can't go wrong. Bonus points: Houston's finally caved to that whole, "taking reservations" trend so you don't even have to risk waiting for one of those comfy booths and your sandwich.
Paradise Valley
What you're getting: The Burger Brulee and the Sweet Potato Tater Tots
There isn't a combination of toppings, patties, and sauce too strange for the imaginative chefs over at Paradise Valley Burger. After all, why wouldn't you stack a fried egg, a pile of bacon, and onions (get 'em caramelized) on one-fourth pound of beef that's been given the burnt sugar treatment, and then smother it in Havarti cheese and squeezed on a toasted brioche bun?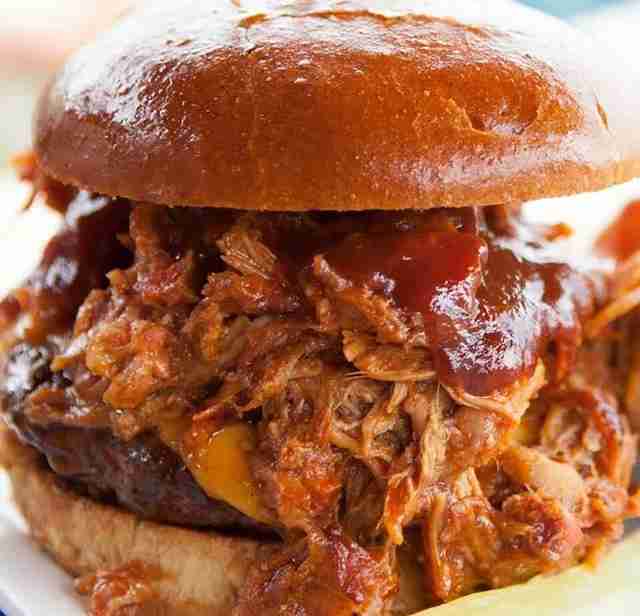 Old Town Scottsdale
What you're getting: The Porkster Burger with some onion rings you can sneak under the bun
Get the PBJ & Bacon Burger on a toasted bun if you've always wondered what peanut butter, grape jelly, bacon, and Sriracha on a burger tastes like, and you're a grown adult so you can. Your taste buds will be more than pleasantly surprised. Get the Hangover Burger complete with bacon, cheese, hatch green chili, and a fried egg if, well, you know. And get the Porkster if you just want a great burger.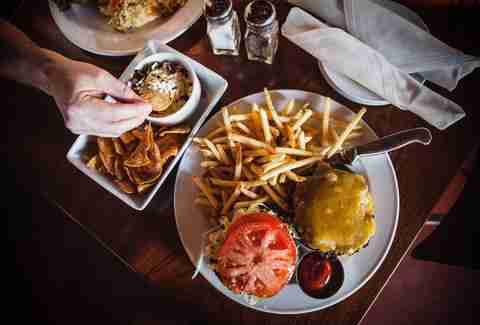 Downtown Phoenix
What you're getting: Backyard Burger, Windsor Style and the pepper-packed Verde Bloody Mary 
You know the Windsor. It's a solid bar. It does a great brunch. And apparently, its talents also extend to putting beef between buns, because its Backyard Burger is one of the best you'll find in the city.
Arcadia Lite
What you're getting: A Standard with cheese, no tomato & caramelized onions paired with a Dulce de Leche shake
It's easy to become obsessed with The Stand, but, that's only because its standard for The Standard burger is impressively high. Why? Perhaps because you'll never meet a patty here that's been frozen or a tomato born farther than the Southwest; your burger is fresh. 
Sign up here for our daily Phoenix email and be the first to get all the food/drink/fun in town.