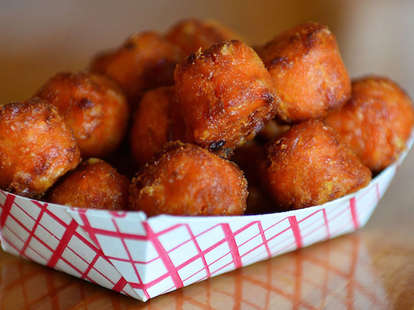 MLB/Diamondbacks
MLB/Diamondbacks
Forget the peanuts and Cracker Jacks. At Chase Field, you'll find a behemoth of a corn dog, a churro wrapped in a donut, fried bread pudding bites, and many other mouth-watering, sometimes head-scratching, concessions. The new options this year continue to push the envelope, so with the 2017 season underway, we picked the best foods you can at the Phoenix home of the Diamondbacks.
Sweet Potato Tots
Paradise Valley Burger Company, Section 121
Cooked up by the experts of Paradise Valley Burger Company, these tots are the perfect accompaniment to any order. But that's not to say they don't stand on their own, because they most certainly do.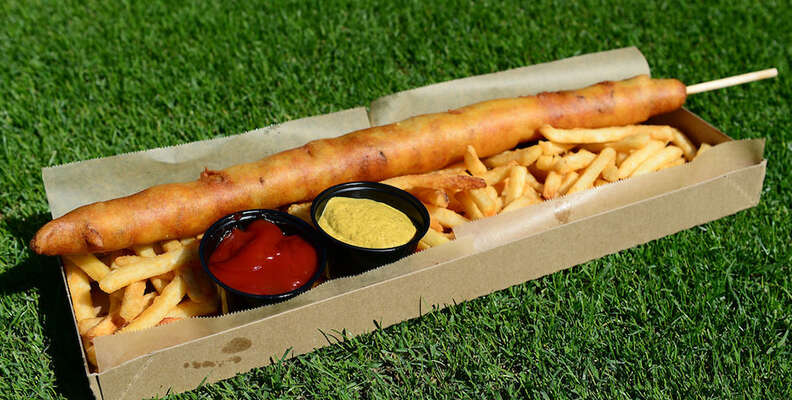 D-Bat Dog
Taste of Chase, Section 130
Making its long-awaited return, the D-Bat dog, which first debuted in 2014, is a fan favorite. Coming in somewhere around 3,000 calories, the 18-inch, $25 corn dog is stuffed with bacon, jalapeño, and gooey cheddar cheese. It's also served with kettle chips, chipotle mustard, and ketchup.
The Hottest Wings in Baseball
Game Seven Grill, Gila Rivers Casino Plaza
Made with ghost peppers -- the hottest pepper in the world according to the Guinness Book of World Records -- Game Seven Grill's Hottest Wings in Baseball are no joke. Are they really that hot, you ask? Yes, they are, so much so that fans have to sign a waiver before digging in.
Churro Dog 2.0
Sections 114, 123, and 315
The original Churro Dog -- a cinnamon churro tucked inside a chocolate-glazed Long John donut then topped with frozen yogurt, chocolate sauce, and a drizzle of sweet caramel -- has been a Chase Field favorite for the last few seasons. This year, the stadium introduced a newer version, the Churro Dog 2.0, which comes topped with white icing, frozen yogurt, whipped cream, strawberries, chocolate sauce, and cookie crumbs. Dare we say you order both?
Cheeseburger Dog
Big Dawgs, Section 126
Unveiled last year, this culinary creation combines the best of two ballpark favorites: the cheeseburger and the hot dog. For $10, you can indulge in a deep-fried, char-grilled hamburger that's molded into the shape of a hot dog and served with fixings like bacon, lettuce, tomato, and a secret sauce.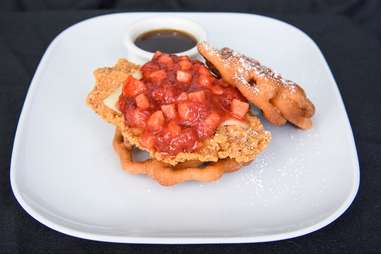 Funnel Cake Chicken Sandwich
Taste of Chase, Section 130
Crispy chicken and two sugary funnel cakes combine to form this sweet and savory ballpark indulgence. Fried chicken is topped with a slice of Cheddar cheese and a heap of strawberry jam, then sandwiched between two powdered sugar-dusted funnel cakes and served with maple syrup. We don't even want to know how many calories this thing has.
Grand Slam Cheese Sticks
Ball Park Poppers, Sections 106 and 312
Essentially, this meal is a corn dog filled with bright yellow cheese instead of highly questionable meat. It's a solid choice in our book.
Tot Dog
Big Dawgs, Section 126
It may not be the craziest thing you can order at Chase Field but it sure is inventive. As the name suggests, it's a foot-long hot dog topped with crispy tater tots, chili, cheese sauce, sour cream, and green onion.
Sonoran Dogs
El Guero Canelo, Section 300
Arizona's twist on the classic hot dog has landed at Chase Field. Found at El Guero Canelo, the bacon-wrapped dog is piled high with pico de gallo, a squirt of mayo, and beans in true Southwestern fashion. El Guero Canelo is one of the best spots to get Sonoran dogs in Phoenix, and the ballpark version doesn't disappoint.
Chicken Enchilada Dog
Big Dawgs, Section 126
New to the 2017 food roster at Chase Field, this snack is already winning over the hearts of hungry baseball fans. An astonishing 18-inches of chicken enchilada sausage is topped with Mexican fixings like queso blanco, pico de gallo, enchilada sauce, sour cream, and tortilla strips.
Sonoran Vegan Burger
Red Hot, Section 139
Don't worry vegan friends, there's food for you at the ballpark, too. This meat-free burger is made up of a vegan patty, imitation Pepper jack cheese, soy chorizo, chipotle veganaise, cowboy caviar, guacamole, and a wheat bun.
Bacon Cheeseburger With Mac & Cheese
Sizzle and Cheese, Section 105
This massive burger is a must-have if you like bacon mac & cheese that's doused with even more cheese. Served between two slices of Texas toast, this 1/3lb beef patty is certainly not vegan.

Sign up here for our daily Phoenix email and be the first to get all the food/drink/fun in town.
Lauren Topor is a Thrillist writer who enjoys going to the ballpark, mostly to eat. Follow her to the concession stand during the seventh-inning stretch @hungryinphoenix.