Arizona has officially closed restaurant dining rooms statewide in an effort to stop the spread of the COVID-19 virus, so restaurants are transitioning to takeout and delivery in an effort to keep their businesses afloat. Fortunately, many are also incorporating discounts, fundraisers for out-of-work hospitality workers and charitable give-backs into their offerings, upping the incentive to support local businesses and eat as much takeout as you can during the pandemic.
From high-end steaks to build-your-own mimosas and comfort food staples, here are our top takeout & delivery picks to consider while you continue social distancing.
If you're looking for deals, Fox Restaurants Concepts has you covered. Right now, all of their dishes across every concept are 35% off when you order to-go, including The Henry's elevated chicken classic: the Crispy Buttermilk Chicken Sandwich with cabbage slaw, dill pickle and honey dijonnaise. Plus, you can grab beer and wine to-go for 50% off. Most importantly, the restaurant group has teamed up with another Arizona-based hospitality powerhouse, Upward Projects, to raise money for furloughed employees through its #TAKEOUTFORTEAMS initiative.
Cost: $9.45, order by calling 602-429-8020 or through Postmates, DoorDash, Grubhub
The Valley's homegrown Mexican food staple is offering deep discounts on its best-loved menu items for takeout and delivery including the Original Chimichanga with shredded beef or chicken in a crispy flour tortilla and topped with relleno sauce, sour cream, cheese and pico de gallo. As an added benefit to the community, Macayo's is selling hard to come by essentials like water and gatorade as well as doing food drop offs to local hospitals.
Cost: $9.99, order by calling your nearest location or via DoorDash, Postmates, Grubhub
Let's face it: tacos aren't quite meant for takeout. Thanks to CRUjiente Tacos' taco kits, though, you can recreate the Taco Tuesday magic for yourself with par cooked proteins, freshly made tortillas, an abundance of toppings, and step-by-step, foolproof instructions from the restaurant's very own Chopped-featured Chef Rich. The Texas Wagyu variation features soy pickled shimeji mushrooms, karashi, fresh horseradish, and cilantro mojo. Finish it off with a CRU Margarita to go, or a growler of craft beer.
Cost: $24 for four tacos, order by calling 602-687-7777 or online through Seamless
You might not be able to get your Sunday brunch fix for a while, but at least you can enjoy Morning Squeeze's signature mimosa flight. The kit includes a full bottle of Champagne, orange juice, and a variety of simple syrups to let you get the party started right at home. Honorable mentions include the to-go taco bar and burrito trays for up to eight people. Even better? All tips are being donated to furloughed workers.
Cost: $10 for To-Go-Mosas, $40 each for the Taco Bar and Burrito Tray; order by calling Scottsdale at 480-945-4669 or Tempe at 480-264-4688 or online through Postmates, DoorDash, Uber Eats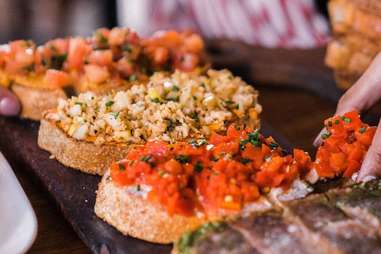 While it might not be the same as your usual Monday wine night out -- you can bring Postino's legendary bruschetta board home. We'd check out the "Date Night-In" package for you and your quarantine partner, which includes the bruschetta board, a snack and a salad. Additionally, the restaurant's hospitality group, Upward Projects, is raising money alongside Fox Restaurant Concepts to donate tips to furloughed employees. Last but certainly not least, the restaurant has pledged to donate a meal to No Kid Hungry for each bruschetta board sold.
Cost: $15 for a bruschetta board, $25 for the Date Night-In package, order by calling your nearest location or through UberEats
It's time for comfort food, and what's more comforting than a good, old-fashioned meatloaf? This version comes with sauteed veggies and Yukon Gold Country mashed potatoes topped with a butternut cream sauce. Order it for delivery, takeout, or opt for curbside delivery so you don't even have to leave your vehicle.
Cost: $24, order by calling 602-954-1700 or through Postmates
Go all in on the barbecue of your dreams by ordering takeout from Bobby Q's. The hearty brisket platter comes with your choice of not one, but two classic Southern sides like potato salad, pecan coleslaw or roasted corn -- to name a few.
Cost: Order by calling your nearest location, or through GrubHub
Chowing on the signature burger from one of Arizona's best-loved and multi-award winning burger shops, the Aioli Burger, is the perfect, cost-effective way to quiet your quarantine-induced anxieties. It features aged sharp cheddar cheese, crisp lettuce, applewood bacon, caramelized onion, vine-ripe tomato, and of course, roasted garlic aioli.
Cost: $8.50, order by calling 602-971-5555 or through Postmates or Grubhub
Just because you're in quarantine doesn't mean you should have to skip your next celebration; eat like a king with Maple & Ash's fire-grilled filet mignon, and bring the party home with you. The restaurant is also offering take-home cocktail kits and is giving diners dollar-for-dollar gift cards to be used once the dining room re-opens.
Cost: $59, order by emailing sdorders@mapleandash.com or calling (480) 400-8888 or via Grubhub or Postmates
While you might not be traveling soon (we definitely don't recommend it), you can get a taste of England with one of Sonson's Pasty Co.'s authentic Cornall pasties. The traditional steak version includes potatoes, onion, rutabaga and two ounces of gravy. They're currently available for delivery and to go orders, and you can either pick them up hot and ready to eat or frozen for your quarantine stockpile.
Cost: $9.50, order by calling 480-845-8485 or through Grubhub
In a pre-quarantine world, nothing said "night in" quite like a pizza. You can recreate those memories and support local while having one of the tastiest pizzas of your life; for extra safety, you can even take advantage of Federal Pizza's unique drive thru pizza option. Our top pick is the decadent meatball pizza which is topped with meatballs, housemade mozzarella, red sauce, basil and wood-roasted onions. Plus, as part of the #TAKEOUTFORTEAMS initiative, all tips are being donated to furloughed restaurant employees.
Cost: $14.50, order by calling 602-795-2520 or through Grubhub, Postmates, Uber Eats
Support one of Scottsdale's most historic hotels and its restaurant, Cafe Zuzu, by indulging in their Korean BBQ Short Ribs with white sticky rice, stir fry veggies and sesame. Plus, 10% of all proceeds will be donated back to Ronald McDonald House to help house families while their children receive treatment for a life-threatening illness or or injury.
Cost: $35, order 30 minutes in advance by calling 480-376-2600 or order online through Postmates
Arizona's award-winning seafood restaurant and purveyor is giving you a vacation in a bowl with its Hawaiian Style Poke crafted with yellowfin tuna, cucumber, carrot, radish, pineapple, onion, edamame, macadamia nut, soy, sesame, ginger, and garlic on top of a bed of rice.
Cost: $20 for a large bowl, order through Grubhub
Sign up here for our daily Phoenix email and be the first to get all the food/drink/fun in town.
Jamie Killin is a Thrillist contributor.