15 Drool-Inducing Ice Cream Sandwiches You Must Try at The Baked Bear in Scottsdale
San Diego's beloved ice cream sandwich shop, The Baked Bear, just opened up in Scottsdale. It's the first location outside of California, so naturally you can understand we're just a wee bit excited (translation: it's a big deal.) Back when it opened on May 28, more than 200 ice cream lovers (not kidding) lined up outside to get their hands on one of the famous customizable sandwiches they'd heard so much about.
Well, we tried some of these baked-daily cookie sandwiches and guess what: picking a favorite is pretty damn impossible. There are countless combinations you could dream up, from chocolate ice cream wedged between two halves of a donut, to birthday cake cookies stuffed with birthday cake ice cream and rolled in sprinkles or Fruity Pebbles. Then there's 12 flavors of ice cream (plus a chocolate chip soy option), 10 types of made-from-scratch cookies, brownies, donuts, brownie or cookie bowls, cones, AND eight different types of toppings, including hot fudge and caramel. Seriously, we couldn't decide on the best one. Any thoughts?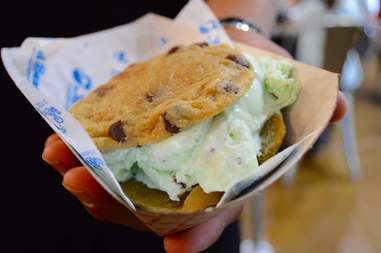 Lauren Topor/Thrillist
Mint ice cream sandwich
Mint ice cream between two chocolate chip cookies is ALWAYS a solid choice.
Lauren Topor/Thrillist
Hot-pressed birthday cake ice cream sandwich
This waffle iron-like device is used to heat up your cookie of choice. Don't worry, 15 seconds under hot-pressed heat won't melt the ice cream; it'll just make the cookies ooey-gooey good. (FYI: that's really good.)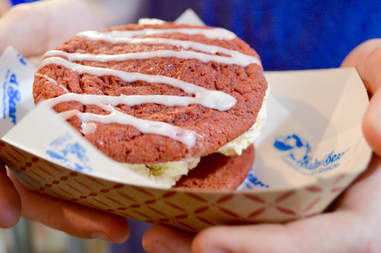 Lauren Topor/Thrillist
Red velvet cookie sandwich
You can't go wrong with two warm red velvet cookies and classic vanilla ice cream.
Bear batter ice cream brownie sandwich
Why get just one scoop when you can have two? That blue stuff there, that's the bear batter. It's loaded with brownie chunks, which makes it the perfect center in between two brownies. Because you can never have enough chocolate…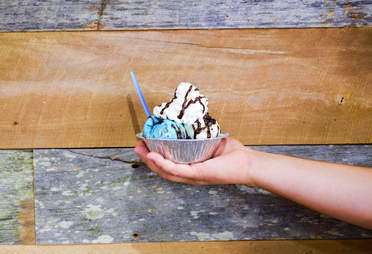 Lauren Topor/Thrillist
Bear Bowl
Ahhh, the bear bowl. No, it's not a sandwich, but holy hell, it's drenched in warm chocolate syrup and topped with whipped cream! And get this: the best part (other than what we just described) is actually waiting at the bottom. The bowl is lined with -- brace yourself -- a soft brownie.
Lauren Topor/Thrillist
Cheesecake ice cream sandwich
Helllllllo, beautiful! Two hot-pressed birthday cake cookies sandwich some delicious strawberry cheesecake ice cream. And those colorful things on the outside? Good God, they're Fruity Pebbles.
Lauren Topor/Thrillist
Chocolate chip cookie sandwich
Chocolate chip ice cream wedged between two chocolate cookies -- classic!
Chocolate chip cookie and brownie ice cream sandwich
We have no words other than "heaven."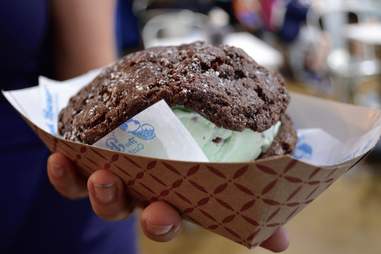 Lauren Topor/Thrillist
Chocolate cookie and mint ice cream sandwich
The ice-cream-to-cookie ratio is perfect. The combo is insane. The choice couldn't be better.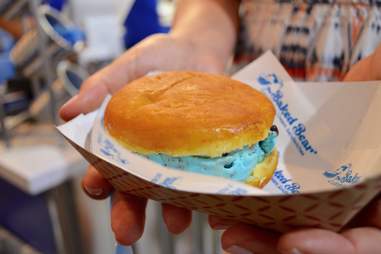 Lauren Topor/Thrillist
Donut ice cream sandwich
Just when you thought donuts couldn't get better, this place went ahead and tossed in some ice cream.
Chocolate chip cookie double scoop and brownie ice cream sandwich
That's a lot of ice cream, and we're totally fine with that. At The Baked Bear, you can create anything your stomach desires -- even this three-layer chocolate chip cookie-brownie hybrid.
Lauren Topor/Thrillist
Birthday cake mint ice cream sandwich
Birthday cake cookies tossed with some mint ice cream is a definite win.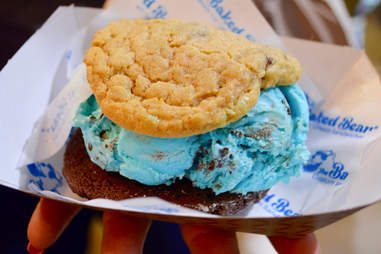 Lauren Topor/Thrillist
Cookie of the month and chocolate chip bear batter ice cream sandwich
This monster is stuffed with all the good stuff (that blue bear batter with brownie bits we just told you about) spooned between two different cookies: chocolate chip and the cookie of the month.
Lauren Topor/Thrillist
Vanilla ice cream sandwich
There's nothing vanilla about this vanilla stuffed cookie sandwich. It's a true classic.
Peanut butter cookie and chocolate ice cream sandwich
It's like a Reese's cup, but better, because it has ice cream.
Sign up here for our daily Phoenix email and be the first to get all the food/drink/fun in town.
Lauren Topor is a Phoenix writer who always gets Fruity Pebbles on her ice cream sandwiches. Follow her to The Baked Bear on Twitter and Instagram.