Skip the Fast Food and Satisfy Your Midnight Munchies With These Late-Night Eats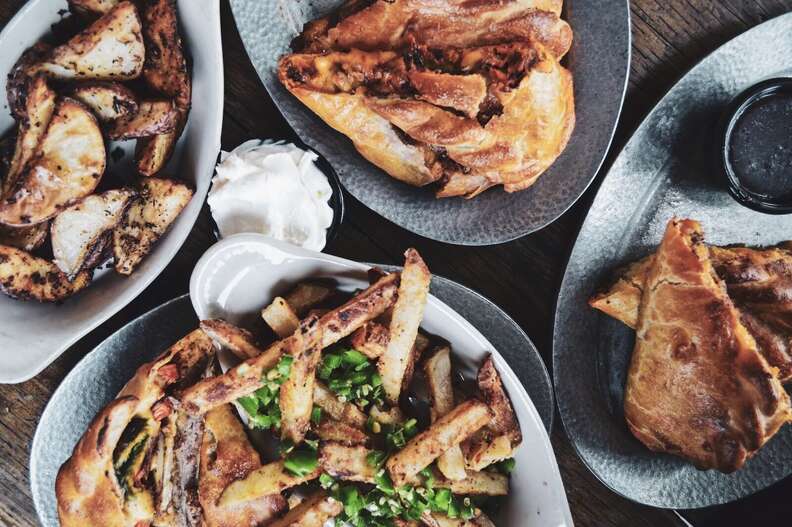 Phoenix isn't exactly what you would call a 24/7 city. Sure, you can find some version of 'berto's with a late night drive-thru in nearly every single corner of The Valley -- Filiberto's, Julioberto's, Rolberto's, Kingberto's, to name a few. But you deserve better than those gut-busting burritos. Or even, dare we say, dollar menu burgers from the nearest fast food chain (though there is a time and a place for everything).
When the bars are closing and it's time for last call -- or when you're headed out for a late, LATE dinner, skip the drive-thru and try one of our recs instead. These are the late night spots slinging those delectable munchies -- until midnight or later -- every single day of the week.
Downtown Phoenix
An industrial hangout for Downtown night owls
Equal parts coffee house, speakeasy, and restaurant, The Grand covers your cravings for comfort food 24/7. The two-story building is modeled after the train stations you might come across on the East Coast and its open-concept beckons to night owls, insomniacs, and students looking to do some late-night studying.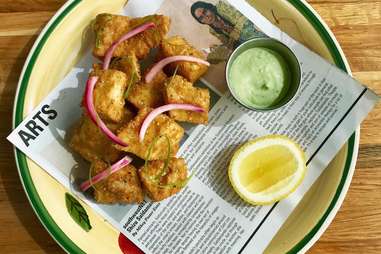 Garfield
Contemporary diner with old school flair and biscuits
This Garfield neighborhood spot is a popular choice among late night diners and brunchers alike for its from-scratch biscuits, burgers, poutine, and everyone's favorite watermelon salad. In addition to all that, Welcome Diner has a can't-miss lineup of delightful cocktails. Opt for a classic or go Welcome-style with one of their house cocktails like the Doctor's Orders, an Arizona play on a Scotch favorite made with Del Bac Whiskey.
Grand
Funky pizza parlor with a cool patio
Pizza might not be able to solve all of your problems. But it can solve your hunger and your impending hangover. Grand Avenue Pizza Company exists to solve the latter. Order inside at the counter and find yourself a seat outside on the back patio. There are tables for both large and small groups, plus a section for diner-style seating, although tight, inside. The menu includes classic pies to custom and vegan options. Get your fill of pizza by the slice (or whole pie if you get down like that).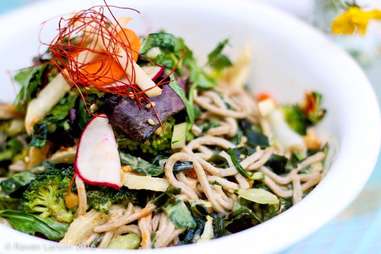 Downtown Phoenix
For when your late night ramen hankerings hit
Hailing from Flagstaff, SoSoBa has found its second home in Downtown Phoenix's Roosevelt Row neighborhood. Noodle lovers here in The Valley can slurp up ramen and sip cocktails until their heart's content (and well past midnight), but the menu goes beyond noodles. SoSoBa deals in all sorts of shareable plates including bites like drunken pork gyoza, kimchi tostadas, and creative weekly mashups that keep fans of the ramen joint coming back for more time and time again.
Phoenix
Ideal spot to start, or end, your night out
Funky artwork, formica tabletops, and a taxidermied javelina head are just some of the decor elements that make up the vintage vibe of this bar. Taking up residence in a 1970s tax-service building, Gracie's is a no-frills hideout with cheap drinks and a kitchen that stays open until the early morning hours. Downtown Phoenix is saturated with expensive cocktails and busy bars. Gracie's modestly-priced well drinks, and overall effortless vibe, are refreshing.
Biltmore
Fancy burgers that require two hands
Sometimes what you need to fill that empty space in your stomach is a big, dripping hamburger. Lucky for you, Delux Burger stays open late to curb your burger cravings. Whether you get the Delux Burger with caramelized onions, a selection of various cheeses, and bacon, the Classic, or the Delux Duo (that's two mini-burgers), you're going to want to order yourself a basket of fries. There's also more to the menu than burgers. Bruschetta, salads, soups, and sandwiches are also available, but if you're here late, the burger is the move.
Tempe
Where you go for beer and oysters on the cheap
This Tempe classic is just a short walk from the bars along Mill Avenue and can serve to satisfy your hankering for pub fare after dark. Fried clam strips, calamari rings, and potato skins are always solid options for the table. And if you do choose to partake, oyster shooters are on hand. The oysters Rockefeller are a winning choice and come topped with spinach, bacon bits, and a big pour of house sauce.
Desert Ridge, Old Town Scottsdale
Cook your own Korean 'cue
Great for groups, Sizzle provides you with everything you need to 'cue up prime meats directly at your table on a traditional Korean grill. Sure, the beef and pork are the main reasons why you're here but there's much more to the menu than the two staples. Surprise your tastebuds with some Korean specialties like hot stone bibimbap, Korean dumplings, or seafood pancakes.
Phoenix
Flashback to the 1950s with a greasy spoon vibe
The glow of a throwback neon sign serves as a warm welcome at this Arizona classic. The original of the 5 & Diner restaurants is a tribute to the oldies with no shortage of malts and milkshakes and classic diner eats like signature burgers and chicken fried steaks all available to you and your crew 24/7.
Downtown Phoenix
Go-to for late night dining and classic Martinis
This posh restaurant and bar takes up residence in a former department store that was originally built in the 1940s called Hanny's. Fast-forward to today and the name remains the same but you won't find any button up shirts or shiny shoes inside its walls. Instead, you can expect to discover a combination of Italian-inspired food and drinks including champagne cocktails, classic (and easy on your wallet) martinis and Manhattans, plus a selection of beer, wine, and other boozy concoctions. And you'll want to take a ride in the glass-floored vertigo elevator to the Hanny's basement for a (terrifying!) surprise (just do it).
Phoenix
The booze-infused burgers are a must order
Choose your fighter. Burgers drowned in red wine for flavor, hot wings, and gooey patty melts are just a few options that can fight your hangover. Harvey's has a divey feel, and like any good dive, this one checks all the boxes with pool tables, darts, a jukebox, and bangin' bar food. Plus they're open late 7-days a week.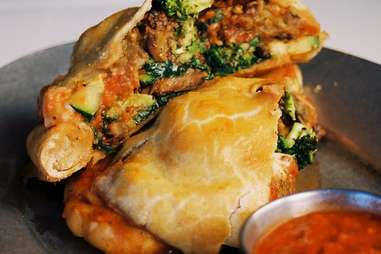 Multiple locations
Pasties you, and your Cornish friends, will love
Cornish Pasty Co. is The Valley's best bet for real, classic-style pasties. And each location, whichever one you end up at, stays open late. The Oggie is your best bet for a filling taste of Southwest England's signature fare, stuffed with steak, potatoes, onion, rutabaga and served with a side of red wine gravy. More hand pies worth mentioning include the Bangers and Mash, Lamb and Mint, and the Mexican. There's even a veggie option for all of you non-meat eaters out there. And of course, you can't have a pasty without a side of chips or roasted potatoes.
Sign up here for our daily Phoenix email and be the first to get all the food/drink/fun in town.
Lauren Reichert is a Phoenix-based multimedia storyteller and content creator. Her work has been featured in local travel guides and national publications. Follow her on Instagram @hungryinphoenix.