Phoenix is the fifth-largest city in the nation, and all of the nearly 5 million people who call the area home have to eat somewhere! Fortunately, due to the area's minimal traffic and great freeway system, eating your way around the county isn't too difficult. Just in case you're ever forced to choose just one neighborhood to eat in, we ranked them all for you.
Recommended Video
This Restaurant Sells 20+ Types of Poutine
10. Ahwatukee
Ahwatukee is a bit out of the way, and still largely thought of as a small community, making it one of Phoenix's hidden gems when it comes to food. While not a dining hotspot, it does have some great food options that should not be overlooked. Great restaurants are easy to find here: Ruffino, Trattoria Arrivederci, and Cactus Jack's are just a few.
9. Downtown Mesa
Downtown Mesa is like the red-headed stepchild of Phoenix. This metropolitan area never gets the recognition it deserves, despite the ongoing revitalization of the area and its proximity to the light rail. All the dining options here are pretty casual, but it's worth checking out Republica Empanada, Worth Takeaway, and Queen's Pizzeria, a family-owned local spot with delicious and creative menu items like the Lasagna Pizza.
8. Downtown Chandler
Downtown Chandler is the place to be for a trendy yet down-to-earth dining vibe. While the area is still developing, it's already showing signs of being a culinary hub thanks to the influx of Arizona favorites like Original ChopShop Co. and La Bocca and the development of its own unique spots, like 55 Chicago. It's pretty much required that you visit SanTan Brewing while you're there, but Bourbon Jacks Bar & Grill and Charm Thai Cuisine are great options, too.
7. Mill Avenue
For some, Mill Avenue might be the No. 1 drinking neighborhood in the state -- if you're into swarms of college kids and cheap drinks, that is. Despite being a higher-education haven, the food here isn't bad either. We recommend Italian and Mediterranean food and drink hotspot La Bocca, or, just off the main road, the classic French restaurant House of Tricks.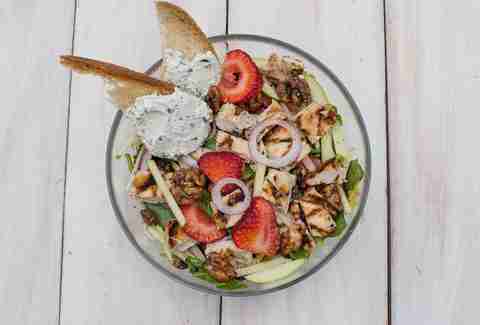 6. Downtown Gilbert
When out near the farms, do as the farmers do and head to popular Gilbert restaurants such as Joe's Farm Grill, The Farmhouse, or Joe's Real BBQ where simple, homestyle dishes are high-quality and anything but boring. While most of Gilbert has kept its country charm, Downtown Gilbert is continuing to prove itself as a culinary hot spot with the openings of Arizona favorites like Postino and Barrio Queen.
5. North Scottsdale
While North Scottsdale is known for its upscale atmosphere, it can sometimes lack the one-of-a-kind restaurants that make a neighborhood unique and memorable. You can find just about any chain restaurant you like, but when it comes to unique-to-Arizona restaurants, it's a bit more difficult. We love The Greene House for its simple and fresh California-inspired menu items, Zinc Bistro for its Parisian feel, and Sapporo for its great sushi and solid Japanese cuisine.  
4. Biltmore area
The Biltmore area is unlike any other in Phoenix: a little old-school, and very upscale. Biltmore Fashion Park alone boasts some of the state's best restaurants, including Christopher's & Crush Lounge and beloved Arizona chains Zinburger, Blanco Tacos + Tequila, and True Food Kitchen. It's also well worth checking out the Biltmore Hotel's restaurant, Frank & Albert's, which is able to perfect every dish it offers, from pizza to meatloaf.
3. Downtown Phoenix
Downtown Phoenix is quite unlike most major cities' Downtowns in that it's still emerging as a dining hub -- but it's a lot of fun, in a hipster, underground kind of way. It's home to the shining star of Arizona pizza, Pizzeria Bianco, and the state's undisputed best breakfast spot, Matt's Big Breakfast. You can't go wrong with The Hog & Chick, a classic breakfast of eggs, toast, bacon or sausage, and potatoes.
2. Arcadia
This neighborhood is on-trend, yet comfortable, and serves as the culinary leader for the rest of the Valley. Well-respected restaurants like Postino that got their start here are now opening locations around Arizona. Be sure you also check out La Grande Orange Grocery & Pizzeria for the best takeout pizza ever, and The Henry for a more upscale dining experience you won't forget.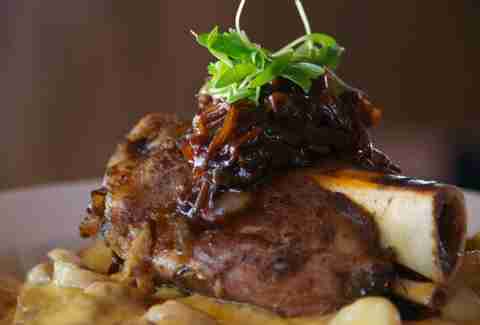 1. Old Town Scottsdale
Scottsdale houses some of the Valley's most delectable food options, and Old Town is a bar and restaurant haven. It's earned the top spot on our list for the second year because it continues to bring the strongest lineup of restaurants and dessert spots. You could plan a month's worth of dinner dates in this part of town, but we recommend the Southwest-meets-Mexican fare at Barrio Queen, The Mission, or globally influenced Cowboy Ciao -- all of which offer a great upscale atmosphere and a variety of menu items. Don't forget to order the made-fresh-at-your-table guacamole and a margarita at Barrio Queen.
Sign up here for our daily Phoenix email and be the first to get all the food/drink/fun in town.