Phoenix's Best New Restaurant Is Finally an Italian Spot We Can Love
Mora Italian will welcome you from the moment you walk through its glass doors into its loud, 180-seat, high-ceilinged space. Phoenix may have its Italian restaurants, and 2017 may have given us our first Lou Malnati's and brought Tomaso's to Scottsdale, but none of them match Mora for its culinary creativity, energetic service, and the warmth of its space. This restaurant is the brainchild of James Beard Award-winning celebrity chef Scott Conant, and since its central Phoenix location opened in February, there hasn't been much doubt: This is Phoenix's best restaurant of the year.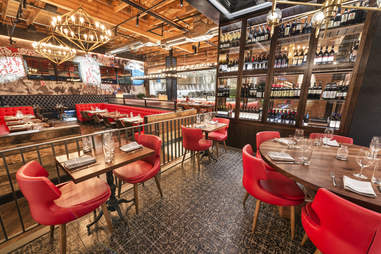 AWE Collective
Obviously that's thanks to Conant and the team of chefs he's gathered to create what he calls "modern osteria fare," combining old-school Italian food with a lineup of innovative, unexpected ingredients. Traditional osterias are among the most casually intimate types of Italian restaurants, and Mora, named for Conant's grandmother, continues that tradition in the food, but adds forward-thinking flourishes to each dish. You might get lamb loin with mint jelly -- almost like you grew up with -- but reimagined with favas, artichoke, lemon puree, and a hint of spice that sets it apart from anything you've tasted on a family dining table. There's the increasingly popular burrata, a creamy take on the classic appetizer, which is served with peas, pomegranate, radish, and salsa verde. And Mora's taleggio pizza is unlike any other, made light and crispy thanks to the addition of lemon oil and escarole. They're all time-honored favorites, but in Conant's open kitchen, you can watch his chefs push them forward into new territory.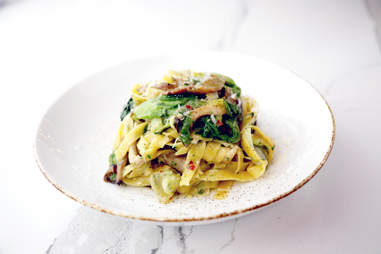 AWE Collective
Of course, Mora doesn't do away with tradition whole cloth. For the less adventurous, the signature, homemade pasta al pomodoro, fettuccine, and margherita pizza all offer the comfort only standby Italian menu items can provide. This is a place that offers not just distinction, but plenty of variety, with over 40 different dishes on the seasonally changing menu.
The food is complemented by an equally forward-thinking lineup of cocktails, including rosé snow cones, barrel-aged boulevardier, and specialty craft drinks. (The Bee and the Basil, for example, is made with cucumber vodka, lavender honey, basil, and lemon.) Similarly, the wine menu is excellent, and the beer menu, while short, is filled with local options, giving a distinctly "Arizona" feeling to the first Phoenix concept by a chef who moved to Scottsdale by way of New York. For dessert, options include the coconut panna cotta, complete with guava, pineapple, opal basil, and fresno chile (yes, chile), or the mora sundae, which is crafted with raspberry sorbet, cheesecake creme, warm vermouth zabaglione, and a specialty berry topping. Even the olive oil cake, a classic after-meal standby, enjoys creative toppings like honey spiced pears, spiced yogurt, and walnuts.
AWE Collective
Throughout your meal, expect to be surrounded by friendly and zealous service, brightly patterned tiles (blue along the pillars, red along the bar), and graphic pop art emblazoned across the wall. There's a complete lack of stylistic consistency to it, and while so few spaces could pull this off successfully, Mora does.
News of the restaurant's opening has been nearly impossible to avoid, and it's attracted a clientele of foodies and trendsetters of all ages, so expect high volume when you book a reservation here. But that's OK. Once you sink your teeth into a dish like Mora's ricotta and mascarpone gnudi and taste how well its warm, creamy flavors communicate with the lobster and guanciale ragu, you can also expect the world to shut off. At that point, nothing else will matter.
Sign up here for our daily Phoenix email and be the first to get all the food/drink/fun in town.