Summer's over, and in order to make sure you survive that famously brutal Phoenix winter, you'll want to put on some seasonal weight immediately -- and thankfully, a whole bunch of great new restaurants have been cutting the ribbon recently for you to do just that...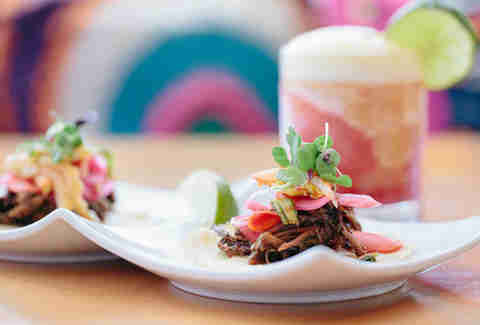 North Scottsdale
The words "Mexican-Asian fusion" will either make you roll your eyes or get hungry for Chino Bandido. Think of North Scottsdale's SumoMaya as an upscale cousin to that beloved, cross-genre spot and definitely don't dismiss it. You can go for a traditional sushi roll or mix it up with house creations, including a Crispy Pork Belly Roll with sweet and sour plums, chicharron and Brussels sprout slaw. Add that to a great brunch and late-night menu and craft cocktails courtesy of bartender Bill DeGroot and you have the recipe for a diverse and interesting spot on your hands.
Downtown Phoenix
Pardon us for getting excited for a brewery run by women, but, yeah, Phoenix's newest beer haven is just that. Although it opened without having its brews on tap, the new spot still impressed with local and national brews on tap, along with classic cocktails served with an MBB twist. It's not all about imbibing at this Seventh St joint, though. Head in for the beer-steamed mussels, creative salads, smoked wings, and a list of burgers and sandwiches to sop up some of those suds in your belly.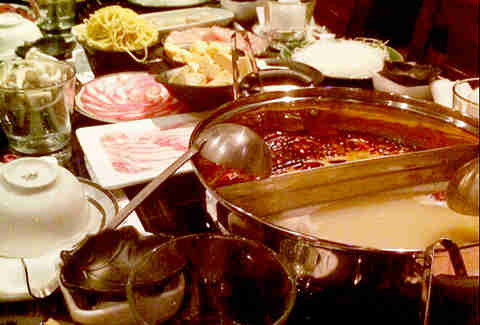 Uptown Phoenix
Vegetarians and gluten-free eaters -- it's time to get excited. That's because rather than ordering a side salad when all your friends insist on getting burgers, you can all get something you like (that's substantial) at Shabu Fondue in Phoenix. With hot pots assembled at the table, guests can throw back meat, seafood, tofu, or veggies. However, the real winner at Shabu is the broth that seals the deal. If the words "Chinese herbal" or "Korean kimchi" in terms of broth don't get you ready to head to Chef Johnny Chu's newest eatery, nothing will -- also, you're crazy.
Midtown Phoenix
Wood-fired pizza joints are all the rage right now, but Midtown Phoenix's Oven + Vine has something most of those other places don't have, because it's not just the hand-made bread and flatbread pizzas that go into the brick oven here -- there are also baked pasta dishes like a vegetable pesto rigatoni and a chicken lasagna that get some of that sweet oven love.
Downtown Phoenix
Phoenix is jumping on the fancy donut trend in a big way right now, but no place in town better slings the fried rings than the new spot opened by Welcome Diner owners Michael Babcock and Jenn Robinson. With options like a crunchy cheddar-topped apple fritter and rose pistachio chocolate donuts, there's a lot of unique flavors going on, though you should get there early if you want a full selection. At 10:30am the chicken part of the menu starts, with Babcock's intensely crispy twice-fried Asian-style chicken. You can choose between Korean-, Vietnamese-, or Japanese-style sauces to coat your fried fowl, but even doused in the stuff, the chicken still holds its crunch.
Old Town Scottsdale
Another of the city's easier transformations, The Beverly has big shoes to fill when it converted the beloved Mabel's on Main space. However, keeping with the old bar's commitment to updated classics and simple new creations on the cocktail menu has made the transition pretty smooth. You can opt for the ever-changing daily punch or just stick with the Call of the Wild -- a mix of Jameson, Cynar, mint, ginger, and bitters. Stop in during happy hour for half off specialty cocktails, as well as $2 off beer, wine, and well drinks.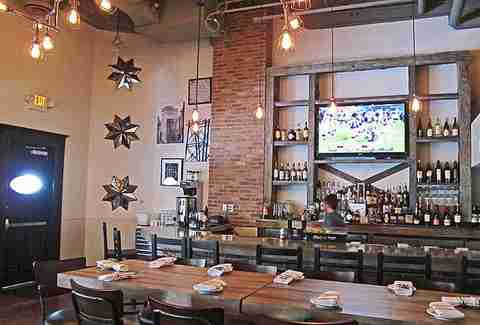 Biltmore
If you long for a simpler time, the Biltmore area's newest spot is for you. Chicken noodle soup, fried green tomatoes, and pot roast are all in the lineup at TEN. If you're going for something lighter, the spinach and green apple salad with cabbage, goat cheese, and red onion is a surprisingly well-balanced, but flavor-filled option. Or you can just simply sip a classic Manhattan, margarita, or daiquiri. Housed around a modern, yet homey brick-and-wood-covered bar, TEN has already staked a claim to being one of the best spots in town.
Downtown Glendale
Don't worry, Glendale. We didn't forget about you. How could we when a beautiful space like Cuff opens up in a restored historic building right in your Downtown area? You can find standards like sliders, charcuterie boards, flatbreads, and deviled eggs on the menu alongside posole, shrimp & grits, and more. For barbecue fans, smoked brisket or pork shoulder (served in sandwich form) will also be there for you. Of course, Cuff is also about the libations with a seven-drink list of house specialties and some of your old favorites.
North Phoenix
What once was Bombay Spice is now Marigold Maison and that's really not a bad thing. The new space specializes in a modern take on Indian fare, which means you're privy to great takes on Tandoori and South Indian favorites. Spiced tikka masala, spicy vindaloo, and flavorful biryani will kick things up, while a nice namkeen lassi made with mint, coriander, and cumin will cool things back down. Marigold Maison also offers beer, wine, and cocktail lists for those looking to imbibe on something with a little more punch.
Downtown Tempe
This French-inspired patisserie has heard the call of Tempe's Mill Ave bar scene and listened. Though it's got all of the delicate pastries, macarons, in-house prepared chocolate, and petite fruit tarts, the restaurant stays open from 7am until 2:30am on Friday and Saturday. Someday, we'd like to stay for breakfast, lunch, dinner, and late night on one of those weekend days, but until that day comes, we're quite content popping in for a fresh salad, crepe, or European-style sandwich when we're in the area.
Sign up here for our daily Phoenix email and be the first to get all the food/drink/fun in town.