The Absolute Best Restaurants in Scottsdale Right Now
From an epic omakase experience to marvelous Mexican cuisine, incredible meals await you in Scottsdale.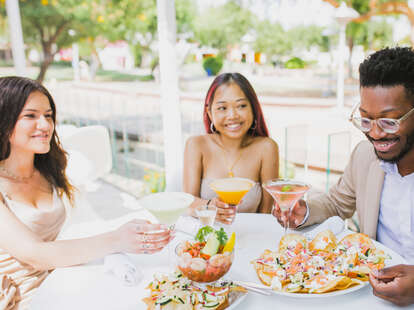 Scottsdale gets a bad rap. Sure, sometimes it's easy to see why Phoenix's neighbor is the victim of such unjust criticism—touristy, overpriced, mostly golf courses and resorts. But in the end, Scottsdale is a luxury travel destination. And with that designation comes a plethora of amazing dining experiences, endless nightlife, high-end shopping, fine art, and so much more. While it's almost impossible to narrow down Scottsdale's all-time best restaurants, we've assembled a shortlist of top-notch restaurants even locals can get behind. So make those reservations and pull up a seat, these are Scottsdale's best restaurants right now.
While we may be miles away from the nearest ocean, the seafood is always fresh at Chula. Having your own boat and family owned and operated fishery in Point Loma undoubtedly helps. The family business off-loads directly from the boat in California and delivers straight to Arizona. And for that, we are all so grateful. The original Southeast Scottsdale fish market and restaurant serves up divine poke bowls crafted with locally sourced ingredients and never frozen, sustainably caught fish. In addition to the cravable poke bowls, you can wrap your hands around one of Chula Seafood's famous sandwiches, like the green chile tuna melt. And be sure to take a look at the cold case on your next visit. There's a sushi-grade salmon filet with your name on it. Chula plans to expand to North Scottsdale later this year. This will be their third Valley location.
Heralded by James Beard Foundation award nominee Chef Bernie Kantak, Citizen Public House offers a contemporary approach to gastropub eats. The unpretentious Old Town restaurant has nabbed numerous awards and accolades since its opening in 2011. And guests come back again and again for their fine cocktails and pub-style fare, which includes the signature mac and cheese, crab cakes with oaxacan chile remoulade, sauced short ribs, and of course, the original chopped salad. Don't miss Benjamin's Upstairs on your next visit to this Scottsdale staple. The swanky, speakeasy-style lounge is an extension of the restaurant that's effortlessly hidden above the main floor.
A to die for patio, a sleek bar that's outfitted with glam disco balls, and the best martinis in town? Must be AZ88, a restaurant meets social lounge tucked away in the heart of the Scottsdale Arts District. Over the years this restaurant has become somewhat of a Scottsdale landmark. AZ88 has been in business since, well, 1988. They've got a good thing going, too. From the expertly crafted sippers and ground-fresh burgers to the ever-changing ambiance and artwork, you're bound to have a good time, and good meal, at AZ88.
Not your nonna's traditional spaghetti and meatballs, Fat Ox takes an upscale, and downright modern, approach to Italian. Here, pastas are handmade in house each day, steaks are fired to perfection over wood and charcoal, and the craft cocktail selection, well, it's absolutely unmissable. The cuisine is served in a posh, contemporary setting outfitted with a luxe marble bar top and an impeccably stocked bar, deep wood dining tables, fancy gold finishes, and white table cloths. Fat Ox is not just a destination for a celebratory meal, either. Although it certainly checks that box. The Central Scottsdale Italian restaurant does happy hour right, with a selection of sommelier pairings that are sure to please.
James Beard Foundation award winner, co-owner and Chef at FnB, Charleen Badman, is a vegetable whisperer. While this inviting Old Town restaurant doesn't lack in its protein offerings—think grilled quail, ribeye with onion jam, and pink grouper—it's the veggies that are the true stars of the show. Locally grown ingredients sourced from Arizona farmers and purveyors like heirloom cauliflower, in-season squash, and fresh greens, to name a few, all take center plate at FnB. Always a treat, FnB offers a seasonally driven approach to its farm-to-table cuisine. The restaurant's ever-changing menu will surprise you on each visit. And after you clean your plate you'll likely ask yourself, who knew vegetables could taste this good? FnB offers an unparalleled, truly Arizona dining experience, with a global wine list to match.
Brush up on your French and mangez bien, riez souvent, aimez beaucoup, or live life to the fullest, generally speaking, at Francine. The upscale, ultra-luxe restaurant offers a taste of Southern France with carefully plated creations like the rack of lamb and gnocchi, pork iberico, mediterranean branzino, and a brunch offering comprised of everything from oysters to tasty tartine topped with triple cream brie and endive. Other standouts include the imitable Croque Madame and the Ricotta Lemon Pancakes with blueberry compote and chantilly.
Not many restaurants are garnished with a white picket fence, a shaded brick patio, and a romantic fireplace. But Old Town Scottsdale's House Brasserie isn't just any old restaurant. This family home-turned-restaurant was originally built in 1939, making it the second oldest house in Scottsdale.The ambiance and setting harken back to the Victorian-era and Chef Brandon Jedd has crafted a New American-style menu that offers a contemporary approach on the French technique with a Mediterranean twist. From the heirloom cauliflower steak drizzled in tahini cream to the umami ribeye served with turmeric mashed potatoes and trumpet mushrooms, House Brasserie offers something for every palate and preference. And save room for dessert. The citrus olive oil cake with whipped mascarpone and peach balsamic sorbet is not to be missed.
How to order: Open for dine-in, find a table on OpenTable.
This time-tested Old Town restaurant churns out a lineup of taste bud-punching Sonoran-style eats that include staples like hand-pressed tortillas and housemade salsa in a setting that's vibrant, colorful, and imaginative. Architecturally, the building is insanely visually interesting. The best seats in the house are located within the Blue Room, a dining room drenched in natural light that shines in from the handcrafted skylights, built by the family's grandfather, Tomas Corral. When it comes to food, classics like piping-hot fajitas, enchiladas slathered in mouthwatering sauce, and noshable burritos are all complemented by tasty margaritas and Mexican beer. Los Olivos has remained a family business since its opening in the late 1940s and it is the last surviving business of the redevelopment of the Scottsdale Barrio in the 1970s.
Aptly positioned next to The Old Adobe Mission, a mission built by hand by Mexican immigrants who settled in Scottsdale in the late 1910s, The Mission Old Town pays tribute to south of the border fare with a menu that draws inspiration from Mexico, Spain, Central America, and South America. Its North Scottsdale counterpart has a sexier, more contemporary vibe with two stories of seating, a giant amber-colored cross anchored behind the luxe bar, backlit Himalayan salt stairs, and a spacious patio that overlooks Kierland Commons. At both locations you can expect a fresh take on modern latin cuisine with an assembly of signature tacos and favorites like empanadas, tostadas, aquachile, and plancha-kissed proteins. The menu certainly offers a variety to ponder over, but whatever you do, please put in an order of the Peruvian duck fried rice—you're welcome.
A bucket listing dining experience for adventurous epicureans, Shinbay Omakase Room wows the senses and delights the taste buds. Should you be lucky enough to score a reservation at the Old Town omakase room, you can expect an expertly crafted and carefully curated selection of Japanese seafood and exotic ingredients presented to you via a parada of small plates directly from the hands of Chef Shinji Kurita. The intimate dining experience is highly personal and the restaurant offers just 12 seats. Reservations book up quickly. And you'll need one for this unforgettable dining endeavor.
Lauren Topor-Reichert is a Phoenix-based nutritionist, multimedia storyteller, vintage clothing lover, and creative photographer. Her work has been featured in travel guides, national publications, and the social feeds of some stellar local restaurants. Follow her around Arizona, and beyond, on Instagram
@hungryinphoenix
.