Courtesy of J&G Steakhouse Scottsdale
Courtesy of J&G Steakhouse Scottsdale
Steak: not only is it the best thing since sliced bread, but it makes sliced bread look kinda lame by comparison. And the Valley has no shortage of great beef spots to show it off. These are the very best.
Scottsdale
Want to impress a date? Make a table reso on the terrace. J&G has some of the best dining views in the Valley. And obviously, the best steaks, too.
Phoenix
Dubbed Arizona's original steakhouse, Stockyards opened up way back in 1947, when Old Town Scottsdale was just a dusty field. This longstanding Phoenix steakhouse doesn't care about white table cloths and stuffy dress codes and frankly it looks more like a saloon on the inside than a civilized dining experience. Today, it's earned a spot on the Phoenix Historic Register, and a spot on this list.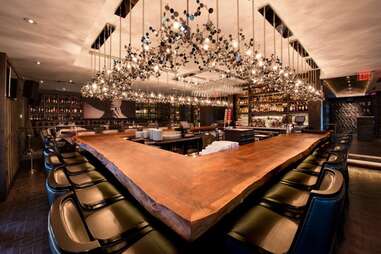 Phoenix
Steak is the star of the menu at this Arcadia neighborhood steakhouse, but there's more to it than just the 28-day wet-aged prime cuts and chops -- though that 12oz wagyu filet is hard to compete with. If you're thinking outside the cut, Steak 44 offers a great list of fresh seafood choices, an unbelievable raw bar, and an award-winning wine list to boot. A second location is opening in the Houston area under the name Steak 48. If you're in Texas, keep an eye out in the River Oaks District.
Scottsdale
Mastro's began as a North Scottsdale family-owned steakhouse back in 1999. Since then the original steakhouse has been the inspiration for other top-quality steak establishments including Mastro's Ocean Club.
Scottsdale
Dominick's blends the two most important food groups: steak and Italian. Sure, they might not be food real groups, but that's besides the point. Where else can you get a filet with a side order of prime beef meatballs, huh?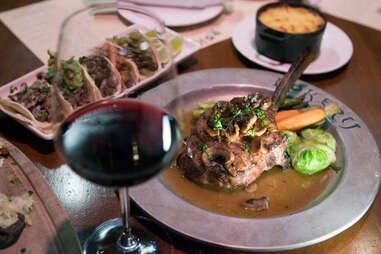 Phoenix
You don't have to go to New Mexico to eat like a Nuevo Mexican. Rokerij, brought to you by the same crowd who created Richardson's and Dick's Hideaway, offers up plates like the Rokerij steak, a bacon-wrapped filet served with jalapeño hollandaise, and an Angus top-sirloin with lime sauce. Of course, any proper NM resto has to serve some sort of chile dish. Rokerij has got more than a dozen plates that feature the essential ingredient, plus the famous green chile potato.
Scottsdale
Sushi and steak, it's a winning combo, and surprisingly, sake makes a pretty good pairing for both. The menu here changes seasonally so there's always something fresh and new to order, like a traditional New York strip with truffle aioli or something just a little more adventurous like the Wagyu flat-iron steak with Sukiyaki sauce and quail egg yolk.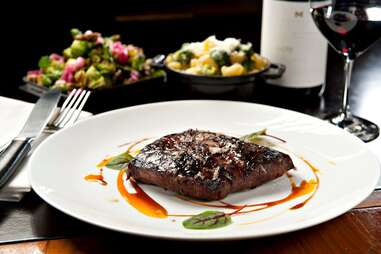 Scottsdale
Offering a contemporary American-style menu, Scottsdale's Bourbon Steak -- a Michael Mina concept -- serves organic, hormone-free cuts like Japanese Kobe, an array of juicy bar burgers, unbelievably delicious duck fat fries, and Mina's renowned lobster pot pie. Of course, nothing pairs better with steak than wine, and with 500 different types to choose from, you might want to take the resident wine sommelier's suggestion when ordering a glass or bottle.
Scottsdale
Barbecue steak and chicken make up a good portion of the menu at this Old Town area steakhouse. In addition to red meat, and lots of it, chef Juan is cooking up hot soups like chowders and bisques, as well as a prime selection of fine seafood in the kitchen. Steak lovers and sports junkies will appreciate this place: it's decked out with memorabilia, and rumor has it that some of the biggest names in sports stop by on occasion. Will you see any? Come in and have a look.
Phoenix
This old-school, ultra-luxe chophouse has been a Phoenix staple for more than 65 years. Although it's mostly regarded for filets, porterhouses, and T-bones, the family-owned restaurant is also known for the storied history and tradition. The servers still wear the same style of red tuxedo vests as they did when the doors first opened in the 1950s, and although it's been updated more than a few times, the walls are still plastered with crushed red velvet wallpaper. According to the man who started it all, Jack Durant, "Good friends, great steaks, and the best booze are the necessities of life." Couldn't agree more, Jack!
Sign up here for our daily Phoenix email and be the first to get all the food/drink/fun in town.
Lauren Topor is a Phoenix writer who consistently orders her steak medium-rare. Follow Lauren to the best chop houses in the Valley via Instagram and Twitter.