The Historic Biltmore Phoenix Renovation Has a Must-Try New Restaurant
Old World Latin cuisine awaits.
Courtesy of Renata's Hearth
Courtesy of Renata's Hearth
The legendary Arizona Biltmore hotel has reopened after more than a year—unveiling a $70 million renovation and a brand new, upscale and Old World Latin eatery, Renata's Hearth, which debuted on May 18.
Located at 2400 E Missouri Avenue in Phoenix, the 140-seat restaurant offers a breath of fresh air to the hotel that's stood largely unchanged since its opening in 1929.
Despite the transformation, Renata's Hearth, which was designed by Erik Peterson and Mark Schriefer or PhxArch along with Jim Smith of Serving the Nation, maintains the iconic Frank Lloyd Wright style with floor-to-ceiling windows and patterned brick in natural tones, while incorporating modern design elements such as aged leather, woven textures, and dramatic hanging lanterns, creating a warm and welcoming atmosphere. The patio is equally contemporary with wicker egg chairs, patterned elements and an inviting atmosphere.
This emphasis on aesthetics extends to the menu as well. Guests are greeted with two carts on each side of the entry—a fresh guacamole and Spanish charcuterie cart as well as a craft cocktail cart—preparing unforgettable delicacies right in front of your eyes. Case in point: the charcoal-infused Los Muertos cocktail presented in a cloud of smoke with cocktails on top.
The focus on smoke and char is incorporated into nearly all aspects of the South and Central America-inspired menu created by Arizona Culinary Institute alumni Chef Jesus Figueroa Ortega, who earned his chops working at iconic Arizona restaurants such as Tarbell's and Café Monarch. Highlights of the menu, which took a year to develop, that capture this smoky essence include the Mole Negro Rubbed Smoked Wagyu Brisket, Bounty of the Garden "Tlacoyo," and Renata's Pozole Blanco.
Though heavily inspired by Latin America, each dish on the menu also incorporates Chef Ortega's own Hispanic heritage with Southwest flavors in shareable crowd pleasers like the chimichangas with smoked chicken, charred street corn, and Rancho El Gordo black beans.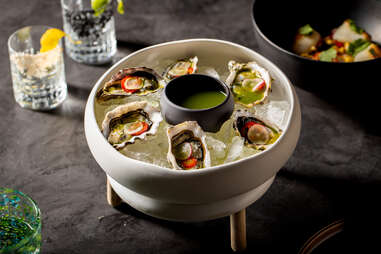 The dishes are perfectly paired with a selection of wine and largely mezcal and tequila-focused cocktails like the Burnt Palmoa, Smoked Pineapple, and aforementioned Los Muertos. The menu concludes with best-loved Spanish-style desserts including Renata's Churros with margarita creama and Capirotada de Sonora brioche bread pudding.
Jamie Killin is a Phoenix native and Arizona State graduate who specializes in lifestyle and features writing. You can usually find her at the spin studio, a concert, or trying new restaurants across the Valley. Follow her at @jamiefayekillin
.