The Most Romantic Restaurants in Phoenix
For white tablecloths or just the right vibe, these are your best bets for a dinner date in Phoenix.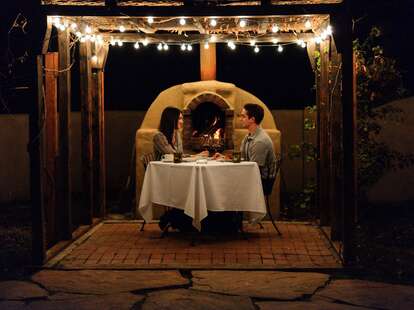 There's a lot to love about the dining scene in Phoenix. This is especially true when it comes to The Valley's most romantic restaurants. Whether you're an established epicurean seeking something serious with a white tablecloth reservation or a noncommittal casual foodie who's open to new experiences, these Phoenix restaurants bring a lot to the table—and we're not just talking bread service. So, go ahead, take the leap and fall in love with Phoenix's most romantic restaurants.
Downtown daters looking for an elegant but economical romantic rendezvous can meet their match at The Farish House, a turn-of-the-century-home that's been transformed into a charming, Euro-style bistro. Complete with ample indoor seating, a saloon, and a spacious open-air patio, this historic Victorian-style locale has become a dining destination since its debut. And with a selection of shareable starters, robust entrees, and a prohibition-inspired cocktail selection, it's easy to see why.
Romance abounds at Anhelo. Formerly located in Heritage Square, Anhelo has found a new home in Downtown Phoenix's Orpheum Lofts, a historic landmark that was originally built in 1931. Anhelo's new contemporary interior complements its extraordinary Gatsby-esque art deco era exterior effortlessly. Anhelo, which means desire, offers an intimate dining experience that is made complete with locally sourced, seasonal ingredients and a wine list you'll definitely want to consult.
Fancy but not fussy, Restaurant Progress takes a modern approach to fine fare. The inclusive Melrose neighborhood staple is outfitted with a back patio that is adored with moody string lights and greenery, a compact and well-stocked indoor bar, and cozy seating inside. Flex your wine knowledge and order a bottle of wine, or two, for the table and before you know it, you'll be closing down the place.
Valley epicureans have been falling in love with House of Tricks for more than 30-years. And while this love story is destined to come to an end later this year when its original owners retire, there's still time to experience the magic that is House of Tricks. Beloved for its charming bungalow digs, its uber-lush open-air patio atmosphere, fine wine list, and delectable cuisines, House of Tricks' co-owners, a husband and wife duo, have created a space that certainly sets the bar high when it comes to romantic restaurants.
Tapas are the way to the heart, or something like that. And at Prado, that's exactly what you'll encounter on the menu. Influenced by Spain's Andalusian region, Prado offers a lineup of approachable cuisine (think wood-fired proteins, marinated veggies, and craveable paella) that's all crafted to share. And with picture-perfect views of Camelback Mountain and terrace-inspired open-air seating, you can absolutely bet the patio dining is primo at Prado.
Central
Time machines don't exist, yet. But if you daydream about traveling back in time, simply make a reservation at Durant's. Not much has changed since Durant's first swung open its doors in 1950, actually. The iconic, time-tested ritzy steakhouse along Central is outfitted with plush red tufted booths, dimmed lighting sets the mood, black and white photos hang on the wall, and large decorative floral arrangements pepper the dining room. To say that Durant's is an experience is an understatement. And, make sure to enter via the famous back kitchen door to impress your date.
Positioned in the shadow of South Mountain, Quiessence at the Farm is a retreat from the ordinary that is conveniently just minutes from the heart of the city. Notably Arizona's original farm-to-table dining experience, Quiessence gives simple ingredients the white tablecloth treatment. Much of what is available at the restaurant is grown onsite or harvested directly from The Farm. Show your stomach some love and go for one of four-course, five-course, or six-course tastings.
This award-winning restaurant is tucked away in historic Old Town Scottsdale. Over the years, Cafe Monarch has raked in the accolades for its ambiance, five-star cuisine, and first-rate service. If you're ordering wine, which, of course you are, you're certainly in good hands. Each server at Cafe Monarch has completed a master sommelier program and would be happy to direct you to the best vintages or unique wine selections that best complement your meal. Candle lit cobblestones at the entrance, twinkling chandeliers above the dining room, and gardenesque patio seating all make for a pretty romantic vibe, too.
The story of how the Wrigley Mansion came to be is undeniably romantic. In 1932, chewing gum magnate William Wrigley Jr. designed the sensational mansion as a 50th anniversary gift to his wife, Ada. Today, the Wrigley Mansion maintains much of its original charm and romantic flair. The newest addition to the hilltop escape is Christopher's, a luxe French-inspired bistro with panoramic views of the desert and city below. And if that's just not the most romantic thing ever, check your pulse.
Five-star food, five-star service, and a five-star atmosphere are just a few reasons why Binkley's shines so bright. A must-visit for any discerning gastronome, Binkley's fine dining experience begins on the terrace with a menagerie of light bites and transitions into the dining room for the full show; a dozen or so chef-curated courses that can range from tasty black truffle avocado toast and foie gras in a pear to proteins like A5 Wagyu and poached scallops. Here you'll have to turn over control to Chef Binkley, which means you won't have to have that awkward "What should we order?" convo. Reservations for the restaurant's 20 seat capacity book-up fast. And, yes, you'll need one to pull-up a chair at Binkley's.
Lauren Topor Reichert is a Phoenix-based nutritionist, multimedia storyteller, vintage clothing lover, and photographer. Her work has been featured in travel guides, national publications, and the social feeds of some stellar local restaurants. Follow her around Arizona, and beyond, on Instagram
@hungryinphoenix
.