Courtesy of Posh
Courtesy of Posh
David Chang, widely credited with bringing the Japanese ramen craze stateside when he opened Momofuku Noodle Bar in New York City in 2004 -- showing it's more than just that $0.99 pack you scarfed down in college -- implied in 2014 that the once-hip soup had jumped the shark. But Chang was wrong: the truth is, a good bowl of ramen is never going to go out of style.
NYC may have had a head start on the rest of the country on the Nippon comfort food craze, but that doesn't mean there isn't a worthy bowl to be found elsewhere... perhaps even in the unlikeliest of places. Say, the dry, dusty Sonoran Desert, for example. Better known for chimichangas, tacos, Sonoran hot dogs, and prickly pear margaritas, the Valley of the Sun is not exactly a bastion of Asian cuisine. But wouldn't you know, there is a scene. Perhaps even more astonishing is the source of the Valley's most popular ramen bowl: a decorated fine dining chef known for haute improvisational tasting menus.
Joshua Hebert is the chef/owner of POSH Improvisational Cuisine, an eatery that custom-designs avant-garde courses to match your likes and dislikes on the spot. His ramen is just as head-spinning, just as mind-blowing, and it's attracting a different crowd -- a bit younger, a bit more street food-savvy -- likely because of the lower price point and the slurp factor necessary to down a hot bowl of noodles.
So how did a native Phoenician, the son of a Catholic school teacher and a Jewish lawyer, end up in the improbable position of slinging the best bowl of ramen in Arizona? Long story.
Growing up, Hebert's family vacations always included a night when the whole family dressed up to attend a theater performance, which was proceeded each time by a meal at a fine-dining restaurant. Drawing inspiration from those five-star restaurant experiences, he started tinkering in the kitchen in high school, whipping up extravagant meals (mostly to impress the ladies). One thing led to another, and the first time he set foot in a professional kitchen, he was smitten. He begged his way into the kitchen of a Phoenix restaurant called Tarbell's (which recently celebrated its 22nd year) and ended up staying a little more than five years before getting the itch to move on. Hebert then landed in San Francisco because he wanted to not only work in a town saturated with great restaurants, but also to eat in a town with great restaurants.
"I've learned as much about food by eating at other places as I've learned cooking at other places," Hebert said.
After a stint at Zuni Café under the direction of the late Judy Rodgers, he found himself chef de cuisine of a 40-seat Asian fusion restaurant in Pacific Heights called Cafe Kati. The owner signed a deal to open a version of the restaurant in a major hotel in Tokyo and needed someone to move to Japan to oversee the opening. Young, single, and adventurous, Hebert raised his hand. He spent the first 10 days barricaded in the hotel, but as soon as he could cut loose one evening, he wandered the neighborhood and stumbled into a tiny ramen shop.
"That thing where you look at what the person next to you is eating and point at it and say 'please' in Japanese because it's the first word you learn? They brought me a bowl. It was..." his voice trailed off, "... amazing."
Did he remember what style of ramen it was? "Of course," he said. "Goma."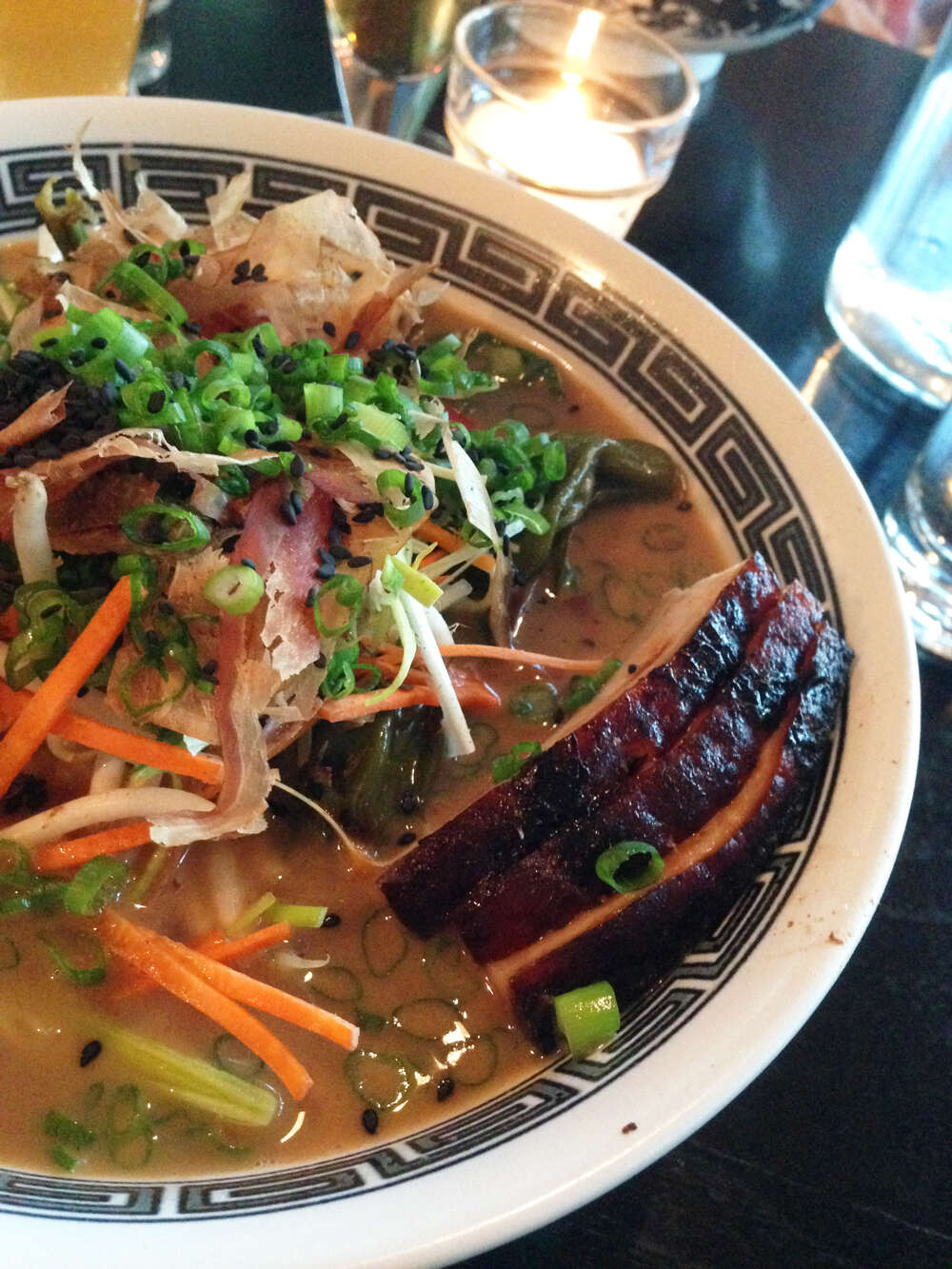 Like any good artist, he knew he had to give it a shot. Therefore, after settling back in his homeland, Hebert would serve his first bowl of goma (sesame-flavored) ramen in 2010, as well as three other styles -- miso, shoyu (soy sauce), and seafood -- at a late-night "pop-up" at his then-two-year-old fine dining restaurant. For the first year or so, the late-night ramen was sporadic; Hebert announced the occasional pop-up on social media. As word spread, he committed to ladling hot soup once a week, but still only late at night, after regular dinner service. He knew he was on to something after catching flak from regular customers about the late-night hours, so in January 2014, Hebert moved "Ramen Night" to its current home, Tuesdays from 5-9pm.
Sensing a viable business opportunity, he began poking around town looking for a permanent spot for a dedicated ramen shop -- he was looking for a needle in a haystack. It needed to be an existing restaurant so entry costs would be minimum. It needed to be small (1,000sqft or less). It needed to be in the right neighborhood, in the right location, with ample lunch and dinner traffic. Still, it could be a risky move to open a stand-alone, 20-seat shop dedicated to ramen. Phoenicians, in general, are partial to well-known chains. Ramen, except among a select group of hardcore, adventurous food lovers, is unfamiliar.
But his efforts should undoubtedly pay off. After all, there's a reason Joshua Hebert is known as the Phoenix Ramen King, even though solid bowls served by others with more direct ties to Japan do exist here in town. One bowl of goma (his signature) is enough to dispel any doubt. Silky, fatty pork broth swirled with delicate dashi and flavored with no small amount of rich sesame paste (imported from Japan) presents a commanding stage for springy, chewy noodles. Crunchy baby bok choy and shishito peppers provide a modicum of sensibility. Julienned leeks, a modest sheet of nori, and smoky katsuobushi (dried, fermented shaved tuna) miraculously waving in adoration atop the hot, steaming broth, gild the crown. An onsen egg is optional, except that it's not -- for good reason. No one blinks an eye if you collapse in ecstasy after voraciously slurping down an order -- busted, grinning ear-to-ear when the server whisks away the naked bowl.
After two years of searching, and six years after serving his first bowl of ramen at a late-night pop-up, Hebert's dream of opening a solo noodle shop will soon come to fruition. His descriptively named "Hot Noodles, Cold Sake" will open at the end of July in the Sonoran Village shopping center on the southwest corner of Frank Lloyd Wright and the Loop 101.
Say it with me: long live the King.
Sign up here for our daily Phoenix email and be the first to get all the food/drink/fun in town.
Gwen Ashley Walters is an award-winning food journalist and cookbook author. Ramen is tops in her mind, but she'll slurp any well-made bowl from pici to pho. Follow her noodle cravings at @chefgwen.