Get your appetites ready: Arizona Restaurant Week begins on Sept 16th, and is one of the best things to do this fall. Where else can you experience a three-course meal from five-star restaurants for less than an Uber ride across town? There are more than 100 restaurants around the state participating this year, so we did the hard work of weeding (read: eating) through them to find the best deals -- from fine dining in Tempe to alfresco experiences in Paradise Valley.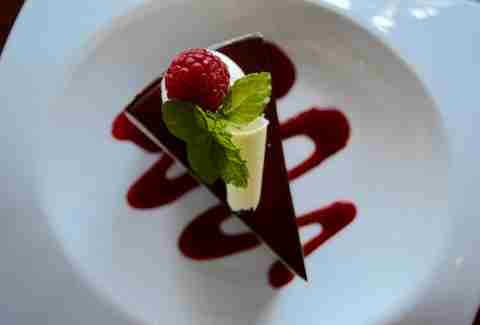 Scottsdale
Price: $33
Tucked inside Scottsdale's retro-chic Hotel Valley Ho, ZuZu has earned a solid-gold reputation for its upscale comfort food, brunches, and cocktails -- but it also offers the most affordable AZRW experience. Some of its Restaurant Week starters include a perfect-for-fall sweet roasted acorn squash soup that's topped with house-made cinnamon marshmallows and candied pecans, along with buffalo mozz served with grilled levain bread and heirloom tomatoes, plus seared wagyu beef with truffle and yuzu mignonette. As if that weren't enough, ZuZu is offering entrees such as Ōra King salmon over a bed of jasmine rice and veggies in shiso and tomato lemongrass broth, a mustard-crusted New York strip steak, and seared maple leaf duck breast. The dessert lineup includes goat cheesecake with a blueberry-infused chipotle compote and chocolate torte served with Bavarian ice cream.
Phoenix
Price: $44
James Beard award winner Christopher Gross is at the helm of this contemporary-meets-classic eatery where you can expect a beautiful mix of French- and American-inspired dishes. This year's prix fixe Restaurant Week menu will feature a variety of first courses, including smoked salmon salad, foie gras torchon with brioche, and onion soup with Gruyere. Next, choose your entree of sautéed duck breast with sherry sauce, wood-oven-roasted chicken, or petite filet with a luscious red wine sauce. Finish the evening with a third course: an assortment of cheeses, a sweet lemon tart with berry sauce, or take your tastebuds to France with a slice of the gâteau marjolaine flourless pastry cake. It's cheaper than an actual trip to France.
Phoenix
Price: $44
Cozy up with a date or chat intimately with friends at this unique restaurant inside a 1920s-era home with tables in private rooms and a decidedly French atmosphere. In addition to a stunning list of prix fixe options, including filet mignon and stuffed veal chop, Coup Des Tartes has a something extra delicious on the AZRW menu as well this fall. It's called pork belly creme brulee (no, not the dessert kind, but a slab of pork belly that's been caramelized on top ), and it's served alongside frisee and shallot vinaigrette. The French bistro has made headlines for its dessert creme brulee -- so you can actually order brulee for two courses! -- and this spot is BYOB-friendly. Go ahead, bring that nice bottle of wine that's been sitting at home and waiting for a special occasion.
Phoenix
Price: $44
Some of Phoenix's best restaurants are located in resorts and hotels around town, so it's no surprise that Pointe Hilton Tapatio Cliffs' Different Pointe of View is a contender for some of the best dining in town. Along with a view from the top of North Mountain, the resort-restaurant is offering up unbelievable dining deals for Restaurant Week. The approachable menu features familiar choices such as beer cheese soup and chicken and donuts alongside more advanced palate fare like charred octopus, Arizona sun tea brined quail, and ponzu-glazed lamb belly.
Phoenix
Price: $44
This top Phoenix steakhouse has been a staple in the Arizona dining scene for more than 65 years. The Durant's AZRW menu is straightforward, featuring a slow-roasted prime rib, filet steak sandwich, or the pan-seared Atlantic salmon for entrees. Chef Ken Giordano is also churning out sweet desserts, including a southern pecan pie, tiramisu, and a chocolatey, delicious slab of soft cake (a crowd favorite called Chocolate Indulgence). Dinner also includes your choice of soup or salad, and coffee, tea, and sodas are complimentary.
Paradise Valley
Price: $44
El Chorro's seasonally inspired, multi-course Restaurant Week menu offers fall favorites such as lobster bisque, center-cut filet, polenta and vegetable Napoleon, and grilled citrus branzino (European seabass). Dessert options include a booze-infused tiramisu with vanilla bourbon sauce, and a pie of the day. If that weren't enough, and you don't mind shelling out a few extra bucks, El Chorro will offer expert wine pairings to complement your meal for a fee. As always, you'll get those delicious pull-apart cinnamon sticky buns the Paradise Valley restaurant is famous for.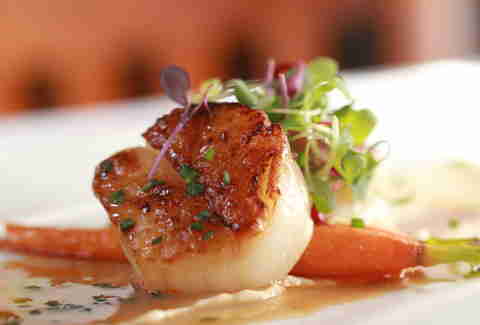 Tempe
Price: $44
College towns aren't exactly known for their fine dining, but this charming oasis is the exception. This essential Tempe restaurant is turning out an impeccable AZRW lineup, including seared diver scallop and squid ink caviar appetizers, along with entrees like the Sierra Nevada mustard braised rabbit leg, sauteed shrimp with bacon, and sweet peppers on a bed of lacy corn cakes. Who knew you could eat like ASU's homecoming king for such an affordable price in the heart of Tempe?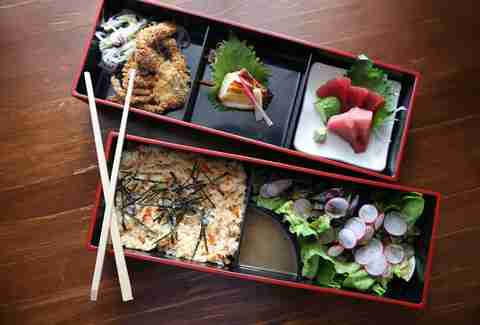 Phoenix
Price: $44
James Beard award-winning chef Nobuo Fukuda has worked in Arizona for more than 30 years, and his East-meets-West approach is strong at the Scottsdale eatery/hideaway, Teeter House. The modest, turn-of-the-century bungalow is one of the state's best-kept secrets when it comes to imported seafood and five-star dining. Nobuo is offering a first course of hana-Japanese seasonal antipasto, followed by your choice of a meat or seafood bento box with braised Japanese vegetables, rice, and a salad with ginger dressing. Pick from the miso rice pudding with peach compote or the Yuku cheesecake for dessert.
Scottsdale
Price: $44
Joshua Hebert's upscale Scottsdale establishment is all about improvisation and using unique ingredients -- goose, urchin, pheasant, escargot, and foie gras, to name a few -- in ways that you've never seen or tasted before. This improvisational four-course menu (really, no set menu at all) will be offered at a discounted price for AZRW's fall event. Herbert also told us that there will be a five-course menu available for $55, a six-course option for $66, and even a seven-course choice for $77. If you've never dined here before, now is the time, and be sure to keep an eye out for POSH's to-die-for ramen.
Scottsdale
Price: $44
Catch a glimpse behind the scenes at this surf-meets-turf restaurant, where most of the food is prepared and plated in an open-area kitchen in which knives and fish are flying. Chef Jason Alford's fixed menu is a series of decadent dishes including an albacore ceviche, Arizona grass-fed tenderloin, and the Two Wash Ranch half chicken with pickled cucumber and plum teriyaki. The milk chocolate panna cotta is a standout among the deserts, and be ready to wet your whistle -- included in the deal is Roka Akor's signature house cocktail, the Waitlist, made with EFFEN vodka, Peychaud's bitters, grapefruit, St-Germain, and fresh lemon.
Phoenix
Price: $44
Tucked inside of one of Phoenix's most storied and beautiful resorts, T. Cook's offers an unparalleled dining experience for special occasions. It should also be on your radar for Restaurant Week. Executive chef Todd Allison has put together a menu of can't-miss eats. Try the Dungeness crab citrus salad or garlic-roasted prawns as starters, pan-roasted branzino, beef short rib, or our fave, the wild arugula and truffle tremor ravioli. You can't go wrong with any of the delectable desserts, featuring Jameson whiskey and Guinness chocolate sauce.
Tempe
Price: $44
Top of the Rock's fresh, locally inspired menu takes from the bounty of Steadfast Farm, Hayden Flour Mills, Queen Creek Olive Mill, and Danzeisen Dairy (among others). Restaurant Week diners can expect a fixed menu of trout tartar, Arizona mushrooms en croute, and coconut custard with prickly pear. For an extra charge, Top of the Rock will offer wine tastings of Arizona and Western US wines.
Sign up here for our daily Phoenix email and be the first to get all the food/drink/fun in town.