Recommended Video
Sriracha Bacon Onion Rings Bring the Heat Like Never Before
Orale. Phoenix has amazing chefs who are working hard to bring you fantastic new restaurants, and it's hard to pick just one to showcase everything The Valley has to offer. Yet one chef has not only been lauded for her culinary skills, but for her business prowess and commitment to community. Thrillist Phoenix's chef of the year is a boss both in and outside of the kitchen.
Chef Silvana Salcido Esparza, whose favorite ingredient to cook with is "anything Mexican," has been redefining Mexican food in The Valley since 2002, when she first opened Barrio Café on 16th St. Chef Silvana is responsible for three Barrio-brand restaurants, Barrio Urbano, Barrio Avion, and her newest, Barrio Café Gran Reserva, and has even been inducted into the Arizona Culinary Hall of Fame.
Esparza has won dozens of awards and honors including several semi-finalist nominations for the James Beard Award, and has appeared on Food Network's Diners, Drive-Ins and Dives. This year alone she's received half-a-dozen nods, including best new restaurant as well as being named an Arizona business leader by Az Business Magazine. But she's not just getting love here at home -- Chef Silvana's restaurants have received a deluge of national praise.
In Summer 2016 Chef Silvana eagerly swung open the doors to Barrio Café Gran Reserva. Her newest endeavor, which is housed in the old Bragg's Pie Factory on the corner of Grand Ave and McKinley, serves upscale Mexican cuisine and seats just 27 guests. As a baker's daughter, Barrio Cafe's location in a former bakery is near-and-dear to Chef's heart. She turns out a mean tres leches, too.
Recently, Barrio Café Gran Reserva was named one of Opentable's 100 Best Restaurants in America for 2016, alongside two other Phoenix-area restaurants.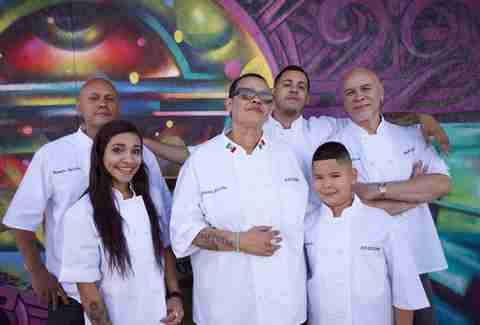 Late in the game, Chef Silvana was a wunderkind
Even at the beginning of her culinary career Chef wowed. "Early in culinary school, chef instructor Warren Blim came up to me and said that they had a chefs meeting and that they all thought that I was going to be a star. I laughed and didn't think much of it. I was, after all, a little old to be in school – at 35 I wasn't the oldest in my class, but I was definitely late to the game."
Esparza cut her teeth in Tempe working at Sun Devil Stadium and Super Bowl (XXX)., where she was in charge of all of the food for VIPs. "Eventually I was running the show at Sun Devil Stadium, the University Club, and all of ASU (except student dining). It involved lots of creative and administrative focus." But something was missing.
"I didn't imagine I could really be good, unless I accomplished my longstanding goal of learning to cook in Mexico," Esparza said, noting that she spent the the greater part of 2000 and 2001 backpacking across Mexico and learning from women who cooked for a living. "When I returned to Phoenix, I believe I was finally prepared to be good. I had knowledge and most importantly, passion and love."
Her commitment to changing the "erroneous perception of Mexican food by most North Americans" became The Barrio Café. Here, you're not going to find nuclear-yellow cheese spread over every dish. And you're definitely not getting chips and salsa, instead you'll be served a basket of sharable soft bread. Chef delivers a true take on Mexican cuisine and uses ingredients that are spotted in real Mexican fare.
One of her most lauded dishes is the Chiles en Nogada. The dish is comprised of a roasted poblano pepper that is filled with chicken, apple, pear, pecans and dried apricots. A delicate almond cream sauce is layered on top of the stuff chile and it is finished with the colors of the Mexican flag: cilantro, queso fresco and pomegranate seeds.
Changing the way we think about food
Since The Barrio Café opened there has been a shift in how people relate to food, who prepares it, how available it is, and where it comes from. The Phoenix culinary scene has expanded dramatically in the past 20 years -- where good food from a diverse range of cultures could only be found by the university in Tempe, you can now eat globally all across the metropolitan area.
Chef Silvana expects that Phoenix will continue to grow and evolve as a multi-cultural food destination.
"I live in a neighborhood where 27 different languages are represented by our population. That's 27 different kinds of food," she said. "When the second generation of these immigrant families hit the kitchens of Phoenix, it will change the profile of our dining options. Yes, phoenix is going to get some really good flavor down the road. I can smell it happening already."
Chef Silvana earned our pick for Phoenix's chef of the year for her culinary game and her impact extends beyond the kitchen. Not only is Chef an advocate for civil rights (she's worked with Calle16 in its mission to bring community leaders and artists together to elevate the perceptions of Mexican-American culture through food and local art), but she mentors young chefs-in-training, too.
"I have been doing this since a child -- I had my own bread route before I was old enough to drive. Now, I am training the next generation. We are determined to carry on with our family culinary legacy," she said.
Sign up here for our daily Phoenix email and be the first to get all the food/drink/fun in town.
Previous Venue
Next Venue
Venue Description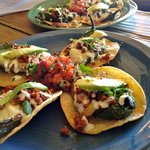 1. Barrio Cafe
2814 N 16th St, Phoenix, AZ 85006
Barrio Café's brand of Mexican food is the central-southern, give-your-mouth-a-red-chile-burn, hearty stuff that's spiced up by local culinary legend Silvana Salcido Esparza with some French influences for good measure. Esparza's chips and dip are too precious to merely dole out as a precursor to the meal; instead, diners enjoy crust French bread with an olive tapenade accompaniment. The menu features salads, tacos, tortas, enchiladas, pan-seared fish, and bone-in meats, and highlights include the acclaimed Cochinita Pibil, pork marinated in achiote and sour orange, wrapped in a banana leaf and slow roasted overnight, and topped with pickled red onion and Yucatan-style pico de gallo, and Filete Mignon de mi Tita, topped with a crab and queso de cabra mélange. You'll have a hard time choosing a favorite dish, let alone finding a flaw in any of plates that grace your table. So don't even bother; simply relish the spread in front of you.
Previous Venue
Next Venue
Venue Description
2. Barrio Urbano
5632 N 7th St, Phoenix, AZ 85014
Phoenix's resident local legend Chef Silvana Salcido Esparza continues her streak of helming successful Mexican restaurants at Barrio Urbano in North-Central Phoenix. Here, breakfast, lunch, and dinner dishes are treated with bold, regional Mexican culinary technique that is synonymous with Esparza. Breakfast is characterized its savory-leaning plates -- try the Barrio Revueltos, an egg-white scramble with sautéed spinach, onion, Schreiner's longaniza sausage, and toast -- but you can also get your sweet fill without the caloric guilt by ordering freshly cut fruit of the day served over cottage cheese and topped with local honey, raw sunflower seeds, golden raisins, pecans, and house-made granola. The nighttime menu offers a dizzying array of enchiladas, quesadillas, and burritos with kaleidoscopic combinations of braised meats, salsas, and cheeses, which become seemingly more dizzying after a couple of bourbon Pretty Pablos (whiskey sours) or Jack Swillins (gimlets). The restaurant's motto is "Conserve water, drink tequila," which should give you a pretty good indication of the depth and breadth of the cocktail program.
Previous Venue
Next Venue
Venue Description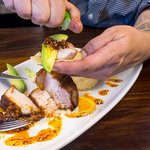 3. Barrio Café Gran Reserva
1301 Grand Ave, Phoenix, AZ 85007
While you won't find tacos on the menu like at the original Barrio Café, you can still order some of its iconic dishes at this more elegant Central City outpost, like Chile Nogales, stuffed with apples and walnuts, drizzled with a crema sauce, and topped with pomegranate. You should, of course, pair it with a glass from the exclusively Mexican wine list. Don't get too accustomed to the current food menu, though: beloved Chef Silvana Salcido Esparza puts together new dishes regularly to keep things fresh, a perfect excuse to become a regular and try all of her latest creations.