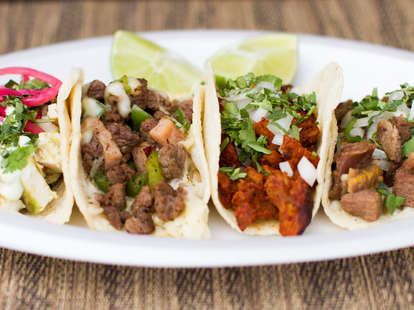 Chanelle Sinclair/Thrillist
If only Phoenix had more tacos – said no one, ever.
Phoenix is not a taco desert. There are hundreds of thousands -- perhaps millions -- of tacos assembled daily in tiny mom-and-pop shops with legit Mexican ties, and in local and national chains run by Mexican-Americans and gringos alike. Phoenix even hosts an annual Arizona Taco Festival -- a two-day affair celebrating what could be the most perfect food. We're flush with tacos: good, bad, and everything in between.
So when a new taco shop opens, it's not surprising we approach it with trepidation. All too often, it's another average taco joint. Not so with the new Tacos Chiwas on McDowell Rd, just west of SR 51. Its owners are cranking out killer Chihuahuan tacos made with pride that you can taste in every meaty bite.
If it weren't for the stark white sign (which used to advertise a Dairy Queen), it would be easy to zip past the standalone building that houses Chiwas. Steel bars cover the windows; a thick black font spells out Tacos Chiwas over an outline of the Mexican state of Chihuahua. The interior is neat and tidy, with an order counter, a chalkboard menu, and a long, narrow dining room with utilitarian booths and tables. Chiwas is remarkably unassuming for the passion put into its food.
And the place truly is a passion project for owners Armando Hernandez and Nadia Holguin, who met at an Arizona State University party in 2012. Both were born in the Mexican state of Chihuahua (although in different towns) and moved to Arizona when they were young. Hernandez worked in the front of the house of restaurants since he was 15, while Holguin hails from a restaurant family, attended culinary school, and worked in the back of the house.
Married for two years, the couple dreamed about opening their own restaurant soon after they met. They set goals, made plans, tested recipes, scraped money together.
On March 4th, they quietly opened the doors to their humble storefront, which previously housed a short-lived barbecue joint. They knew exactly what they wanted: a restaurant where they could show off the home-style cooking of their birthplace.
"The whole idea was home cooking from the get-go," Hernandez said. "Every time we would go out to eat, we'd try to find our food. No luck." That's when the couple thought they might be on to something.
Tacos Chiwas (a phonetic spelling for Chihuas, the nickname for the people of Chihuahua) might be the only Chihuahua-style taco shop in the Valley.
"I don't think what we're doing is mind-blowing," Hernandez said. "I think what makes us different is we cook at the restaurant the same way we cook at home. When you invite a guest over to eat, you do your best. That is what we are doing. It's why we make the tortillas to order. Why we cut the meats by hand, and make the salsas fresh. You're coming to our 'home.'"
That isn't far from the truth, considering the couple is spending upwards of 18 hours a day at the fledgling restaurant.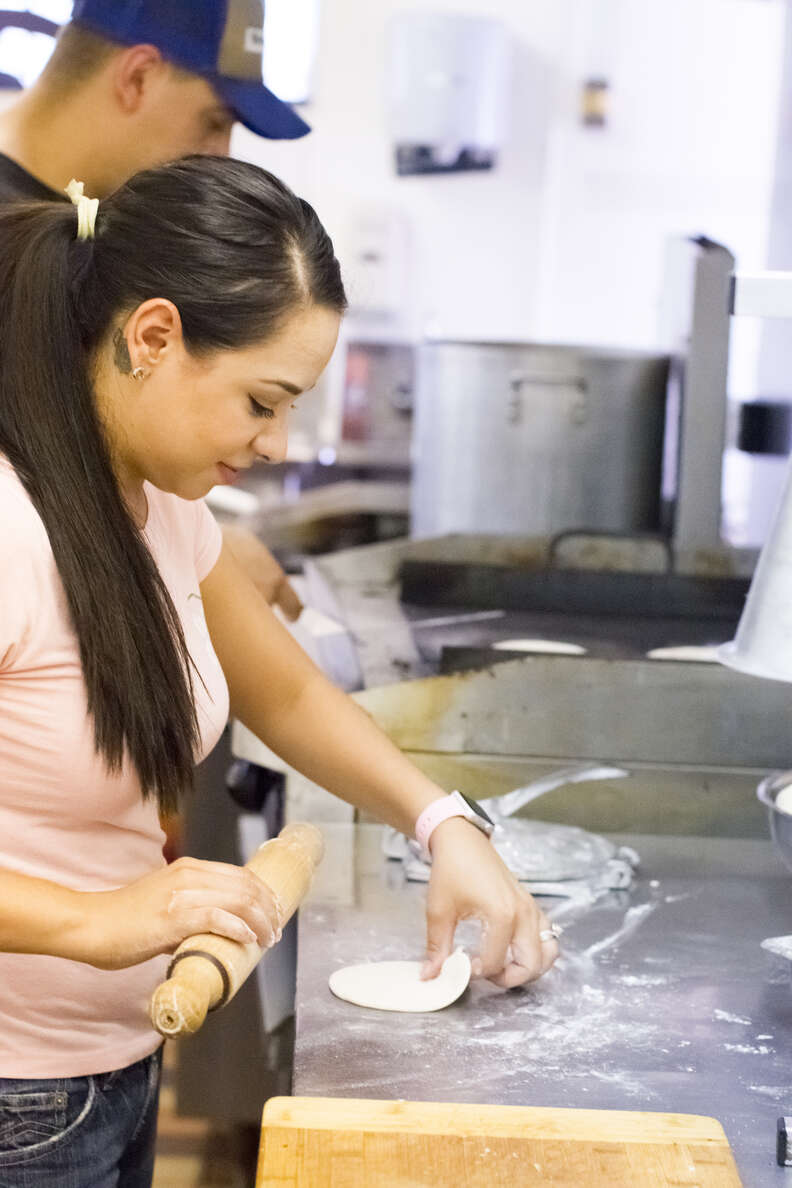 Made-to-order seals the deal
Pressing and cooking corn tortillas to order is a rarity in the restaurant industry, at least in the US. It's much easier to leave tortilla making to the factories, and just reheat to order. But Hernandez was adamant about serving the tortillas of his childhood.
"I remember standing by the wood stove in my grandma's house with my little brother. That was her thing. Making tortillas from scratch. Every morning, we would stand there, waiting for her to finish a tortilla. We'd scoop it up, add butter and salt and BOOM! There it goes," he said.
The tortillas are, if not mind-blowing, certainly extraordinary compared to other taco joints. They're impeccably soft, imperfectly round, and deeply corn-flavored. Not too thick, not too thin, and because they're cooked only after you order them, it takes a smidge longer to get your tacos than at other places. But a couple minutes for a cooked-to-order tortilla is a small price to pay.
The state of Chihuahua is meat-centric: cattle, hogs, chickens, goats, and sheep. Agriculture is big, too: corn, potatoes, squash, and beans. And of course, chiles. So it's not surprising most of the taco fillings are meat-based, although they are slowly introducing some vegetarian options. You'll find chunky carne asada (skirt steak), juicy carnitas with a hint of smoke (thanks to the smoker the couple purchased from the previous tenant), and chicken (grilled breast, marinated in a cilantro oil). There is lengua (beef tongue) and tripa (carefully cleaned, boiled, and fried crisp). And then there is the signature Tacos Chiwas, loaded with carne asada, ham, hatch chile, jalapeño, and bashfully smothered in queso asadero.
I'd be remiss if I didn't mention the gorditas, griddled flour disks stuffed with a myriad of fillings, including shredded beef with a lusty red sauce (deshebrada rojo). Frijoles charros, a soupy cup of creamy pintos swimming in a saucy broth with more pork than ought to be legal -- bacon, chorizo, and ham -- is reason enough to drop everything and head there pronto.
You can count on attention to detail in every step of the operation, from hand-pressed and cooked tortillas, to hand-cut meats cooked with care, to a variety of salsas made fresh daily.
Tacos Chiwas is not your average taco shop. Hernandez and Holguin are cranking out killer Chihuahuan tacos made with pride. You can taste it in every meaty bite.
Sign up here for our daily Phoenix email and be the first to get all the food/drink/fun in town.
Gwen Ashley Walters is an award-winning food journalist, cookbook author, and former cook. A serial taco eater, she ranks Tacos Chiwas among the top five tacos in Phoenix. Follow her @chefgwen.